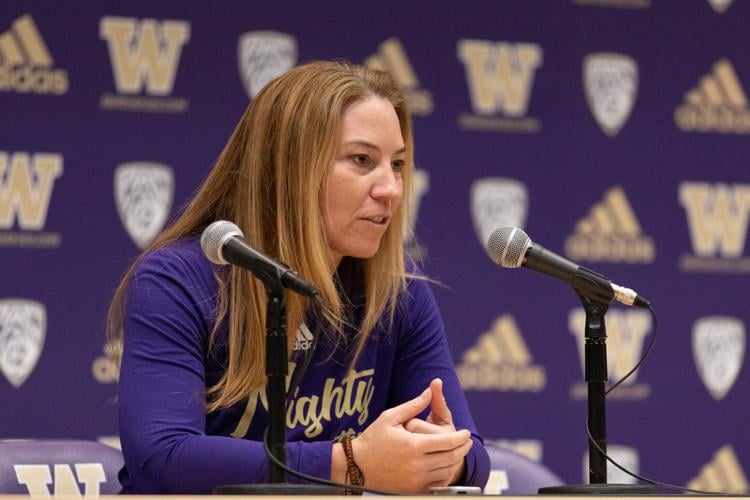 For Heather Tarr, a preseason No. 1 ranking means little more to the Washington softball team than brand recognition.
"I just think it means for right now we're a thought-of team, we're a popular team," Tarr said at her preseason press conference Wednesday. "But the perspective for us always going into that is 'Thank you for the advertisement, we love that.'"
The softball team is far from the first UW team this year to come in with high expectations placed on them. But after some mixed results — an 8-5 football team, a currently-bottom-of-the-Pac-12 men's basketball team — it just feels like the divide between preseason hype and actual results is starker than ever.
The baseline for these Huskies, coming off of three straight trips to the World Series and a Pac-12 title last season, is higher than for pretty much any other team on Montlake. After three straight years of being one of the four final teams alive in Oklahoma City — including one appearance in the national championship — there's just one step left to take. But at the risk of buying the advertising too early, this team could be the one to take it.
"Our goal each year is to win the last game (at the College Women's World Series)," senior shortstop Sis Bates said. "We didn't accomplish the mission (last year), but we competed our rears off and we are proud of that and we hope to be back there this year."
Bates is set to lead the Huskies from the top of the lineup again where she's back after two straight seasons hitting over .385. Behind her, redshirt senior catcher Morganne Flores (now fifth all-time in UW history in homers) and sophomore left fielder Sami Reynolds form a top-third that combined for 134 runs driven last season. 
Beyond them, Washington brings back all but one of its starters in the field, though a newcomer class of four freshmen and one transfer could mean there's more turnover than just that.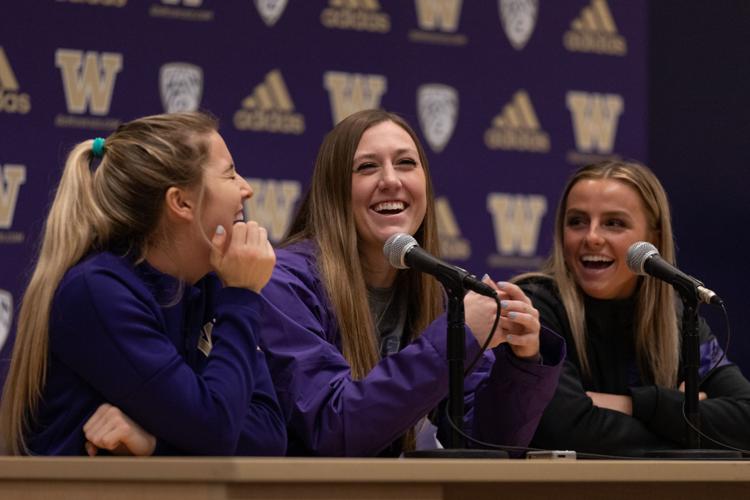 "I think that is the most exciting part is that there's new people, and with the common ones that you do know, they're going to be able to help carry us," Tarr said. "The new talent is going to be exciting to watch."
In the circle, the Huskies will have to move on without Taran Alvelo. But having Gabbie Plain, recently named the top player in the country by ESPN, makes that hole a little easier to fill. She could well pitch the Huskies to OKC by herself, but between Pat Moore, Kelley Lynch, and Brooke Nelson, they shouldn't need her too.
Plain will play this season before going to Tokyo to represent Australia in the Olympics, ostensibly because Softball Australia believes she'll get the best experience out of another season of DI competition. USA Softball, on the other hand, doesn't, meaning the three collegiate players who made the U.S. National Team won't play this season. 
All three are Pac-12 stars, headlined by UCLA's two-time National Player of the Year Rachel Garcia. Also gone will be her teammate Bubba Nickles and Arizona's Dejah Mulipola.
So not only will Washington's lineup come back nearly untouched from a team that made a deep run in Oklahoma City last year. Not only will the Huskies return a pitcher who's already had two of the best single seasons in program history. They'll do so without having to face the player who nearly single-handedly kept them out of the national championship last season.
And that's pretty much where the advertising finally ends. If you believe in stars aligning, they seem to be heading in that direction. Now all that's left for Washington is to actually do it.
"Nobody is gonna forget about us," Tarr said. "They're not gonna take a pitch off, and we're just gonna continue to evolve and grow ourselves and see how good we can be by the end of this whole thing."
Reach Managing Editor Josh Kirshenbaum at sports@dailyuw.com. Twitter: @J_Kirshenbaum
Like what you're reading? Support high-quality student journalism by donating here.