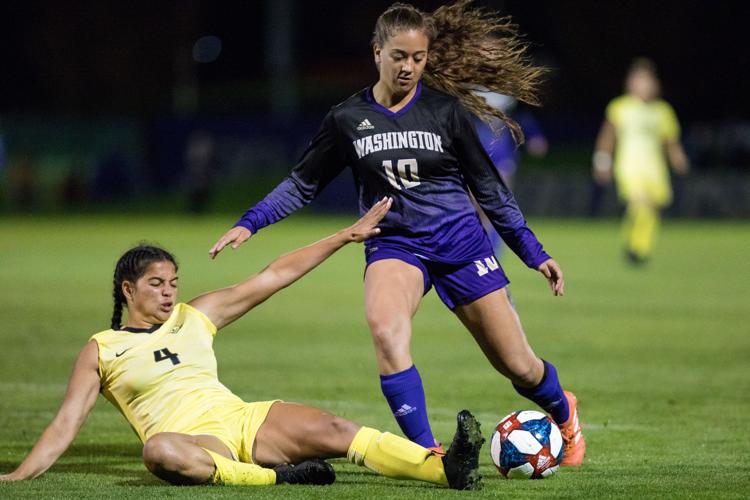 The Washington women's soccer team got off to a slow start this season. It took the team nearly 242 minutes to score its first goal. Now, the Huskies have scored 10 goals in their past three games and have shown no signs of slowing down.
The two main producers during this run have been Summer Yates and Kennedy Smith, who have each scored three goals. The two have different approaches.
Yates has taken on more of a role as the team's primary scorer, leading the Huskies in both goals and assists through the first nine games.
"I'm a forward, so that's my job on this team, and I'm just trying to help get a win for my team, and that's all I can do," Yates said.
The sophomore started the season coming off the bench and only playing 21 minutes in the team's first match. She has since started the past seven games and has stabilized her playing time to just over 60 minutes per match.
"We've talked to her about her goals and how far she wants to go in this game and to be able to do that, there's been some things that she had to change and one was her ability to get over mistakes, her ability to work every day in practice and be a better practice player," head coach Lesle Gallimore said. "I would say that over the past two to three weeks she has started to shine, and that's due to her."
In this three game run, Yates has scored three goals and assisted three more, totaling nine points so far this season.
"I'm not gonna say [she's] turned a corner completely because I think she's got a lot more in her," Gallimore said. "She's a special player on the ball, and the game comes alive when she has the ball. It's the things she does off the ball and in transition moments to be a great player."
Smith on the other hand is more methodical with her attacks. She has scored three goals but has only shot the ball seven times all season.
"I think just being in the right spots at the right moment, so just positioning my body and just being there when I'm supposed to be there," Smith said. "I feel like it's not about taking tons of shots but if you're just in the right place at the right time, and use the right technique, then that's what's important."
The senior has started in all three of these games, after only starting one of the team's first six matches.
Over the past two weeks in which the 10 goals have been scored, Jessika Cowart and Yates have been on the field while seven of those goals were scored. At the same time, the two of them have played the most minutes of all forwards and midfielders during that stretch. 
Junior Ameera Hussen has been on the field for six of the goals, but has only played 122 minutes in that stretch, tied for the sixth most among non-defenders. In other words, the Huskies score a goal, on average, every 20 minutes and 20 seconds that Hussen is on the field. Some other players leading the team in this category have been Isabella Castro, Mireya Grey, and Vanessa Millsaps.
Not a single goal has come off a set piece in this stretch, so the Huskies have had to create offense on the fly. Eight of the team's scores have been assisted with three of them crediting more than one player with an assist. In the earlier part of the season, only two of the team's five goals were assisted.
"I think our offense has just been really playing together well, I feel like we are just playing off each other, connecting well, and just kind of reading each other in the games," Smith said. "So it's just been easier to find each and play with one another."
Washington will have its toughest weekend so far. The UW starts with a match at No. 20 California on Thursday at 3 p.m. and then heads across the Bay to take on No. 2 Stanford on Sunday at 3 p.m.
Reach reporter Josh Eddy at sports@dailyuw.com. Twitter: @JoshTreEddy
Like what you're reading? Support high-quality student journalism by donating here.