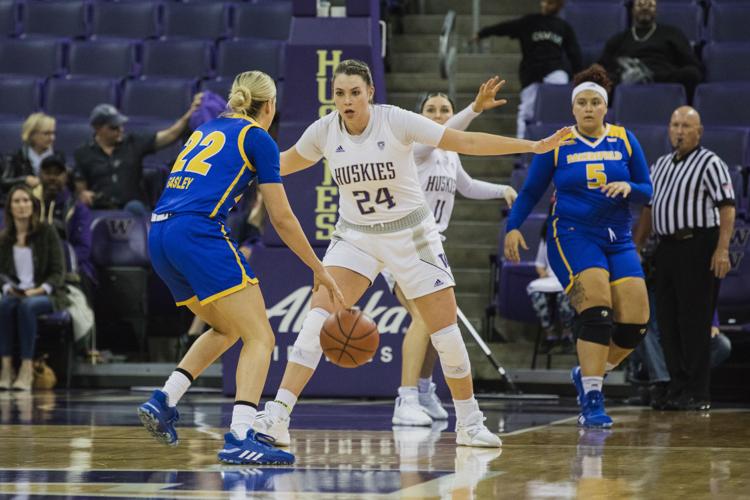 The Washington women's basketball team didn't exactly put the prettiest offensive performance together early, but the offense woke up in a big way late, and the defense did more than enough in a 94-41 win over Weber State.
The Huskies shot just 35% in the first quarter, but forced 12 Weber State turnovers, and the Wildcats' pace only got worse from there. WSU added 14 giveaways in the second, and finished the game with 38.
"All 10 contributed on the defensive side of the ball," head coach Jody Wynn said after the game.
Washington nearly beat WSU solely on points off of turnovers, ending the game with 37.
It's the second time this season the UW has forced at least 30 turnovers, after CSU Bakersfield had 31 to open the season last week.
Washington went into halftime up 36-13 with 13 steals — already a season high — led by five from sophomore Haley Van Dyke. Meanwhile, WSU had twice as many turnovers (26) as it did points.
Van Dyke finished with a career-high seven steals. Four more Huskies also added at least two. Sophomore Darcy Rees finished with four blocks.
"I think we rotated well," Rees said. "We put a big emphasis on that, and I think it really showed."
Coming out of the break, the UW offense started to find its groove from deep, hitting its first three 3-pointers — two from freshman Ali Bamberger and one from Rees — to stretch the lead to 47-21. After going 2-for-8 from three-point range in the first half, Washington hit seven triples in the third quarter, and took a 69-21 lead into the fourth.
The game set a fair few highs for Wynn's time on Montlake.The 38 turnovers forced, 94 points, and 53-point margin of victory are all the most the Huskies have had since Wynn took over before the 2017-18 season.
The Huskies outscored the Wildcats 36-20 in the paint and 15-2 on the fastbreak. Rees, Melgoza, and Van Dyke all scored 12 points to lead the Huskies. Bamberger and T.T. Watkins both added 11.
"That's one of the positives of our team, is that everyone can contribute and put a few points in," Rees said. "Maybe no one is having 20 points, but everyone is doing something to help us win."
Washington will cap off its weekend at Hec Ed on Saturday, taking on Seattle U at 2 p.m.
Reach Managing Editor Josh Kirshenbaum at sports@dailyuw.com. Twitter: @J_Kirshenbaum
Like what you're reading? Support high-quality student journalism by donating here.