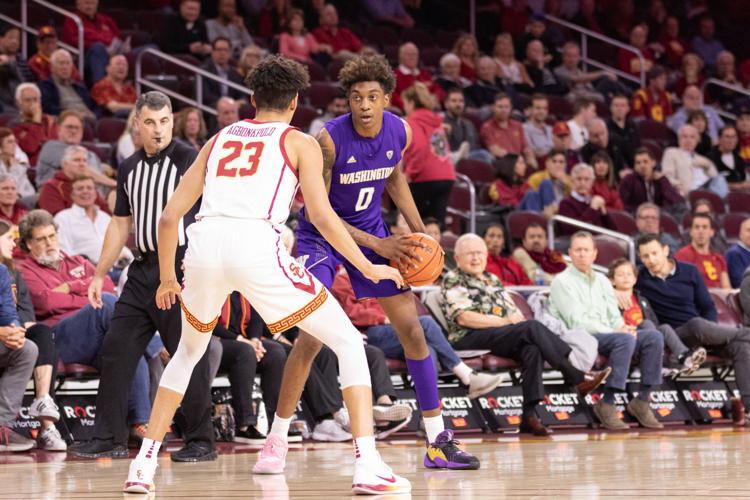 LOS ANGELES — If one moment summed up the Washington men's basketball team, it was probably Jaden McDaniels speaking after a 62-56 loss to USC. Following its seventh consecutive loss, the freshman was asked how the UW could end the tailspin that has defined its conference season. 
"I can't even tell you, honestly," he said. "I don't even know." 
At halftime, everything seemed to be lining up for the Huskies (12-13, 2-10 Pac-12) to snap its six-game losing streak. 
USC was missing its star forward Onyeka Okongwu, McDaniels was hot, with 14 points and seven boards off the bench. The Huskies' defense was clicking, holding USC to 27% shooting and just 25 points in the half. Washington was finally winning the rebounding battle.
Then, everything changed when the Trojans (18-7, 7-5 Pac-12) rallied back. 
They outscored the Huskies by 11, thanks in large part to senior Nick Rakocevic who scored 13 of his 19 points after the break. McDaniels only added five to his first half performance, though his teammates didn't fare much better. The Trojans shot 44% from the field and 30% from three. Washington was also outrebounded again, 45-38, to drop the UW below .500 for the first time this season. 
"Our offense just became stale," head coach Mike Hopkins said. "I thought our defense was good enough, numbers were there. They made a couple threes and we tried to trap a little late but the ball stopped popping."
Similar to its game against WSU, Washington's starters couldn't get the offense going. The guards in particular, sophomore Jamal Bey and freshman Marcus Tsohonis, combined to shoot 0-of-9 from the field, and 0-of-5 from three in 37 minutes. The former also had a rebound and an assist, while the latter had three assists and a steal. 
Washington's bench was the only bright spot. In his third straight game out of the starting lineup, McDaniels led the team with 19 points and 12 rebounds, his third double-double of the season. In 32 minutes, also added in a block, an assist, and only turned the ball over once. He also joint led the team with two offensive boards and was an efficient 50% from the floor.
"I thought [McDaniels] did a spectacular job," Hopkins said. "Not only on the defensive end, but he rebounded, he passed."
Additionally, sophomore Elijah Hardy added six points on two made three-pointers, and Nate Roberts grabbed three rebounds, fourth on the team, in 11 minutes. In limited action, freshman RaeQuan Battle had two points in five minutes. 
But while the Huskies had moments of brightness, the problems that doomed them at the beginning of the year continue haunted them again at the Galen Center.
"Consistency is what we need," Hopkins said. "That's the thing about it. We show flashes of really, really good, and then we show flashes of what the heck is going on out there and we've got to eliminate those."
Reach Assistant Sports Editor Andy Yamashita at sports@dailyuw.com. Twitter: @ANYamashita
Like what you're reading? Support high-quality student journalism by donating here.