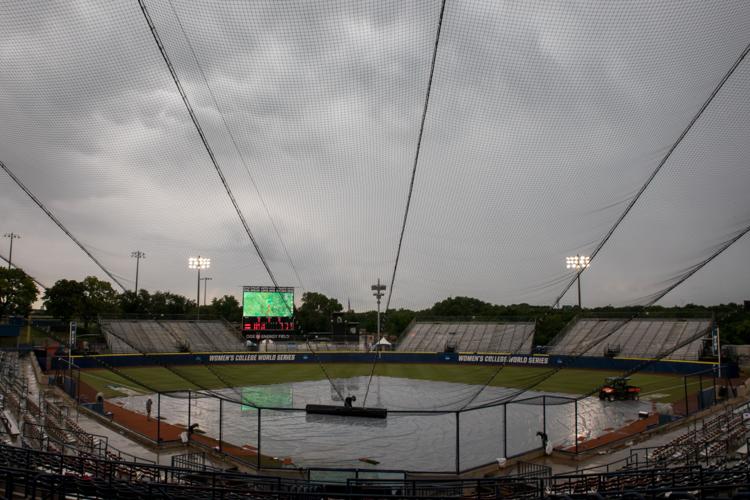 The No. 3 Washington softball team was ready to hit in the sixth inning against a relief pitcher it had little answer to when the umps came together and the news came down.
Lightning had struck in the area, and inclement weather was on its way.
As the teams were pulled off the field and the public address announcer asked the fans to evacuate the stadium, nobody knew just how long the game between the UW and No. 7 Minnesota would last.
Then the waiting game began.
"The delay probably makes it the most difficult, because in a way when you come off the field, your mind kind of has to shut down a little bit," head coach Heather Tarr said. "And you don't know how long the delay is going to be. It just continued and continued."
In the end, the Huskies had to wait three hours and nine minutes before the Gophers retook the field and play resumed.
During the break, Tarr and her coaching staff had to find a balance for the Dawgs, between staying loose and locked in, and between relaxing and preparing for play whenever the game restarted.
So as winds reached 60 miles per hour outside and lightning flashed all around, the Huskies came up with a little game in the dugout, swinging at paper cups and trying to hit line drives.
After the Huskies scored their third run off of Amber Fiser in the top of the fourth inning, the Gophers turned to Sydney Smith, who got them out of the jam and and sent the Dawgs down in order in the fifth. Then, suddenly, Washington had three hours to figure her out.
"We talked about our plan a lot, and we changed our approach against the pitcher that came in," freshman left fielder Sami Reynolds said. "We just did our best to stick to our plan that we were working on while we had the break."
When play resumed, the Huskies jumped on Smith quickly. Three straight batters reached base, and Reynolds doubled to score the two runs that ultimately turned into difference on the day in a 5-3 win.
"We had to find a way to make an adjustment, then have a two-hour delay, and then make some more adjustments," head coach Heather Tarr said. "I'm proud of our team for being able to do what they did offensively today."
As its reward, Washington gets to wait around another couple of hours before playing yet again. The Huskies went back to their team hotel to get as much rest as they can before coming back to USA Softball Hall of Fame Stadium to face No. 13 Oklahoma State in another elimination game. That game will get started around 45 minutes after No. 5 Florida finishes its matchup against No. 8 Alabama.
Don't expect the Huskies — still playing for their lives — to be worried about playing tired.
"I think [we'll] just go out there as hard as we can, with as much energy as we can," sophomore pitcher Gabbie Plain said. "That's all we can really do. Yes, it's been a long day, but we're all super excited to be here, we're all super excited to have that one extra game. We're going to try to capitalize on that as much as possible."
Reach Sports Editor Josh Kirshenbaum sports@dailyuw.com. Twitter: @J_Kirshenbaum
Like what you're reading? Support high-quality student journalism by donating here.