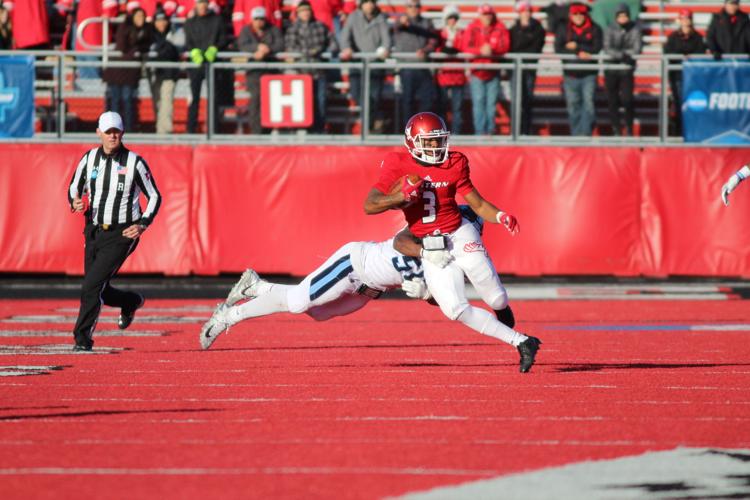 Before Saturday's game, we had the chance to ask some questions of Drew Lawson, the Sports Editor at The Easterner. Here's what he had to say.
After coming close to a national championship last season, how high is the hype level around this Eastern Washington team?
The hype level is always high after coming so close to a national championship, but this has become the norm at EWU. Every year there's an expectation from the coaches and players to win not just the Big Sky, but to compete on a national level. That expectation has only been raised higher by EWU's strong showings against FBS opponents, including wins over Oregon state and WSU (which I'm sure your school appreciated) and near-upsets over UW. Long story short, while there is the high level of hype that always comes following an appearance in the natty, it's basically business as usual for EWU.
What are the expectations for Eric Barriere this year?
Expectations for Barriere are also quite high. Former EWU QB Vernon Adams Jr. (now in the CFL) holds most of the school career passing records and threw for seven scores against UW in 2014. Adams has said that Barriere is better than him. The potential for that is certainly there, as Barriere threw for seven touchdowns in the FCS Semifinals against Maine in 2018 and led a last-minute game winning drive a week earlier in the quarterfinals against UC Davis. EWU head coach Aaron Best is expecting Barriere to play a lot looser this year now that he has a full offseason of being the starter under his belt. Barriere is a pretty quiet, unassuming guy so he just goes about his business like any "regular" player would, but the potential and expectation for stardom is certainly present.  
Who are some names we should be looking out for on the EWU defense?
My short list for players to look out for defensively includes LB Chris Ojoh, DE Mitchell Johnson and LB/DE Justiss Warren. Ojoh racked up 105 tackles, including 11 in the national championship, in his sophomore season and figures to increase that number this year with Ketner Kupp off to the NFL. Johnson is a young guy on a defensive line filled with veterans, but plays like he's an upperclassman. He played in all 15 games last year and had 4.5 sacks and eight TFL. He stood out in spring ball. Warren is a guy UW fans are familiar with as he played at UW as a TE and OLB. He grad transferred to EWU for this season and has been taking reps on the defensinve line. He's currently listed as Johnson's backup on the two-deep for Saturday. Back in his former home stadium, Warren warrants some attention as he competes against offensive linemen he used to see every day in practice. 
EWU has built up a history of giving Pac-12 teams a hard time. What would it take for the Eagles to pull the upset Saturday?
For EWU to pull the upset Saturday, I think they absolutely have to get pressure on Eason. It won't be an easy task against UW's strong offensive line, but EWU's corners are young and inexperienced as the top four in 2018 have all graduated. If Eason has all day to throw, there's a good chance he'll pick apart EWU's secondary. If he's hurried a lot, maybe he shows some of those rough edges he's been known to have. It's also paramount, in my opinion, that EWU's offense avoid the early turnover. UW's secondary is talented but also somewhat inexperienced. If EWU gives the UW defense momentum early on with one or two turnovers, it'll be a tough hole to climb out of. If the reverse happens and EWU gets some early scores, perhaps the young secondary will start feeling the pressure that inevitably comes with holding off a major upset. Finally, I think Barriere will have to have the game of his life. He's capable of greatness, as I talked about earlier in the interview. That greatness will have to show on Saturday, as he'll have to avoid mistakes and make plays with his arm and legs for EWU to have a chance. 
Do you have a prediction?
As aforementioned, EWU has a history of giving Pac-!2 teams a lot of trouble and even beating some of them. I think the trend of giving UW a tough time continues Saturday as Eason and the younger secondary take some time to gel, but ultimately, this is probably the most talented UW team EWU has faced. I think that UW's talent and size in the trenches will end up being too much for EWU to get over the top and UW will begin to pull away in the fourth quarter. It might end up being EWU's only loss in the regular season this year. Prediction: UW 41, EWU 24. 
You can follow Drew on Twitter at @lawanddisorder5, and stay up-to-date on all things Eagles at @EasternerSports.
Reach Managing Editor Josh Kirshenbaum at sports@dailyuw.com. Twitter: @J_Kirshenbaum