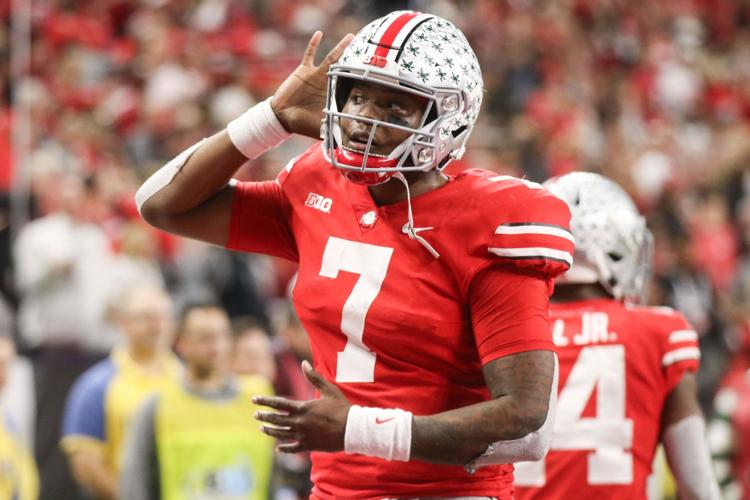 The No. 9 Washington football team is set to end its season in the Rose Bowl Game against No. 6 Ohio State at 2 p.m. Tuesday in Pasadena, Calif. We took the chance to ask a few questions of Colin Gay, the Sports Editor of The Lantern. The interview has been edited for clarity.
Is Urban Meyer's upcoming retirement affecting the team at all? If so, how much?
It's one of the main focuses. It's seemingly why it feels like everyone is playing — Dre'Mont Jones is the only guy that's declared for the NFL draft. Urban Meyer has had a lot surrounding him this year, being suspended the first three games, and a lot of news, and a lot of weight on this program and on his shoulders specifically. No matter what that situation is, through his health issues as well. They just want to send him off into his new role with a win. That's why players are sticking around. There's really been no talk about sitting out for the NFL draft. They want to send this guy off with a win. It's interesting because the focus has been on Ryan Day, of course, but it's not who's going to be the head coach, it's more of like a transition into power. That's been really interesting in terms of "It's not who, it's just a gradual transition." That allows Ohio State the opportunity to focus on Meyer. What they want is one last victory for him — because he's never coached in the Rose Bowl, he's always wanted to coach in the Rose bowl — one last one before he retires.
Do you think he's done coaching for good?
I don't know. I honestly don't know. It would be interesting to talk to the Florida beat writers back in the day just to hear if they thought he was done. I think him going into the front office plants him in that reign a little bit longer. I think that plants him into administration for a little bit. I don't know if he's done. He loves to do it, but it does seem to take a lot out of him. The players can attest to that, the assistant coaches can attest to that. We'll see. He'll be done for awhile though, I think.
What makes Dwayne Haskins special?
When you think of Ohio State football, it's not usually quarterbacks. When you think about the next level, a lot of focus has been on the NFL for this guy. It's really different than for J.T. Barrett or Cardale Jones. He's turned a Big Ten offense, a run-based offense that J.T. Barrett had using two running backs in J.K. Dobbins and Mike Weber — who still put up numbers — into a Big 12 style, pass-first powerhouse. It's been very interesting to see. That has to do with the group of veteran receivers that came back to play with this guy; they seemed to know that this guy had the potential to be one of the greats at Ohio State. That's what Ryan Day was talking about today — through 13 games, it's been one of the greatest seasons in Ohio State history at quarterback. That's just 13 games after backing up J.T. Barrett after pretty much coming from obscurity, and having to battle with Joe Burrow. He's a confident guy; he likes to say he's been the guy and he knew he was going to take the job and all that stuff, but I bet six weeks ago there were people around the country who didn't know who Dwayne Haskins was. Then after big games against Penn State, against Michigan, against Northwestern, these games that put him on the map, people started to pay attention, becoming a Heisman finalist and now maybe one of the top draft prospects in the nation depending on what he decides to do. It's interesting because one of the things Ryan Day likes to say a lot is he adapts his offenses to what personnel he has. And with a quarterback like Dwayne Haskins, who prefers to stay in the pocket and throw, with a veteran group of receivers that can get open on a moment's notice, that prides itself on its blocking short-yardage and can beat members of the secondary in space, it's kind of the perfect equation for a Big 12-style, Haskins thriving offense.
How about Haskins? Is he gone after this year?
I think he is. I don't know. We won't find out until after the Rose Bowl, but I think he will be.
With how big the spotlight is on Ohio State (always, but especially now), do you think it's ever too much for the team to handle?
I think the thing they wanted to do specifically with the Urban Meyer retirement announcement was to get that out of the way so there weren't as many question marks as there could have been heading into this game. With the health issues and what Meyer has gone through, this atmosphere for Ohio State could have been completely different. But I think it did get to them earlier this year with all of the storylines that happened with Zach Smith, and Urban Meyer, and the three-game suspension, going into the health issues. All of that culminating into really a dominant loss to Purdue, 49-20. That really hurt this team, it really did. At that point, even to on-the-field questions [came up], like  that second safety position next to Jordan Fuller. Defensive line depth — even though that was strength coming into the year, after the TCU game when Nick Bosa left and never took the field again for Ohio State — it was who would take over that role, who would be double-teamed and who would step up to take advantage of those opportunities. You had situations about the running backs too, balancing out both former-1,000-yard rushers; who gets the bulk of the carries? How does splitting carries mess with the rhythm of the running backs? So I think there's been a lot of questions for this team, on and off the field, and at times it's hurt them a lot. It hurt them against Purdue. It nearly hurt them in dramatic fashion against Maryland. But really as of late, you've really seen this team start to peak. You've seen Haskins become the guy, this nationally-recognized quarterback, and it's his offense. It's been his offense all year, but it's now his offense, and this team has kind of found its identity through Dwayne Haskins. Now the question is did they peak too late, and yes they did. But that Michigan game was huge, and it was unexpected, and it was the statement they needed to make, especially after the Maryland game that shocked everyone.
Do you think the uneven results of the CFP semifinals will re-open any thoughts of disappointment in Columbus of not making the Playoff?
The Purdue game is what kept them out. And it's not just because they lost; it's the way they did. And it would have difficult for me personally to put them in the playoff, especially over a two-loss Georgia. I thought they were perfectly ranked at the time, and I still believe that. It wasn't anything that these teams could have done. There wasn't anything they could have done against Northwestern. They made their statement against Michigan. They just shot themselves in their own foot against Purdue, against Maryland, and there was really nothing they could do to get out of the hole they dug themselves in earlier in the year.
What's going to be the x-factor for Ohio State?
It's Dwayne Haskins. It's the guy that got them to the Big Ten championship. It's the guy that secured everything for Ohio State. Going against a Northwestern team that prided itself on a zone defense, taking away big plays, and allowing completions but keeping things in front of them, Dwayne Haskins exploited that. The argument you heard is that the Michigan defense is one of the best in the nation, and they were coming in, but then you're like, "but they've haven't seen a quarterback like Dwayne Haskins." This guy is one of the one of the more confident quarterbacks I've seen. He knows he's good, and he's going to show that. Last time out, [we asked] "Did you want to throw for 500 yards?" and he said something along the lines of "yes, but I have an opportunity to do that my next time out." He's a confident guy, he knows it, and he has one more chance to prove it. I think if Ohio State can just overthrow Jake Browning and solve that Washington secondary that's been highly touted and highly rated, Ohio State should win easily.
Do you have a prediction?
I don't have a score yet. I do think Ohio State wins this game. I don't have a score yet, but I think the way this season has gone, I think the storybook ending does happen for Urban Meyer. That's what Ohio State wants, and I'm pretty confident that's what they're going to get.
Reach Sports Editor Josh Kirshenbaum at sports@dailyuw.com. Twitter: @J_Kirshenbaum