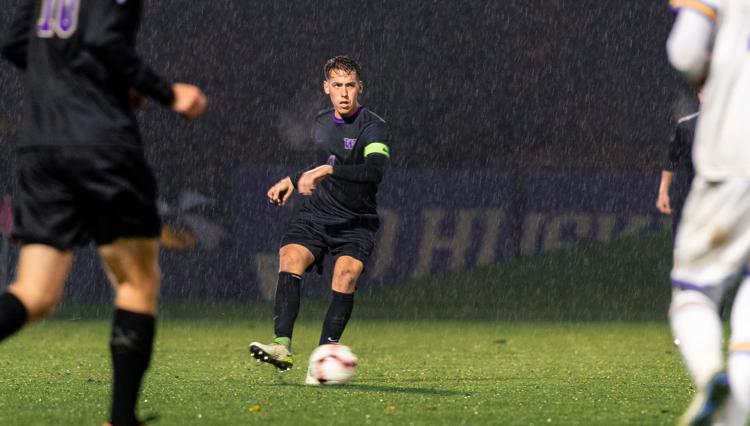 Late in his senior season, midfielder and team captain Corban Anderson is starting to get some of the recognition he deserves. He recorded the best statistical game of his career recently against Loyola Chicago, in which he scored a goal and tallied an assist within seven minutes of each other in a critical win.
Anderson has been a central member of Washington's NCAA tournament teams the last two years, using his voice to organize his squad on the field, his defensive positioning to fortify the back line, and his pinpoint passes to create scoring opportunities for his goal-hungry teammates. In many ways, his role is one that transcends the stat sheet.
However, his journey has been anything but smooth sailing. Coming to the UW, his challenges looked typical for the average college student: adjusting to life in a new city, struggling to find a community away from the friendly confines of home. Add to that the mental and physical expectations that come with representing a major Division I school in athletic competition, and achieving great things becomes exponentially tougher.
Anderson's journey began the summer before his junior year of high school, when he was discovered by UW coaches Jeff Rowland and Jamie Clark at Surf Cup, a tournament that showcases the best high school players and teams in the country.
"I remember I hit a 25-yard banger, and had an assist on a corner kick, and that's when I started talking to Jeff Rowland," Anderson said. "Then they flew down for one of my Thanksgiving Surf Cup games my junior year, and we won 4-3, I had a goal and three assists. And it was from there that I came on my visit."
His dad, Daron Anderson, who played his soccer at San Diego State, remembers the goal that changed everything for his son.
"It was just a magical moment where Corban really made his stamp on the game, and it just so happened that the University of Washington was watching," Daron said.
Although he had a good game, Anderson remembers another detail that may have aided in getting noticed.
"I had a mullet, and honestly I think that played a huge role in getting recruited," Corban said.
Corban committed to the UW and graduated high school six months early in December 2014. As part of his preparation to play soccer at a major collegiate level, he trained for three months in Vitoria-Gasteiz, a small city in northern Spain with an almost nonexistent English-speaking population, which included his host family. Not only did the country and culture change, but the soccer changed with them.
"It was the first time in scrimmages where we would man-mark players defensively," Anderson said. "I had never done that in trainings in the U.S. And here I am, a small 18-year old kid, marking a 30-year old Spanish dude with calves the size of my quads, and I said to myself, 'I have no idea how I'm supposed to do this, he's just faster and stronger.'
But it was just a mentality flip, saying, 'No, I have to, I'm gonna do it.'"
As much as his time in Spain positively influenced his development as a soccer player, the language and cultural barriers prevented him from making any meaningful relationships abroad.
"It was really good from a soccer perspective, but it was tough personally just because he was out there all alone," Daron said. "So when he came to UW he was really looking forward to connecting with people who spoke his language and starting to develop friendships with his teammates. But that didn't turn out quite as he expected."
In his first training session as a Husky, he broke his hand. Compounding that with the fact that he didn't know anyone on the team, it was tough for him to adjust his freshman year. But adaptation is something that he knew he quickly had to become used to, and slowly but surely, he developed connections that would turn into friendships.  
"The summer going into my sophomore year was probably the biggest time of growth I've had," Anderson said. "It was more of a mentality change where I said I was going to approach this thing head on. Things aren't coming super easy right now but I'm just going to go for it."
But even when he thought the worst was behind him, challenges continued to persist as recently as this past offseason.
"In spring, it was the best I've ever felt physically," Anderson said. "Playing-wise, I was playing well, confident, and then I actually got hit by a car riding my bike. So I had a pretty bad concussion. That's something I couldn't really do much about, but at the same time I was just trying to force it with soccer and I didn't want to lose any fitness. So I ended up with a sports hernia, and that's what kept me out all of summer and I'm still kind of dealing with that stuff now."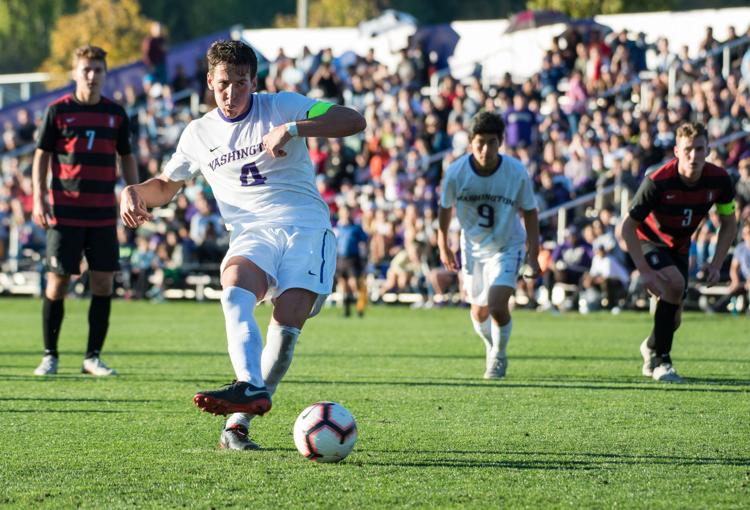 Although he did not participate in the team's FISU America tournament in Brazil this past summer, he used the offseason to recover, and has since played in every regular season game this year, helping his team reach its third straight NCAA tournament.
His head coach saw firsthand the improvements Anderson made to his game.
"He's become dominant in the air, which he wasn't when he arrived," Clark said. "He sees the field and sees passes so quickly now, so passes that took him two touches to see, now he does in one. Those are the things that open games up for midfielders. He just understands spacing and shape so well that he dominates games just by positioning and how many balls he wins."
No matter what the challenge, Anderson has various means of keeping himself grounded and in the moment. One such device is a wristband he wears during games that reads "AO1."
"He has a sincere faith in God, so it's his reminder that he wants to play well for everybody else, but ultimately, when he's out there playing soccer, he's really playing for an audience of one," Daron Anderson said.
Another one is a mantra, instilled in him by one of his former coaches at Placer United, the club team he played for growing up.
"I remember one of my coaches, Kelcey Chaidez," Corban said. "Early on, I would get hard on myself playing; I would make a bad pass and it would just throw me off for the rest of the game. He instilled this idea of 'Flush it,' like a toilet, and just move on. As small as that seemed back then, I honestly think that was monumental as to the player that I am now."
He also picked up an unlikely way of diverting his attention from the game in his formative years.
"I started giving soccer trainings to our dance teacher's little son," Anderson recalls. "From there, I was just talking to Mrs. Milburn, the dance teacher, and she said that I should come right in to advanced dance. She knew I played soccer, and some of the soccer players she had in the class were pretty coordinated and good at dancing. Every semester, we had a dance show, and I was in three of those. I had some solos that were pretty good."
This particular hobby was an interesting one to his family and friends alike, especially when he took part in a production of Hairspray.
"I was the John Travolta of Hairspray for our dance show, and I was the one dude in the whole show, it was all girls and then it was me dressed up as the mom," Corban continues. "That was hilarious, that was good stuff."
Overall, Anderson has come a long way from being that small, 18-year old kid all alone in Spain, and is now a team leader, willing to do anything he can to help his team advance in the postseason.
"I think the biggest life lesson I've learned is to, for one realize there's things that I just can't control, and how I react to those things," Anderson said. "I said, 'I'm really going to enjoy this challenge and enjoy the grind of injuries and moments where a teammate and I aren't clicking or on the same page.' It's that ability to see that a situation is kind of crappy, but I'm going to grow from it."
Reach reporter Chris Angkico at sports@dailyuw.com. Twitter: @chrisangkico
Like what you're reading? Support high-quality student journalism by donating here.