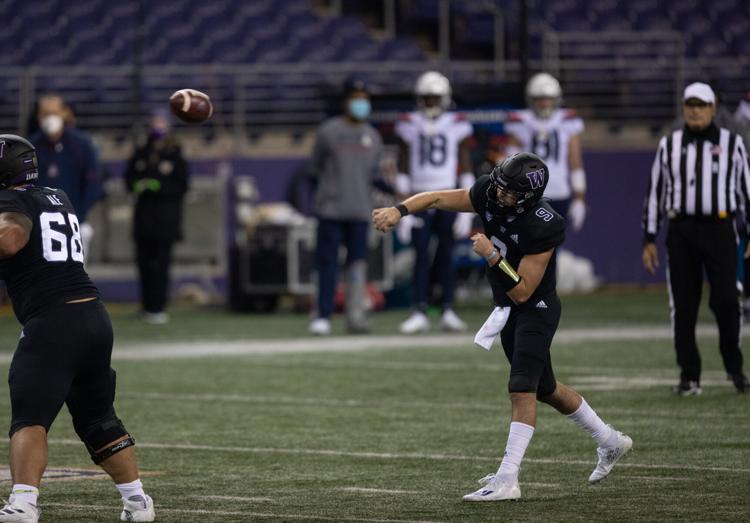 For 48 minutes, the Washington football team looked unstoppable.
Hosting Arizona for the first time since 2015, Washington shutout UA for three quarters of football, and completely dominated on offense, winning 44-27. It was an all-around near-perfect performance from the Huskies (2-0), who topped the Wildcats in nearly every statistical category.
Washington set the tone with the first drive of the game, backing up coach Jimmy Lake's assertion that UW would play with an "attacking" style of offense.
Starting from its own 22-yard-line, the Huskies had three straight positive plays, but failed to convert a first down. Lining up to punt, the snap instead went to up-man Jackson Sirmon, who rushed four yards and a first down.
"We said way back in December, that we were going to be attacking in all three phases, offense, defense, and special teams," Lake said. "Hopefully you saw that last week against Oregon State, and you definitely saw that tonight."
Three plays later, redshirt freshman quarterback Dylan Morris hit sophomore wide receiver Puka Nacua on a shallow cross which turned into a 65-yard catch-and-run touchdown, as the Huskies took an early 7-0 lead.
From then on, Washington never let up until the fourth quarter, and its defense didn't either.
On Arizona's first two drives, it failed to convert a first down and combined for -1 yards. At the end of the first quarter, the Wildcats (0-2) only had 21 yards. The story would repeat for the ensuing three quarters, as the Huskies swarmed the Wildcats offense, limiting them to 66 yards until the fourth quarter, and not allowing a single third-down conversion until early in the fourth quarter.
Following the second Arizona three-and-out, the Huskies drove down the field yet again behind 58 receiving yards from junior tight end Cade Otton. Down to the one-yard-line, the Arizona defense stepped up, stopping the UW offense dead in its tracks and forcing a Peyton Henry field goal to make it 10-0 Washington. It ended up as one of the lone bright spots the Wildcats defense had against the first string UW offense, as it was steamrolled for 37 straight points to open the game.
It was a balanced offensive attack that Jimmy Lake has preached since he became the head coach last December, as the Huskies finished with 239 yards through the air and 233 on the ground.
Morris looked comfortable in the pocket, completing 15-of-25 passes for 230 yards and two touchdown passes that went to Nacua and Otton. The UW rushing attack was also balanced between four running backs, led by 81 yards and two touchdowns from sophomore Richard Newton on eight touches.
"We're going to do what we can to be an efficient offense and an explosive offense," Otton said. "Coach Donovan and the rest of the coaches put a really good game plan together and it showed up on the field."
What started as offense, translated to defense.
Trailing by 10 late in the first quarter, Gunnell dropped back to pass on third down, but was strip-sacked by Washington linebacker Edefuan Ulofoshio, setting up Washington deep in Arizona territory. Two Sean McGrew runs later and the Huskies were suddenly in control of a 17-0 lead.
"That's the best feeling there is as a defense, when you've got them on their heels," senior outside linebacker Ryan Bowman said. "For us, it's just attack, attack, attack. It's good they're on their heels, because we're coming even harder after that. It's more motivation to keep coming harder."
The next drive, sophomore outside linebacker Zion Tupuola-Fetui, who impressed in his first career start last weekend, showed up yet again.
Facing third and 11 from his own 37 yard line, Gunnell dropped back to pass, but the ball went no further than the hands of Tupuola-Fetui, who broke the pass up and forced the third Wildcats punt of the quarter.
For the second consecutive game, Tupuola-Fetui added two sacks to his pass break-up, upping his season-total to four.
All-in-all, Washington finished with seven tackles for loss, five sacks, and held Arizona's offense to a measly 2-for-13 on third down conversions and without a point until 12:37 left in the game.
"What I really enjoyed is that we stopped the run this week," Lake said. "That was one of our emphasis' last week, but we did not get that done. Coach Kwiatkowski and coach Malloe did a fantastic job of getting our guys dialed into the Arizona run game, and we shut it down big time, and made them one dimensional. I was really proud of our pressure we put on the quarterback after that point."
The UW offense carried the early success over to the second and quarters, tacking on three touchdowns behind 136 rushing yards to lead 37-0 heading into the fourth quarter. 
It was a complete game until then, when Washington finally took its foot off the gas, putting in its back-ups and surrendering 267 yards and 27 points in the fourth-quarter. The yardage total in the fourth quarter more than quadrupled what the Wildcats accumulated through the first three quarters, displaying the dominance of the Huskies' starters.
Washington will hope to continue its dominance next Friday when it travels to Pullman to take on Washington State in the 113th Apple Cup game. The Cougars (1-1), who had this week's game cancelled due to COVID-19 cases on their roster, will be without quarterback Jaden de Laura, who tested positive for coronavirus, and likely Max Borghi, who has been out with a back injury.
Reach reporter Anthony Edwards at sports@dailyuw.com. Twitter: @edwardsanthonyb
Like what you're reading? Support high-quality student journalism by donating here.