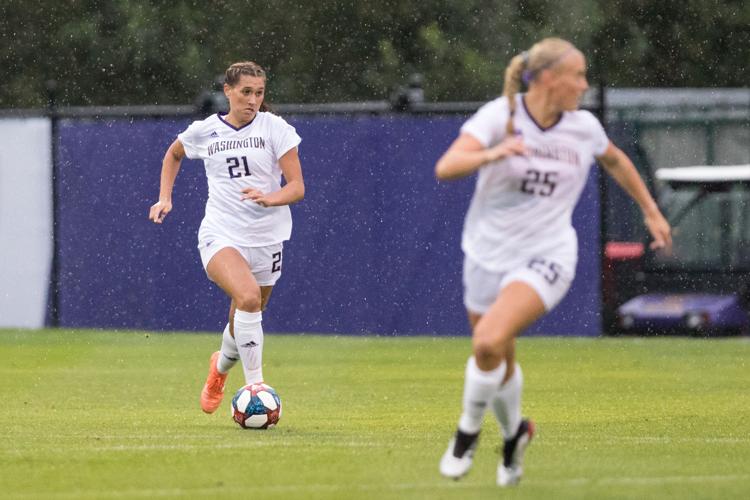 The Washington women's soccer team handed Denver its first loss of the season, and took it's win streak to two with a 1-0 victory in Portland, Oregon.
The Huskies (2-1-2) played an aggressive style of offense early in the game by sending one or two forwards ahead and trying to feed long passes to them in stride. This requires precise passing that Washington pulled off, but just had trouble getting clean looks with the Denver (3-1-1) defense swarming the box.
A big risk of this strategy is being called offside, and the Dawgs succumbed to that, with five offside calls in the first half.
In the 41st minute, a long bomb from Helena Reischling made its way halfway across the pitch and found Ruby Hellstrom near the Denver box. After the ball got batted around, the result of the play was a corner kick in which Ameera Hussen entered to Olivia Van der Jagt. The Junior fed the ball up to Kennedy Smith and the swarming defense knocked the ball into its own net.
The score was later ruled an own goal, but regardless, it was still the first goal that the Pioneers have allowed this season.
This marked the fourth goal for the Huskies in 2019, and like the first three, it came in the first half. The Huskies have not been able to score in the second half all season, and have allowed three goals in those periods.
The defense stayed strong, not allowing a goal throughout the whole game. In the first half, the Dawgs only let the Pioneers get one shot off. In the second period, once DU was playing from behind, it got off five shots but UW kept all shots from getting on target.
The Huskies now get to catch their breath with over a week until their next game. Washington heads down to the Lone Star State for games against Texas next Friday at 5 p.m. PT, and TCU the following Sunday at 11 a.m. PT.
Reach reporter Josh Eddy at sports@dailyuw.com. Twitter: @JoshTreEddy
Like what you're reading? Support high-quality student journalism by donating here.