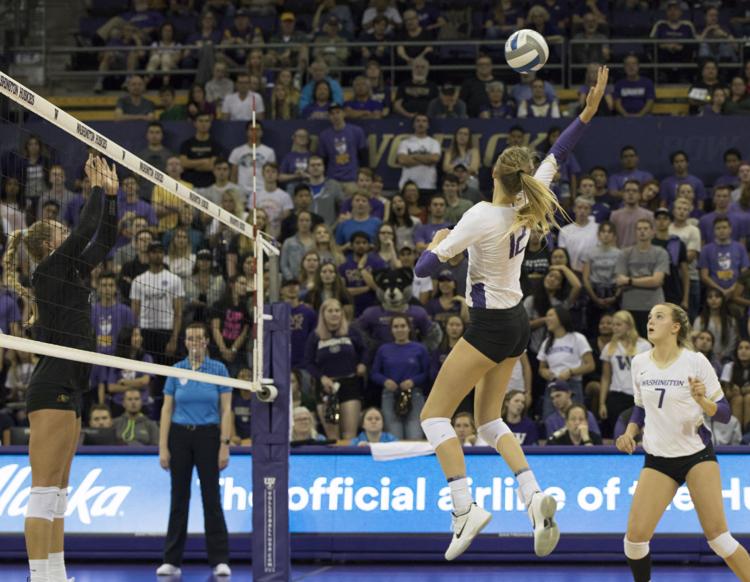 At match point Friday night, freshman Marin Grote put the match to a fitting end with her 11th kill of the night, almost matching her previous season total of 12 in her first full match. Grote, replacing an injured sophomore Lauren Sanders at middle blocker, was an impact player for the No. 13 Washington volleyball team with a team-leading five block assists. She had five kills to lead the team in the final set before she ended it 25-16 for a 3-1 (25-23, 20-25, 25-20, 25-16) win over No. 23 Colorado.
"Not a lot of nerves, a pretty confident player," head coach Keegan Cook said. "[She's] not afraid to go for it and that certainly can help you in this environment."
With two middle blockers returning from last year, Grote hasn't seen much playing time for the Huskies so far this season, but that changed after Sanders went out with an injury at Oregon State last weekend. She far surpassed her previous offensive performances, with a season high of three kills before the match. With Washington trying to avoid the inconsistency of last year's injury filled season, she's been getting enough play time for a taste of the NCAA, but hadn't yet played for an entire match.
"Had a lot of confidence starting her, a lot of confidence having her run behind the setter and get some slides," Cook said. "We've been mixing her into other matches to prepare for just in case and just in case happened so feeling pretty good about that."
It was a slow start for the Huskies (11-2, 3-0 Pac-12), with early errors putting hitting in the negatives until midway through the first set. The early half of the match was one of struggling to get past the big Colorado block, and the Huskies nearly doubled the Buffaloes (record) in errors with 27 to Colorado's 14 by the end of the match. They scraped out a first set win, 25-23, Grote bringing the Dawgs within one with a kill, and adding two aces to tie it and reach set point.
"We ran into what was one of the bigger blocks we've seen in the Pac-12, and I didn't think our outsides managed it well," Cook said. "Our serving certainly didn't help us out. To steal that first set was awesome, but pretty dissatisfied with the level of play those first two sets for sure."
The Huskies once again showcased a high risk, high reward performance on the service line that didn't quite pan out, 16 errors overshadowing 12 aces. By the third set, though, the Huskies were able to make up for it on offense. Washington's outside hitters, sophomore Sam Drechsel and junior Kara Bajema, found more offensive success as the match went on as they were able to get past the Colorado block.
"After the first two sets I thought both outsides were having a hard time and to get blocked as many times as we did, it's part of them having to grow up and hit high and deep against the bigger blocking teams," Cook said. "I think you just saw times when they were great at it and times when they struggled. It's going to be a season long battle for them."
Dreschel led all players with 18 kills; Bajema was second with 16. Junior libero Shayne McPherson led the Dawgs with 18 digs.
Washington will finish the weekend Sunday at noon against No. 25 Utah.
Reach social media editor Hailey Robinson at sports@dailyuw.com. Twitter: @haileyarobin