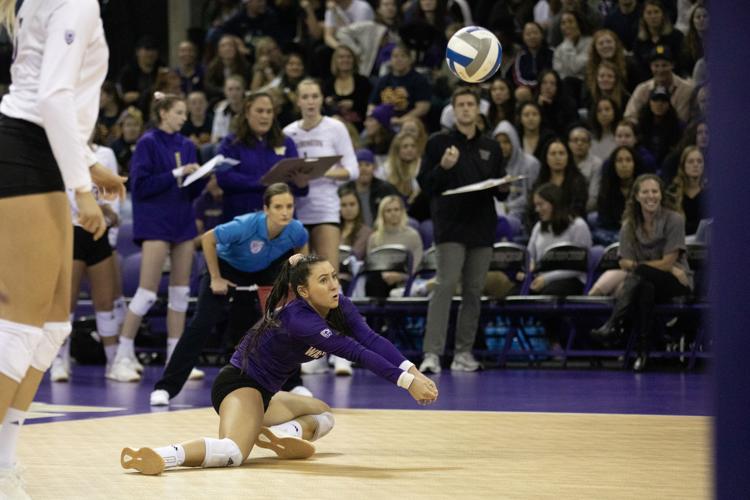 Every set was close as the No. 10 Washington volleyball team overtook Arizona State 3-1 (20-25, 25-20, 25-21, 25-22) on Friday night at Alaska Airlines Arena. 
The defensive effort by ASU and libero Courtney Leffel made scoring on the Sun Devils (10-8, 2-5 Pac-12) difficult, and as rallies went long, especially in the first set, it seemed at times impossible for Washington. 
"They kept a lot of balls off the ground," head coach Keegan Cook said. "I thought they were outstanding. They certainly didn't give us many free points. They only hit five balls out of bounds in the whole match. In the third set we had to kill 20 balls, they only hit 25. Impressive, clean match by them, which puts a lot of pressure on you."
The third set was a tough one for the Huskies (14-3, 5-2 Pac-12), but also where their offense was the most noticeable. Senior outside hitter Kara Bajema led the charge with nine kills in that set alone, after nine kills in the first two sets combined. 
Bajema was just as visible on the defense, where she was one of four Huskies with double-digit digs. She and senior libero Shayne McPherson both recorded 19, while sophomores Shannon Crenshaw and Ella May Powell each added 16. 
The high volume of digs was necessary in the long rallies the Sun Devils pushed, and often succeeded in winning. 
"In long rallies we're getting super tired and sometimes it takes everything in your power to not tip it, still keep taking big rips," junior outside hitter Sam Drechsel said. 
As the match went on, though, more of those rallies started going Washington's way, in part a result of McPherson setting Drechsel and Bajema in good position after ASU forced them out of system, and ub part because of some key swings and digs. 
Still, those rallies aren't situations Washington wants to be in the first place. A lot of it had to do with a stellar Arizona State defense, and the UW offense taking some time to figure out how to make kills the sun Devils couldn't get to. 
"If we'd just hit a little bit cleaner I think there would've been a little less pressure on us," Cook said. 
In the first and second sets especially, the match was close until near the end, when one team pulled away. Back-and-forth runs in the third set — six straight for ASU and five straight for Washington — ended a set that spent most of the time in the UW's favor.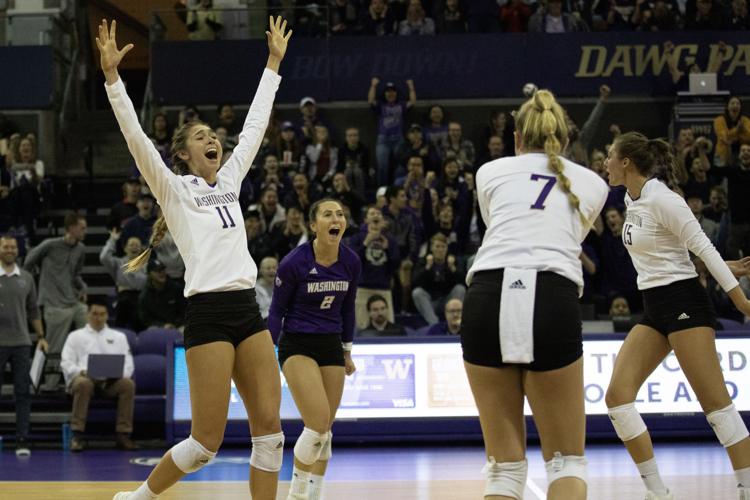 The fourth set was similar, close throughout with the Huskies pulling away at the end. The Sun Devils attempted a comeback, but made a service error that ended the match. 
The match was characterized by long rallies, and the result of each set by how well the Huskies could finish them. While early on, it seemed like it would go Arizona's way, the Dawgs gained more control as the match went on, which let them get ahead of the Sun Devils. 
"It was pretty obvious in the first part of the game that we wanted to win those long rallies and we were throwing our bodies all the way around the stands and running balls down," Drechsel said. "I saw a lot of hustle and heart."
The Huskies will host Arizona on Sunday at noon.  
Reach Engagement Editor Hailey Robinson at sports@dailyuw.com. Twitter: @haileyarobin
Like what you're reading? Support high-quality student journalism by donating here.