Defensive coordinator Jimmy Lake's results speak for themselves: in the past three years, Washington has sent eight defensive backs to the NFL. The Huskies have finished top-10 nationally in points allowed per game each of those three years, in large part because the secondary allowed less than one passing touchdown per game.
Schools like LSU, Ohio State, and Texas might have their arguments, but at least on the West Coast, Washington has become unrivaled as DBU.
But the downside to success in college football is turnover. The Huskies came into the season having to replace four starters — Taylor Rapp, Byron Murphy, Jordan Miller, and JoJo McIntosh — with just Myles Bryant coming back from the group that helped lead the Dawgs to the Rose Bowl.
Washington has its core five for 2019. Bryant has shifted to safety next to true freshman Cameron Williams. Kyler Gordon and Keith Taylor are the new starting corners, and Elijah Molden has taken over at nickel. After them, Lake has a deep pool of young backups waiting in the wings.
Two games into the season, the results have been mixed. On one hand, Washington has only allowed one passing touchdown so far. On the other, the Huskies haven't brought in an interception. Last weekend, the Huskies held Cal to just 56 passing yards in the first three quarters, before allowing the Bears to pass their way down the field to set up a game-winning field goal.
We're just two games into the latest era for the Washington secondary, and the jury is still out: Is this the next iteration of DBU?
Myles Bryant: The Captain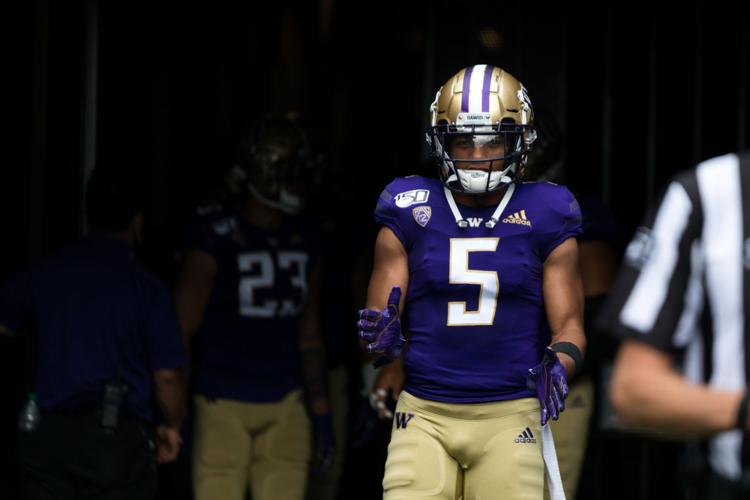 The only player in the Washington defensive backfield who had been a full-time starter before this season, Myles Bryant is the undisputed leader of not only the UW secondary, but the entire defense. Where before Bryant played with the likes of JoJo McIntosh and Keishawn Bierria, who were outspoken leaders on previous Death Row defenses, Bryant took up their role as the sole returning starter. 
"His leadership has skyrocketed, in terms of being more vocal," fellow senior Benning Potoa'e said. "He's always been an example since he's stepped foot into this program. Just being more vocal, being able to direct people and lead people, especially because we're a young team, he felt the need to take that role, and he's doing a great job at it."
In Week 3 of the new season, Bryant has settled into the role nicely but doesn't really see a lot of differences between his leadership now and his leadership when he was with guys like McIntosh and Bierria. 
"I kind of always had the role, now there's just an emphasis on being vocal towards it," Bryant said. "Just bring energy and an edge and also trying to put guys in the right place so they can make plays. I feel like I've been doing that for a long time in terms of putting guys in a position to make plays, but now the vocal aspect has been emphasized."
Dubbed the "film scholar" in our previous iteration, Bryant can still recite from memory various plays and moments from the UW's previous game with ease and has brought a consistent tenacity to the defense for four years now as three-year starter. 
While the rest of the players in this room are unproven youngsters, Bryant has shown that he can compete next to the best, including several NFL talents, and make plays of his own among a crowded defensive backfield. But now the task on Bryant becomes vocally leading a young group to similar success as seasons past, and even the older guys, like junior Elijah Molden, are listening to him. 
"Back when I was a freshman, I really modeled my game after him," Molden, now playing in Bryant's former nickel position, said. 
So whether it be three-year playmakers Taylor and Molden or the freshmen in Williams and Gordon, Bryant brings not only experience but also most of the leadership to a room that desperately needs it. 
Keith Taylor: The Next Leader Up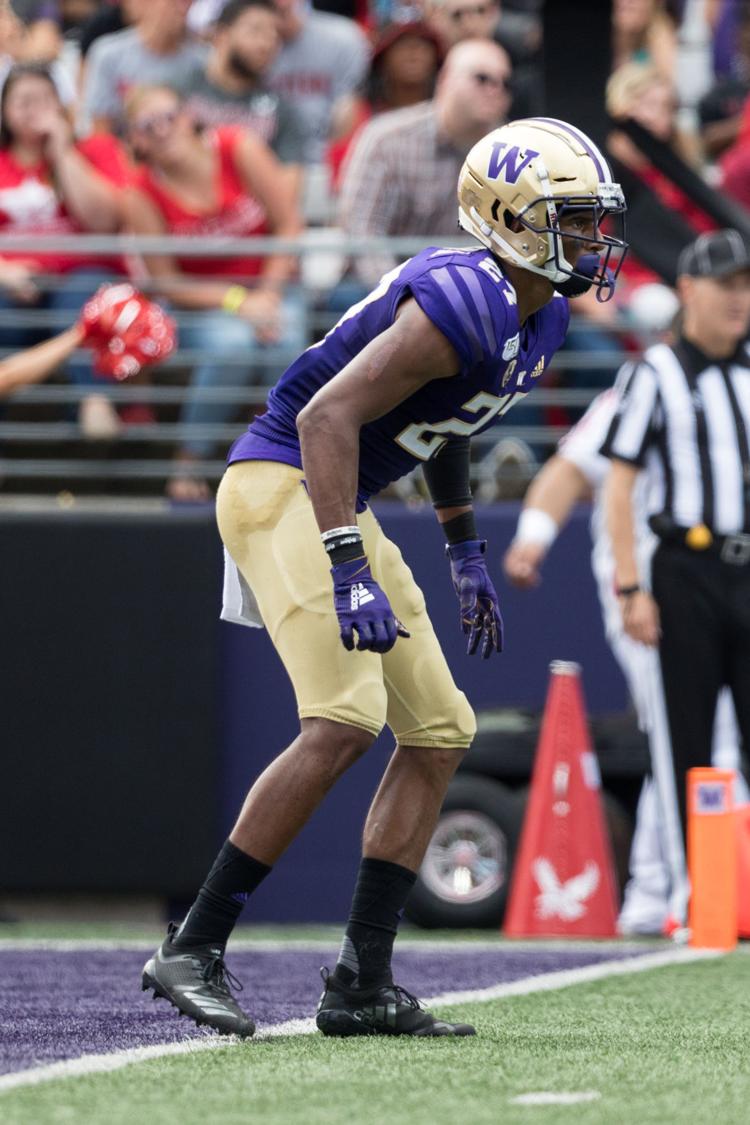 Now in his third year in the DB room, Keith Taylor is finding his voice.
The junior cornerback might be the softest-spoken player when it comes to interviews and media availability. Heck, even Lake doesn't hear him raise his voice that much. 
"He's still quiet, around me and when we're going about our business with installing defense and going through practice," Lake said. "But he likes to have fun with the guys and chatting it up and talking about whatever. You can see him dancing around and having a good time. When it's business and when it's playtime, he likes to have fun."
But with Byron Murphy and Jordan Miller the latest UW cornerback pairing to make the jump to the NFL, Taylor has found himself the elder statesman on the outside. But in his two years of playing behind them — in which he played in 26 out of Washington's 27 games — Taylor soaked up as many lessons as he could on leadership.
Or at least, the one big one. 
"At some points, just in terms of making plays on the ball and everything like that," Taylor said. "I think that was the only thing, just making plays. I feel like we all had great technique, it just came down to who was making plays."
Two weeks into the season, his growth has been apparent in the room as much as on the field. After the upset loss to Cal, in which the Golden Bears targeted Kyler Gordon twice on back-to-back plays — one going for a 19-yard gain the second resulting in a questionable pass interference call — it was up to Taylor to be there for the redshirt freshman.
Taylor said his message to Gordon was simple: just keep doing what you're doing, and it'll all work out.
"It's a big step that he had to take," Myles Bryant said of Taylor. "I feel like the past couple of weeks, he's been able to do that, just going out there and helping out guys like Kyler and Dom [Hampton] and Trent [McDuffie], and just helping them fix their technique and refine it so they can go out there and make plays. I feel like that's something that he's improved on."
Now the next in a line of UW corners that has sent each of its past four full-time starters to the draft, Taylor is still looking for his first career interception. Lake has also added to his responsibilities on the field, moving him to the middle as a sort of second nickel when Washington goes with six defensive backs.
But for now, the focus is on Taylor's leadership; the rest will follow.
"He's really picked up where we left off last year," Lake said. "Leadership-wise he's grown a ton, now he's the old guy, and we're expecting Keith to have a big year."
Elijah Molden: The Lifer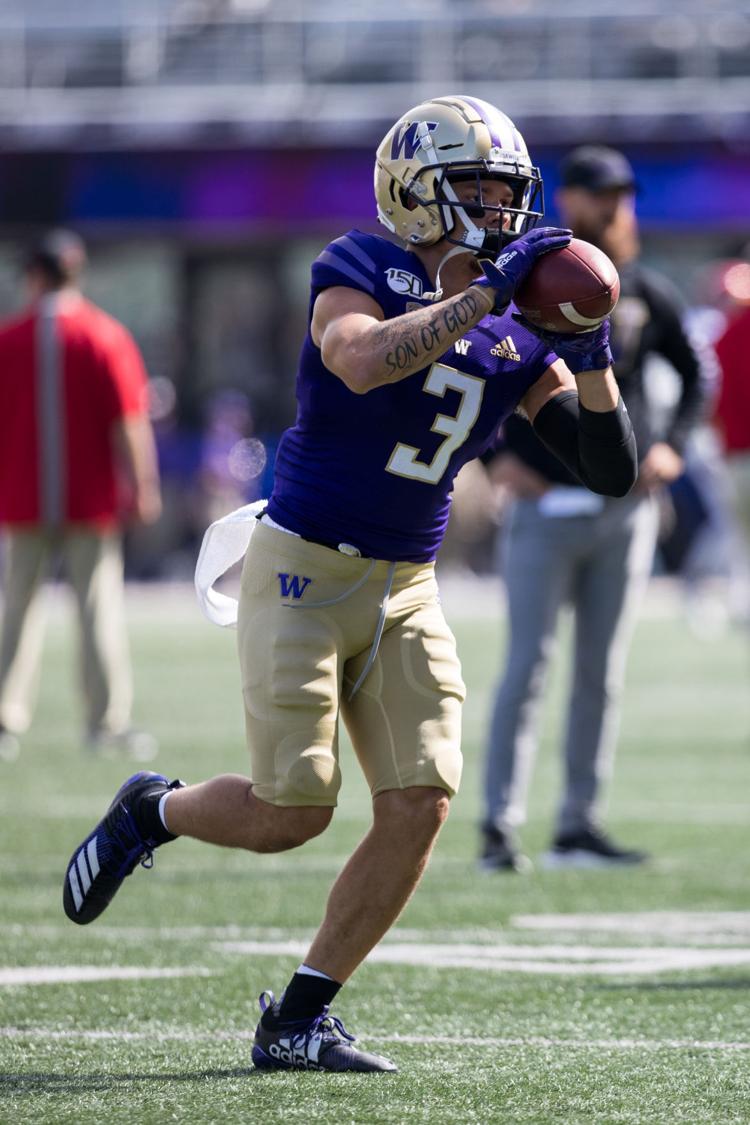 Myles Bryant had a good feeling about Elijah Molden as soon as the latter stepped onto the practice field as a true freshman in 2017.
"I feel like you could tell guys who have a natural feel for the game, and then guys who kind of lean on the more athletic side and rely on those abilities," Bryant said. "I feel like Elijah is a guy who has athletic ability as well as a natural feel for the game. Just that experience, being around football his whole life, has helped him. You can see it in how he plays."
Molden, whose father, Alex, was an all-conference cornerback in the early 1990s and went on to play 11 seasons in the NFL, grew up around football. In his own words, the game is a pillar of his life. He spent his childhood at games and in locker rooms, and once he got to Montlake, he was in his element.
Never mind that his father went to Oregon.
"As soon as I stepped foot in the locker room, I knew what my goal was," Molden said. "Now it's all about being a leader and bringing those other guys with me."
In his first two years at Washington, Molden spent time as the backup nickelback behind Bryant, modeling his game after him and making two starts last season when Bryant was hurt. 
Now with Bryant moved back to safety, it's Molden's turn to take the reins as the Huskies' fifth DB. Though at times, Molden's development has been a joint experience.
"We've been talking to each other about how to play the nickel position," Bryant said. "Now that he's been thrusted into that role, he's taken what we both learned, and now he's executing it out there. I think he's doing a good job at it."
In his third year on Montlake, Molden still goes back to his father for pointers and discussion. 
"He always says he needs an interception; I haven't had one my whole career," Molden joked. "Other than that, he just encourages me and makes sure my head is on straight."
And has his Duck of a dad come around on his son going to the UW?
"He came around the second I committed," Molden said. "It wasn't hard for him to switch. I'm his son, so I hope so."
Kyler Gordon: The Competitor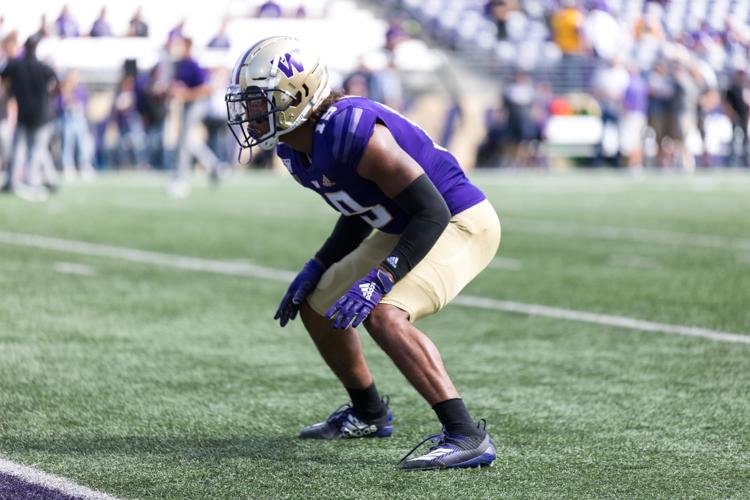 The defensive back room is all about competition. Whether it be competing for a starting spot in a backfield littered with talent, competing for the "Best Hands in the Room" award given to the DB who gets the most interceptions during fall camp, or just competing on wind sprints, Kyler Gordon is trying to win everything. 
"I feel like he brings a competitive edge to the team," Bryant said. "Not only the DB room, but the team as well, he's a competitive guy. He always wants to win, whether it be conditioning sprints or little 10-yard sprints that we do, or our best hands in the room during fall camp, so he brings that competitive edge, and gets guys to get up and want to compete some more."
Coming off a year in which he only saw action in four games, and mostly on special teams, Gordon is the next highly-touted athlete to see the field as a redshirt freshman, the last being second-round NFL draft pick Byron Murphy. 
As with Murphy, Gordon had to bide his time behind more experienced players, but only for a year after being thrust into a starting role in just his second year in the program. And as with Murphy and his predecessors at the outside cornerback spot, Gordon is a supreme athletic talent, boasting a vertical jump of 42.5 inches at the Husky Combine last March. That number is four inches more than the next best mark by a Dawg. 
"Still would like to see a lot more from him," Lake said. "He's definitely a great athlete that is striving to get the most interceptions in our room from practice to practice, and now we have to see that continued growth, which we saw from game one to game two … now we want to see that growth again in game three and beyond."
And while Gordon has been picked on at times playing opposite proven junior Keith Taylor, the freshman has responded strongly and with poise. Time will tell if Gordon can be the next Byron Murphy, Jordan Miller, or Kevin King, but he certainly has the competitive drive continue to improve and make splash plays. 
Cameron Williams: The Rookie
Going into 2019, Washington knew it had to replace four starters in the secondary, but Taylor and Gordon were both experienced options at corner and the obvious next men up on the outside. Bryant could move to safety, both because he had shown that he could play every position and because Molden already had the makings of a star nickel.
That only left one completely open spot for a real surprise.
Enter Cameron Williams.
"I think it was a culmination of things over spring ball," Bryant said. "Seeing how quick he was able to pick up things and how fast he's able to translate them onto the field. I feel like that culmination of things is surprising."
By August, Williams was already practicing with the starters. He took every rep of training camp next to Bryant, and come Sept. 1, he was the first true freshman to start a season opener for the Huskies since Jake Browning in 2015.
Focusing on the defensive side of the ball, Williams is just the third UW player to start their first game suiting up for the Huskies, after John Timu in 2011 and Budda Baker in 2014.
"I guess in a best-case scenario, you would always love to [redshirt every freshman]," Lake said way back when training camp opened. "But sometimes a freshman is the best player, and he's going to play. That's just how it goes. Some guys, they come in here wired the right way, and they're already physically ready to go. Like a Taylor Rapp."
Look, the comparison is obvious: A 6-foot-tall, three-star recruit who enrolled early at Washington to begin practicing in the spring, who showed the coaches enough to not only play him but to start him at safety in his first year.
Two games in, it's way too early to decide if Williams is the next Rapp. He made four tackles in his debut, then added two more in the loss to Cal. 
But after said two games, that second safety spot next to Bryant is looking more and more like Williams' to lose.
"When it comes to being on the field and off the field, we're always watching film together, always doing extra work," Bryant said. "I'm just helping him, trying to put him in the best position so he can make plays and go out there and be comfortable with how he plays."
Brandon McKinney, Dominique Hampton, Trent McDuffie, and Asa Turner: The Depth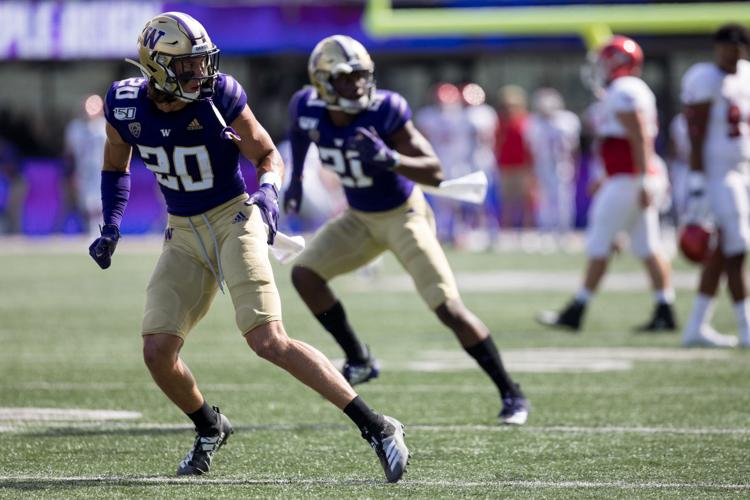 If Washington's youth in the DB room doesn't show enough in its starting five, the bench — junior Brandon McKinney, redshirt freshman Dominique Hampton, and true freshmen Trent McDuffie and Asa Turner — piles it on.
Hampton and McDuffie have played in both of Washington's games thus far — Hampton as the No. 3 corner and McDuffie on the outside against EWU and solely on special teams against Cal. McKinney, who started the Rose Bowl in place of Rapp, has appeared mainly on special teams, and Turner, a four-star recruit out of Carlsbad, Calif., worked in as the third safety in Week 1.
"They come ready to work, so I'm really excited about them going forward into the season," Taylor said.
Reach Sports Editor Alec Dietz and Managing Editor Josh Kirshenbaum at sports@dailyuw.com. Twitters: @AlecDietz and @J_Kirshenbaum
Like what you're reading? Support high-quality student journalism by donating here.