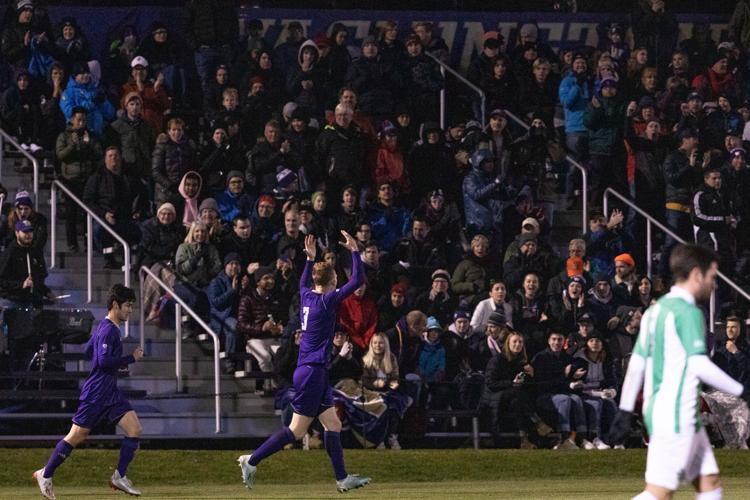 No. 6 Washington men's soccer team kept its historic season rolling with a 4-1 domination of No. 11 Marshall, proceeding to the NCAA Quarterfinals for the first time since 2013. 
"I'm incredibly proud of this group and we've shown some glimpses over the past few weeks of how special a team it is," head coach Jamie Clark said. "It's not fractures, it's not individuals, it's a collective group and it's extremely fun to watch and in turn it's very hard to beat." 
The Huskies (17-3, 8-2 Pac-12) struck first in the seventh minute when Blake Bodily scored his 12th goal of the season with an assist from John Magnus off a corner kick from Lucas Meek. The score was Bodily's eighth in as many matches and gave the Huskies an early 1-0 lead. 
"Getting on the scoresheet early is always big because it was a huge momentum shift towards our way," Bodily said.
The UW defense held the Thundering Herd (16-3-3, 5-1-1 C-USA) in check until the 22nd minute when Kasey French fouled a player in the box, resulting in a Marshall penalty. The spot kick, which was Marshall's first shot of the game, was converted by Jamil Roberts to tie the game at 1-1.
"We've been down before and we weren't down at that point so we played the same way no matter what," Ethan Bartlow said. "For us, heading back on the front foot was important."
Washington reclaimed the lead in the 42nd minute when Bartlow, the Pac-12 defender of the year, scored his fourth goal of the season off a cross from Joey Parish and put his team up 2-1 at the half.
"Going up 2-1 at half instead of 1-1 is huge because going into half, we talked about keeping a clean-sheet for the second half," Bodily said. "We know if we did that, we would win so getting that second goal was really big."
The Huskies increased their lead immediately at the start of the second half when Christian Soto curled it beautifully into the net for his first collegiate goal. 
The game got a little chippy from there, with the two teams racking up 32 fouls and six yellow cards between them. 
Meanwhile, Marshall's goalkeeper Paulo Pita had himself a career night with nine saves and tried to keep his team in the game. However, the Thundering Herd offense struggled, recording only two on-target shots out of six attempts while Washington had 13 on-goal out of 23 attempts.
"Somehow, we've made really really good teams look not as good on the night," Clark said. "A lot of that comes from defending because we've made teams uncomfortable." 
Ethan Bartlow converted a penalty in the 72nd minute for his first collegiate brace and secured the 4-1 victory (and a place in the Elite Eight) for the Huskies while simultaneously ending Marshall's fairy-tale season. 
"The one thing we said at halftime today was we were going to win 2-1, 3-1, or 4-1," Clark said. "We got to 4 but we made sure that they weren't going to score again." 
Washington will travel across the country to Washington D.C. to face No. 3 Georgetown with a spot in the College Cup on the line. The quarterfinal match will be on Dec. 7, with kickoff at 9 a.m. 
"At this point, no matter who you play, there are eight teams left in the country so it's always going to be a tough test," Bartlow said. "We're playing some of our best soccer right now and it comes at a really good time." 
Reach reporter Le Bui at sports@dailyuw.com. Twitter: @LeBui18
Like what you're reading? Support high-quality student journalism by donating here.