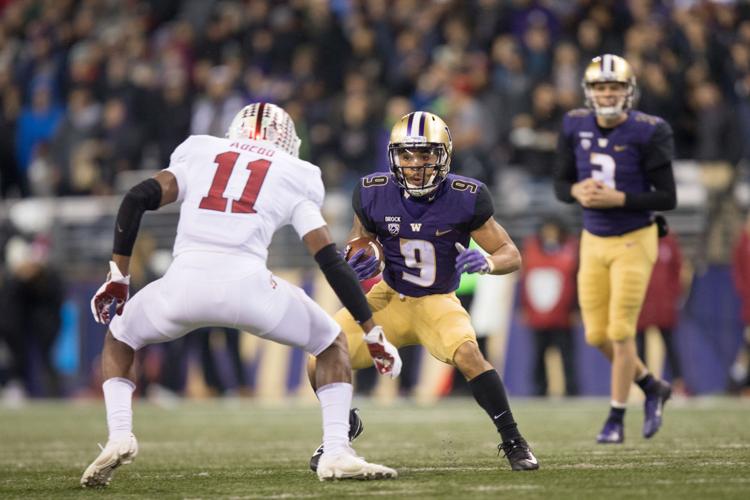 It's hard to believe that some of these seniors will be running out of the Husky Stadium tunnel for the last time this Saturday.
"You run out here on Saturdays, it's one of the special things I'll get to do in my life," senior linebacker Ben Burr-Kirven said. "To hear the crowd roar, it's an incredible place to play football."
Senior day has finally arrived at Montlake, and each player seems to react to the celebratory event differently.
"I've played almost 50 games here," tight end Drew Sample said. "The last time playing at Husky Stadium will be a pretty surreal experience, I'm hoping to just take it all in, and once the game starts try to get that W."
Burr-Kirven is excited to have his family on the field, but says that his focus will be entirely on the game at hand against the Beavers.
"I'm not into reflecting," Burr-Kirven said. "I'll think about my time here when I'm done playing football for the Huskies."
Most of the players elaborated that their focus would be on playing football. After all, their regular season doesn't end until an Apple Cup meeting with Washington State in Pullman, but even so, four-year starter Jake Browning is looking forward to the event.
"I think it'll be cool to have my family on the field and stuff like that," Browning said. "Other than that, we need to beat Oregon State. I think walking off the field for the last time, I think that will be weirder. I'll be walking off the field with Myles [Gaskin] and will be like, 'Damn, it's over.'"
Aside from the festivities, the fans can celebrate players who have brought the Huskies back to prominence.
"When we first got here, we were just trying to build something," Sample said. "We hadn't really had success in a few years, we had some bumps and bruises and a couple losses but we grew and hit that next step."
That next step was in 2016, when the Huskies won their first outright conference title in over a decade, and became the second Pac-12 team to represent in the College Football Playoff. At 12-2, the Huskies tied the 1991 national championship team for most wins in a season.
"The past few years we've been on the cusp of doing something really great," Sample said. "Now we're really trying to get to that elite level. The culture that we've instilled is trying to keep pushing the boundaries of that and not being satisfied."
All the seniors should be proud of how they've risen through the program in the last four years, but Browning says he's most proud of how he, and the rest of the senior class, have shown up to work each day.
"I've put literally everything I've had into this program since I've gotten here," Browning said. "There's some peace of mind when you're walking away from something that you've put everything you could into something."
But the ultimate goal still stands in Washington's way. To have a shot at a Pac-12 championship, the Huskies will have to beat the Beavers this week, and then beat the Cougars in Pullman to advance.
"We want to do the whole senior night celebration, and then go and ruin WSU's senior night," Browning said.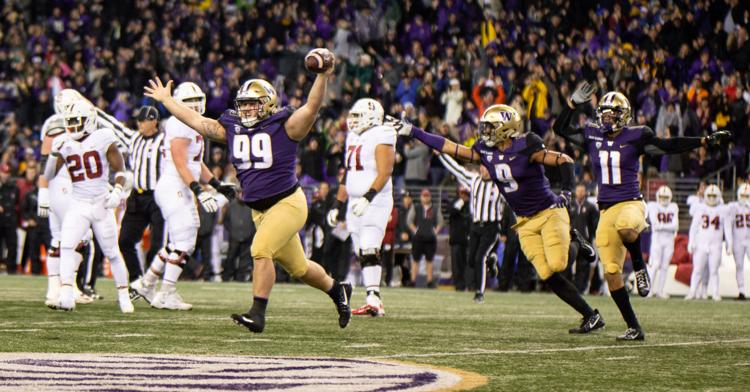 By the Numbers: The UW class of 2018
Washington's 36 wins are the second most all-time for a class in UW history. Only the class of 1984 and 1992 have more wins at 39.

Washington has made two New Year's Six bowl games in a row, reaching the College Football Playoff in 2016, and going to the Fiesta Bowl against Penn State in 2017.

Jake Browning owns several UW records, including career passing yards, career passing touchdowns, and tied the Pac-12 record with 43 passing touchdowns in 2016. In 2016, he was the Pac-12 Offensive Player of the Year and finished sixth in the Heisman voting.

Myles Gaskin, additionally, is Washington's all-time leading rusher, and is the program leader in career rushing touchdowns.

Ben Burr-Kirven's 134 tackles this season ranks No. 2 nationally, and first in the Pac-12. His four fumbles forced also leads the conference.
Reach Assistant Sports Editor Alec Dietz at sports@dailyuw.com. Twitter: @AlecDietz
Like what you're reading? Support high-quality student journalism by donating here.