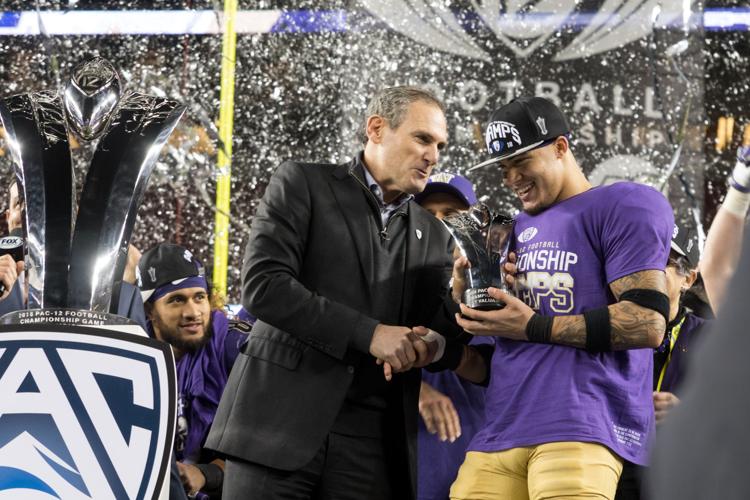 UW inside linebackers coach Bob Gregory was answering a question Tuesday morning about how he was going to feel the night before the No. 13 Washington football team opens its season against Eastern Washington, but another discussion crept into his response.
"There is nothing to me like college football, especially at Husky Stadium," Gregory said. "Kickoff time at noon, as college football should be. I'm looking forward to it. I think we're all going to have a little bit of jitters, but once that thing is kicked off, we're just playing and having fun."
Did you catch it? That's right, we're once again (still?) talking about kickoff times.
Back in 2017, controversy came to the shores of Lake Washington with the contrived feud between ESPN and Chris Petersen around the topic of late-night kickoffs. That came and went, pretty much everybody except Mark Jones moved on, and 7 p.m. kickoffs remained a fact of life in the Pac-12.
Then, just about a month ago, Pac-12 Commissioner Larry Scott once again put the topic of kickoff windows at the forefront, saying that Fox wanted the conference to explore a handful of games that would begin at noon — eastern time, that is.
Immediately, the concept of having to deal with football games kicking off at 9 a.m. became a battle that seemingly the entire West Coast was rallying around. It didn't take long for the idea to be tabled after significant backlash from nearly every corner of the conference below the commissioner.
But then, Monday afternoon, the topic came back, with at least one Fox executive going on record saying the broadcasting corporation was interested in the idea for next season, particularly for either Washington's non conference matchup with Michigan, or Oregon's with Ohio State. 
As of Tuesday afternoon, Stewart Mandel's initial tweet about the announcement had drawn 126 replies. By my count, four were positive. 
If the idea of having any college football game — let alone Washington's biggest home non conference matchup since No. 8 Nebraska came to Husky Stadium in 2010 — begin at breakfast time sounds insane, that's because it is. 
Lower attendance numbers have been a problem for the Pac-12 recently; making fans wake up earlier than they would for work on a weekday to come to the stadium won't fix that. Player wellbeing has also been a concern; making student-athletes get up at 4 a.m. to get to the field is only going to harm them. "Lack of exposure" has been a worry, and it's very true that having games start after half of the country has gone to sleep limits the number of eyeballs on West Coast football. But ask yourself, is the solution to that problem to make your best teams play before most college students are willing to wake up?
If only there was a middle ground — say, the seven hours between 10 a.m. and 5 p.m. most people reserve to do anything on the weekend.
Chris Petersen, surprisingly, is not a fan of the idea. At a press conference two weeks ago, he recalled a 9 a.m. game he had as the head coach at Boise State — his word for waking up at 4:30 in the morning to get to the field on time was "miserable." His counterpart at WSU, Mike Leach, was somehow even more blunt about it, asking his Twitter following if anybody thought it was a good idea. Athletic Director Jen Cohen is also on record saying that she would not agree to playing a game in a 9 a.m. window. 
Gregory, who dealt with a 9 a.m. kickoff for a game as Cal's defensive coordinator in 2004, didn't worry about how his players would deal with it so much as the fans.
"The only thing I'd be concerned about, just like our very late games, is if it's good for the fans if they show up," Gregory said. "Sometimes it's so late for families, it's hard to show up. I can see it being too early to show up."
For his part, defensive coordinator Jimmy Lake only smiled and took a deep breath.
"Whatever time they tell me to play, we're going to be ready to go."
Reach Managing Editor Josh Kirshenbaum at sports@dailyuw.com. Twitter: @J_Kirshenbaum
Like what you're reading? Support high-quality student journalism bydonating here.