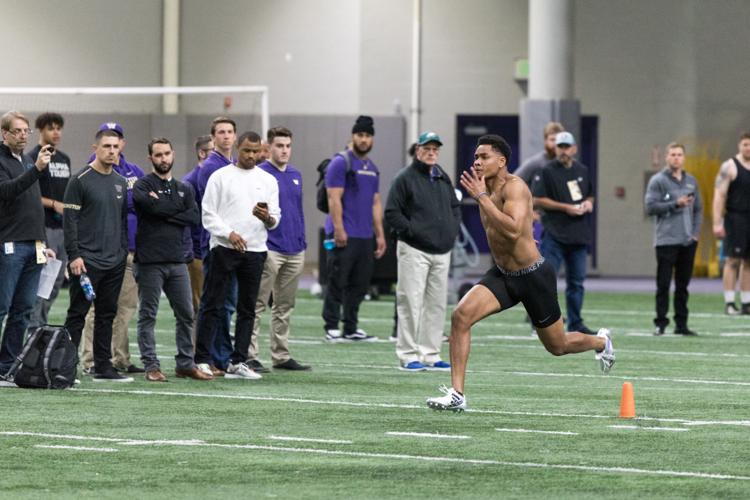 Just before JoJo McIntosh got into his stance for the 40-yard dash at the Washington Pro Day, wearing just a pair of running tights and a set of white cleats, a voice called out from within the mass of scouts along the running track:
"You look good!"
McIntosh flashed a quick smile in the direction of Green Bay Packers cornerback Kevin King, who, standing with a group of former UW players now in the NFL, took in Pro Day and occasionally called out to their former teammates.
"He's my guy," King said afterward. "It was real quiet out here, and I was just trying to give him a familiar voice to feel good about. This is a big day for him; he's trying to get that money."
Not that McIntosh minded. He had the highest vertical jump of the six Huskies who participated at 36 inches, and looked good in the other drills, for which results weren't announced.
"All the DBs that come through here, we're all brothers," McIntosh said. "That's my big brother right there, so having him there to support me like that felt good. It was exciting."
It wasn't just defensive backs from Jimmy Lake's highly-decorated groups coming back. Darrell Daniels, John Ross, and Dante Pettis — McIntosh's former roommate — all came to the Dempsey to watch the Huskies' seniors show off for the scouts.
"It's dope seeing everyone back here too," Pettis said. "Ross told me he was coming back, so I was like, 'Okay, I've got to make it too.'"
In recent years, though, it's been Washington's secondary room making the most waves in the draft, with King, Budda Baker, and Sidney Jones getting drafted in 2017 and Ezekiel Turner going to the NFL last season.
This year could see the most Huskies go away to the pros, with McIntosh, Jordan Miller Byron Murphy, and Taylor Rapp set to hear their names called later this month in Nashville.
Of those, McIntosh was the only one to not be invited to the NFL Combine in Indianapolis, making Monday his best chance to show off for the scouts.
"I didn't even pay too much mind to it," McIntosh said. "At the end of the day, I've got to come to Pro Day and I've got to perform."
Next year, those four could be coming back for their first Pro Day as professional athletes, joining the growing crowd to come back and see their collegiate teammates.
"That pipeline is huge. We're trying to create it to where it's like SEC schools, where that pipeline is there and it's strong. We get all types of guys every year. It feels good; we're really a family."
Reach Sports Editor Josh Kirshenbaum at sports@dailyuw.com. Twitter: @J_Kirshenbaum