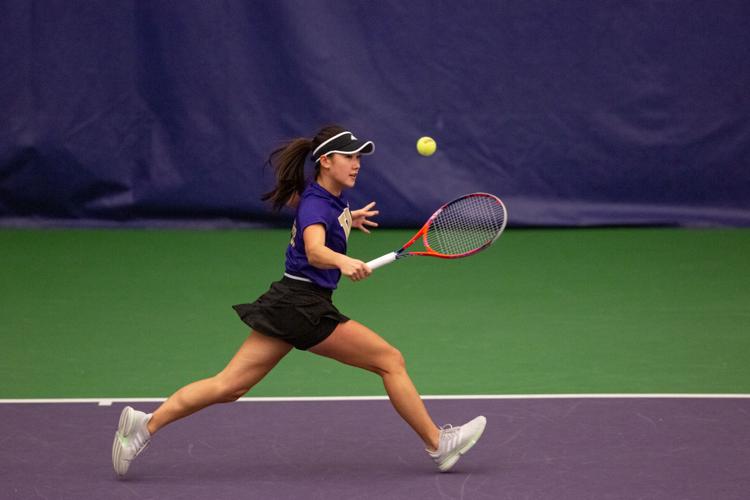 The No. 14 Washington women's tennis team knocked off Portland State, sweeping the points in a dominant 7-0 win Saturday morning.
"The intensity and execution today was exactly what we wanted it to be," head coach Robin Stephenson said. "We wanted to start off the season the way we want to play and build through the season. I thought we had a really good start."
The Huskies (1-0) won the doubles point convincingly, winning all three matchups and setting the tone for the remaining singles matches, which all ended in Washington's favor.
"It's normal that the first match can be a little rusty, but I think everyone handled nerves very well and a lot of people came out swinging," junior Vanessa Wong said.
The sophomore duo of Zoey Weil and Nika Zupancic swept their matchup 6-0 and the Huskies secured the doubles point when the second matchup resulted in another efficient 6-0 set for senior Katarina Kopcalic and sophomore Sedona Gallagher.
Although the doubles point was already settled thanks to those two wins, Wong and senior Natsuho Arakawa played out their set which finished in a 6-2 win.
Arakawa started singles well too as she swept both sets 6-0, 6-0. Wong, also picked up a win in straight sets, beating Portland State's Jacinta Milenkoski on 6-0, 6-2 in her first match as the Huskies' top singles player.
"I try not to think about it as pressure," Wong said. "At the end of the day it's all just one point. Playing at one, playing at six, it's all kind of the same thing. It's obviously fun to play on Court One next to other people, but I'm excited to work hard and earn that spot."
Weil finished her singles matchup strong too, winning the final set 6-0 after taking the first set 6-3. 
"Having the time on court and playing matches gives me a lot of confidence and makes me more comfortable," Weil said. "I started playing with more confidence, going bigger on my shots and it was nice to finish strong."
Finishing the sweep, freshman Ashley Chang won her match 6-3, 6-3, while Kopcalic won in straight sets as well, 6-3, 6-2. Gallagher finally wrapped up the day as she picked up a won, 6-0, 6-2.
UW continues its season against Eastern Washington on Sunday at Noon, followed by a matchup with Seattle U at 3 p.m.
Reach reporter Luka Kučan at sports@dailyuw.com. Twitter: @luka_kucan
Like what you're reading? Support high-quality student journalism by donating here.