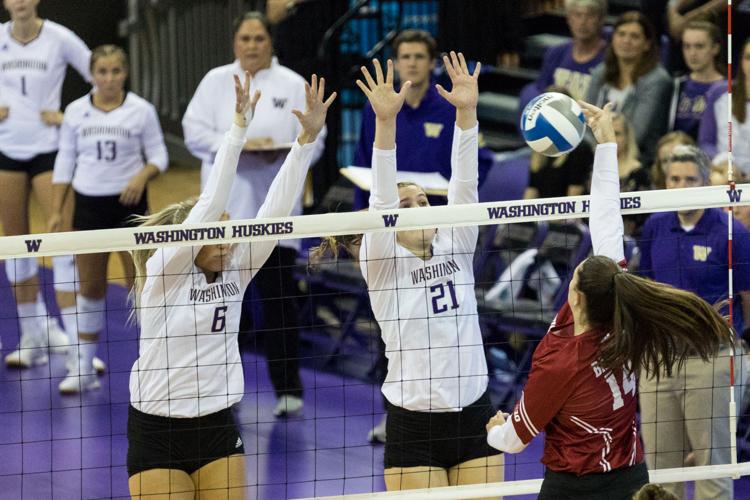 PALO ALTO, Calif. — Shayne McPherson remembers sitting in the locker room of Maples Pavilion after last year's matchup with perennial championship contender Stanford. 
The Washington volleyball team had just been swept, with the Huskies never really posing a threat to a Cardinal team that would go on to win the national championship. 
"It wasn't the best feeling," McPherson said. "We knew we were a better team, and we didn't play to our highest potential."
A year later, and No. 8 Washington is the one celebrating after it shocked No. 1 Stanford with a 3-1 win. It's the first time since 2007 that the Huskies (10-2, 1-1 Pac-12) have beaten the Cardinal (7-3, 1-1 Pac-12) at Maples Pavilion and just the fourth time ever. 
"The past three years I know we've lost in this stadium, and it never feels good to come out and say, 'Hi' to everybody, so I'm pretty happy my last year we get to come out with a win," senior middle Avie Niece said. 
Niece was a huge part of the Huskies' upset of the Cardinal, as the tandem of her and junior middle blocker Lauren Sanders controlled the net for the entire match on both sides of the ball. They combined for 14 block assists and 16 kills while Sanders added a solo block of her own. Stanford's middles totaled just seven kills and nine blocks. 
McPherson and the rest of the back row were also crucial, limiting Stanford's hitters to a .111 hitting percentage as a team and holding two-time AVCA Player of the Year Kathryn Plummer to just .067 hitting percentage. The Huskies' 25-15 set three win was the first time the Cardinal have failed to pass 15 points this season. 
"I saw a lot of digs tonight that I haven't seen earlier in the season honestly, from our right back position especially" head coach Keegan Cook said. "It's a different kind of defense just creating so many opportunities. We've kind of exposed ourselves, we need to play that well more often."
The upset comes on the back of a disappointing Pac-12 opener against Washington State where the Huskies fell in four sets after going up 1-0. 
"We looked at that match as a challenge to learn more and to get back to the gym and work on the things that we could have executed better in our match against WSU," McPherson said. "We had a lot of focus in the two practices we had before this game, worked on the things we could control, and put it into this game."
Debuting new black uniforms, the Huskies came out firing, catching the top-ranked Cardinal by surprise. They took an early 17-12 lead in set one and won the final six points to close out the set, 25-17. Sanders joint-led the team with four kills on five attempts while Niece racked up three blocks. 
But the Cardinal came back from the break ready to play, and took the second set 25-18. Behind from the start of the set, the Huskies tied it at 16-16, but a 9-2 run by Stanford finished the game. 
However, set three ended up being the turning point. The Dawgs responded with a commanding 25-15 win including a 13-2 run by the Huskies all but sealed the match. Junior Kara Bajema picked up five kills in the set on her way to a game-high 17.  
"Everything we saw today we've seen in bits and pieces," Cook said. "We haven't seen it come together like that in a long time. Particularly our defense and our setting was outstanding. We created lots of opportunities and then we executed in transition. It was a complete turnaround from Wednesday."
The Huskies again led late in set four, but with Stanford mounting a late comeback, a Plummer tip was ruled down by the referees despite a diving effort from senior defensive specialist Cailin Onosko. Cook challenged the play and instead, Plummer was called for a block error, making it 24-17. Two plays later, Bajema hammered a bump set from Ella May Powell hard down the angle off Stanford libero Morgan Hentz's foot to make the upset official. 
"We've been up 2-1 before, we've been to fifth sets here," Cook said. "I just thought the consistent pressure in the fourth game and just staying connected to the game plan no matter whether we got the lead early in the set or halfway though, we just kept pushing until that last point." 
Washington will be back in action on Oct. 4 when it takes on USC in Los Angeles at 8 p.m.
Reach Bay Area Correspondent Andy Yamashita at sports@dailyuw.com. Twitter: @ANYamashita