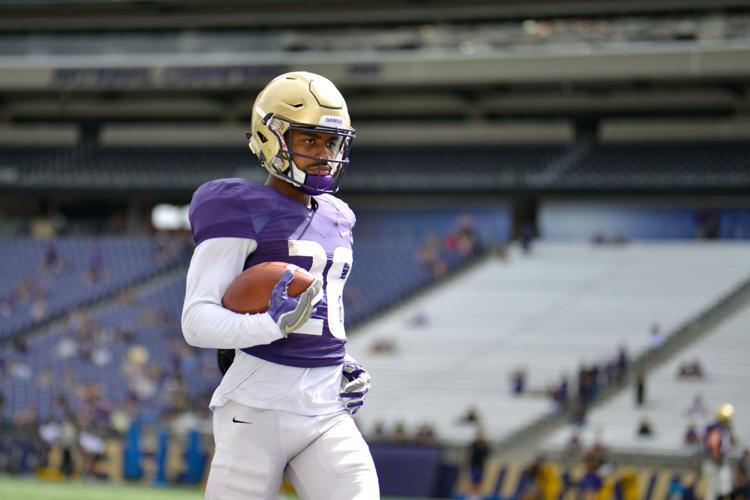 Much has been made of the No. 18 Washington football team's depth in the secondary. Following injuries to senior Jordan Miller and junior Myles Bryant, and senior Jojo McIntosh's ejection against Stanford two weeks ago, the sophomore trio of Keith Taylor, Elijah Molden, and Brandon McKinney impressed as the Huskies (7-3, 6-2 Pac-12) flexed their strength to hold on against the Cardinal.
The same recruiting class that brought Taylor, Molden, and McKinney to Montlake also saw three wide receivers land in the Emerald City: Ty Jones, Terrell Bynum, and Alex Cook. Jones has clearly been the most effective with 26 receptions for 437 yards and six touchdowns this year.
Things haven't worked out as well for Cook, Bynum, and sophomore Jordan Chin who have combined to haul in one catch for 26 yards between the three of them, despite playing in almost every game this season.
Against Oregon State though, Bynum, Cook, and Chin have an opportunity to step up. Like their counterparts on the other side of the ball, injuries have pressed the group into action. Junior Quinten Pounds — who still has the longest reception of the season — is out for the year, while junior Chico McClatcher indefinitely stepped away from football after Washington beat Colorado.
"They're stepping up big," junior wide receiver Aaron Fuller said. "They're getting the playbook, finding their role, maturing in the reciever room. Carrying the flag is something we spoke about years ago and something we continue to speak about in fall camp. When people go down or don't have the game they need, other people have got to step in and take over."
No player can play every single down of a drive, and if the Bynum, Cook, and Chin are non-factors when they are in the game, it limits the offense's options. However, if there was ever a weekend for the three of them to hit their stride, it's playing the Beavers (2-8, 1-6 Pac-12).
"I think they're taking steps in the right direction," offensive coordinator Bush Hamden said. "Those guys have been working for awhile. They're smart kids, they know what to do. One thing about that group is that we've built depth there and we feel confident in them."  
Oregon State is the worst team in the Pac-12 in points per game (45.1), passing yards per game (271.3), and interceptions (three). With the added bonus that the attention of the Beaver defense will probably (rightfully) be focused on the run game, the field could open up for the receivers, letting the trio make an impact.
"We just try to stay ready," Chin said. "We don't take [the lack of targets] as a personal thing. We try to play for our team, we don't want to be selfish. It's all about the team at the end of the day and coach Pete really emphasizes putting the team before ourselves so that's always what we focus on."
Time is ticking on Bynum, Cook, and Chin, but this weekend against Oregon State could be exactly what the doctor ordered to kickstart their Washington careers.
Reach reporter Andy Yamashita at sports@dailyuw.com. Twitter: @ANYamashita
Like what you're reading? Support high-quality student journalism by donating here.