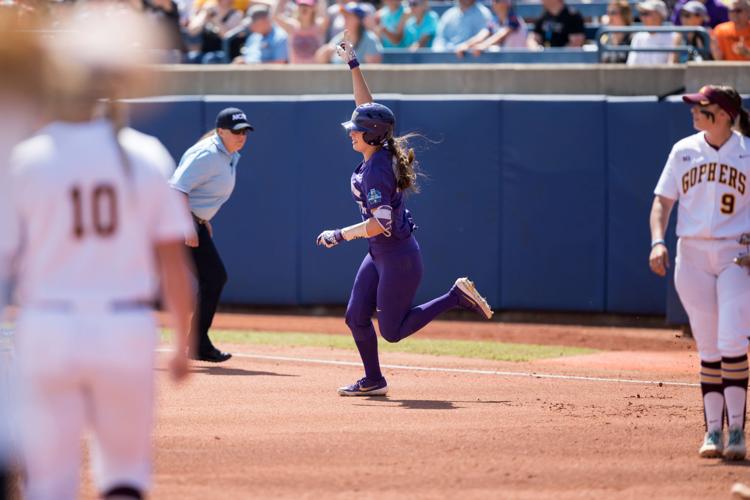 OKLAHOMA CITY — Lightning was in the forecast from the get-go Saturday afternoon, but Morganne Flores didn't wait around to bring some thunder, smashing a solo home run in the top of the first inning to kickstart the No. 3 Washington softball team's 5-3 win over Minnesota.
Then after sophomore Gabbie Plain wrapped up the bottom of the fifth inning, Mother Nature brought her own thunder, as well as lightning and a lot of rain, forcing the Huskies to wait three hours and nine minutes to seal the win and survive to play another game.
Minnesota made things interesting in the bottom of the seventh, plating a pair and putting the tying run in scoring position with two ours, but Taran Alvelo came in to strike out MaKenna Partain and earn her third save of the season.
"When Taran came on, I knew she had it," Plain said. "I knew she was going to have my back."
Plain (24-2) finished with 10 strikeouts in 6.2 innings. Alvelo earned her third save of the season.
The Dawgs will take on No. 13 Oklahoma State in another elimination game later tonight after No. 5 Florida and No. 8 Alabama wrap up their matchup.
After going 0-for-3 on Thursday, Flores didn't wait around, swinging at the first pitch of her first at-bat and driving a ball over the wall in dead center to make it 1-0 Huskies.
"Our plan was to get on the pitcher early," Flores said. "We were just going to attack her, attack, and chip away. It happened to the be the first pitch, and I saw it down the middle."
The Dawgs manufactured another run in the first inning, taking advantage of of an error, a walk, a fielder's choice, and a wild pitch to score Sami Reynolds and double the lead to 2-0 before Plain ever had to step out of the dugout.
Minnesota halved the lead in the bottom of the third, but the UW struck right back, with Sis Bates flipping a shallow pop fly over a drawn-in infield to score Madison Huskey and make it 3-1.
Washington beats Minnesota to stay alive in the WCWS
Lightning in the area pulled the teams off the field before they could start the top of the sixth, but when they came back, Washington picked up where it had left off, bringing in a pair on a Reynolds 2-RBI double.
Minnesota's run in the bottom of the third ended Gabbie Plain's shutout streak at 34 innings. On the offensive side of things, Washington's 10 hits were its most in a WCWS game since 2009.
Reach Sports Editor Josh Kirshenbaum at sports@dailyuw.com. Twitter: @J_Kirshenbaum
Like what you're reading? Support high-quality student journalism by donating here.