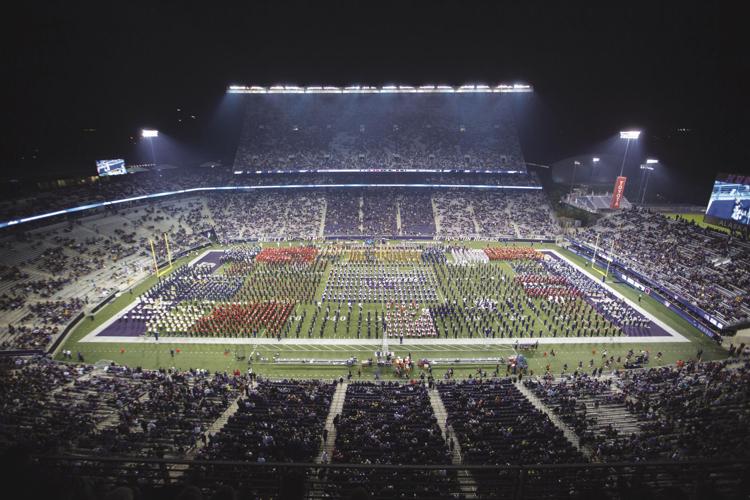 When Denali Cornwell reflects back on his first Band Day as a high schooler, he mostly remembers being awestruck by it all. 
He was awe-struck by the size of the event, the musicality, the marching ability, and the organization of the Husky Marching Band. Most of all though, he was stunned by the fact that it was all happening at the University of Washington. 
"It's not like I wasn't aware of high-level marching bands," Cornwell said. "It was just cool that it existed here in the Northwest and that I could be a part of it." 
Now, he's gone full circle. After being the drum major at nearby Ballard High School, Cornwell spent his first two years at the UW on the drumline. Last year, he fulfilled his dream, becoming one of three drum majors for the Husky Marching Band, the position he'd coveted since his first Band Day experience years ago. 
Entering his second year spinning the baton, Cornwell, along with the rest of Husky Marching Band, will welcome 2,800 marching band students from 33 local high schools to perform in the 67th Annual Band Day this Saturday when the No. 14 Washington football team takes on California.   
"I just really want to impress upon them that this band exists," Cornwell said. "You can have this kind of sound and you can really be this good here in the Northwest. You don't have to go to the Midwest for great marching band. You don't have to go to the South for great marching band. You can still have a great marching band experience here. I really hope to inspire kids to come to UW and participate in college band."
According to Director of Athletic Bands Dr. Brad McDavid, it's a tradition that dates back farther than any other in the history of the program — older than rally, drumline warm-up, and the national anthem flagpole formation. McDavid also believes it's one of their most important. 
"For many high school students, it's their introduction to the University of Washington," he said. "We've got 33 high school bands from all over the state attending the game and they'll be gathering with the Husky Band out on the field at halftime and we'll all perform together." 
McDavid says the idea to bring in high school groups started because of the quarter system. With college football starting a solid month before students arrive on campus in Seattle, back in the 1950s, the marching band didn't have enough members present to perform for the first few games. 
Instead, four local high schools were selected every year to play part of their halftime show, but soon after, so many bands were interested that there simply wasn't enough time for every group to play. The directors then switched to a mass band format which they still use to this day. 
Currently, the Husky Marching Band fills its ranks with alumni for the first few games of the season. However, once per year they invite high schools to join them for a mass performance. McDavid considers it their best recruiting event of the year. 
"Usually about half the freshman class, and consequently half the band, attended our Band Day at some point in their high school years," McDavid said.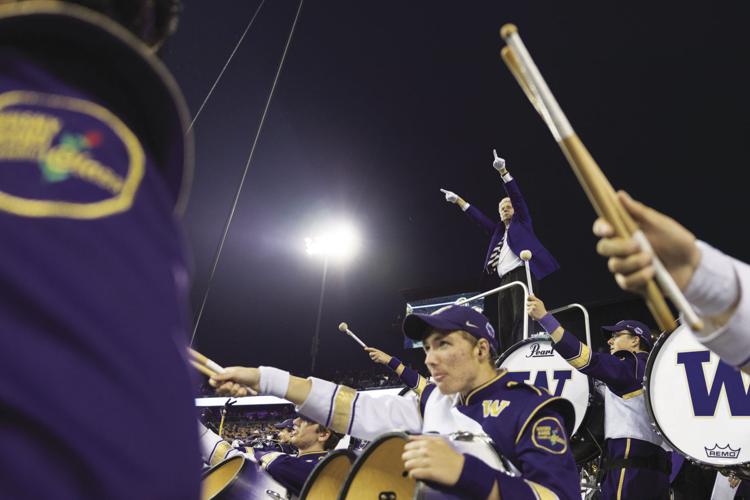 McDavid sends the music to the participating high schools in June, and they only get about a day's worth of rehearsals with the Husky Marching Band before they perform in front of 70,000 fans in Husky Stadium. 
Back before the stadium was remodeled in 2013, the Husky Marching Band was able to host up to 3,200 high school students for Band Day since they could be staged on the track around the stadium. Now, they have to turn some groups down because they don't have the space. 
And that's not the event's only difficulty. This year's Band Day falls a few weeks earlier than normal.
"Most of the participating bands just started school this week, so hopefully they've had a chance to at least look at the music," McDavid said with a laugh.
But Band Day isn't just good for Husky Marching Band. Many of the high school directors see benefits to bringing their groups out too. 
Gary Grams has been the director of South Kitsap High School's band program for the last 18 years, and he estimates that they've only missed Band Day once or twice over the last two decades. 
"So much of the push in high school is to have the kids college or career ready," he said. "Just having access to watch the band perform, watch them interact with the cheerleaders and football players. It really gives kids an idea about what the next step looks like." 
Grams said he's had several of his students go on to join Husky Marching Band including new drum major Alex Aanesen. A third-year student at the UW, Aanesen is originally from Norway and spent a year at South Kitsap High as an exchange student. While there, he went to Band Day and after finishing his high school diploma in Norway, he returned to the Pacific Northwest, partly to join the Husky Marching Band. 
And though Grams doesn't know for sure if Band Day helped convince Aanesen to come back, he echoed some of Cornwell's sentiments about the Husky Marching Band's local importance as an inspiration for high school band students. 
"UW is the only one in the area — besides that school on the other side of the state — that has a program large enough to do a big show," Grams said. "A lot of my kids go to UW or WSU because they want to do marching band. It's a big draw for them."
There will be a lot going on this Saturday, but ultimately Cornwell just wants to set a good example at this upcoming Band Day because he knows a future Husky Marching Band drum major — the next Cornwell, the next Aanesen — might be there watching.
"I just want to provide the same setting that I was given when I went to Band Day," he said. 
Reach Bay Area Correspondent Andy Yamashita at sports@dailyuw.com. Twitter: @ANYamashita
Like what you're reading? Support high-quality student journalism by donating here.