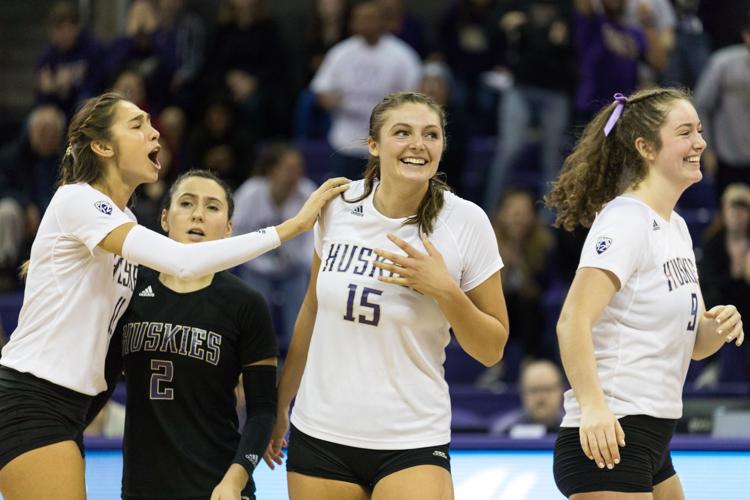 Welcome to the Kara Bajema show.
The No. 13 Washington volleyball team's most prolific player had the best game of her career in a five-set thriller Sunday afternoon, tying a career-high 26 kills, seven blocks, and ten digs.
"We put a lot on that kid," head coach Keegan Cook said. "I put a lot on that kid. I was on her pretty good after the Colorado match. When it comes to the biggest moments she's got competitive spirit to be great. You all got to see that tonight. Happy for everyone, mostly happy for her."
After opening with a strong first set, poor offensive play in the second and third sets from Washington allowed Utah to build a 2-1 lead. In the second and third sets, the Utes forced long rallies that threw the UW offense out of rhythm, limiting the Huskies to hit .226 in the second set, and .125 in the third.
"I think we just weren't ourselves the second and third sets," Bajema said. "We weren't serving well, we weren't passing well, and in the fourth set we said, 'if we want to get this we have to turn it around.' That was the switch we were looking for."
Things were looking bleak for the Dawgs after the third set, but things changed to open the fourth. The Dawgs went back to what was working in the first set to disrupt Utah: feeding Bajema.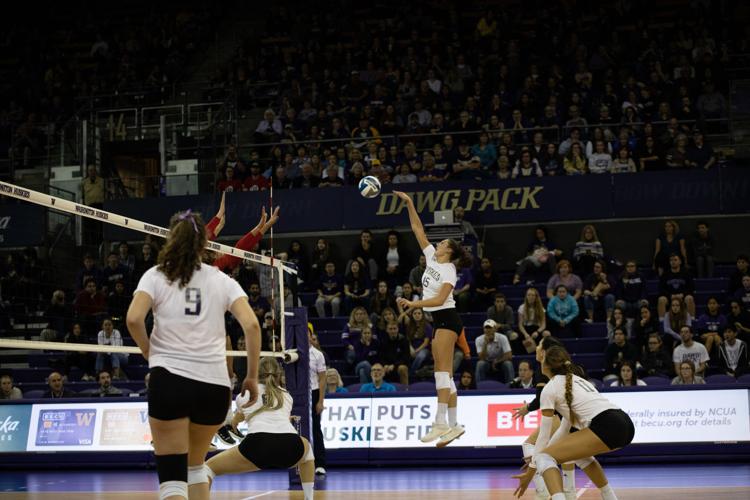 Washington centered the offense around passes from sophomore setter Ella May Powell, who had 12 assists in the fourth set, and Bajema, who recorded eight kills in the set alone. The fourth set was Washington's best set of the day, hitting .412, while committing only two attacking errors. The strong performance forced a game-deciding fifth set. 
The fifth set that had every bit of excitement one could ask for in a top-15 matchup. 
With Utah leading 14-11, Bajema saved three straight match points with kills assisted by Powell to help the Huskies draw even at 14.
The first-to-15 set continued as the Huskies overcame seven Utah match points, four of which were single-handedly saved by Bajema, as UW eventually won the set, 21-19. The senior had the game of her life, and was responsible for 12 of the Huskies' 21 points in the set, recording eight kills, three blocks, and an ace.
"That was an emotional rollercoaster," Bajema said. "I think a switch turned on and we were like 'we're not losing this game'. You could just tell by the way we were touching balls by the net, and being relentless on defense. We were down 11-14, and we showed we weren't going to quit."
The Kara-coaster? The Bajema show? She might need a nickname after that showing.
Reach reporter Anthony Edwards at sports@dailyuw.com. Twitter: @edwardsanthonyb
Like what you're reading? Support high-quality student journalism by donating here.