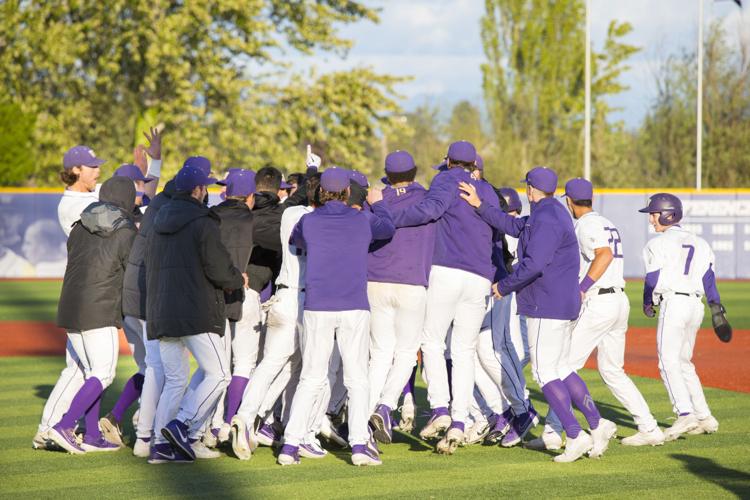 Leo Nierenberg only had one thought on his mind when Nick Kahle stepped up to the plate with the bases loaded and one out for the Washington baseball team in the top of the 12th.
"I knew we had the game won," the junior reliever said. "Absolutely, we have that type of trust. Nick is our guy and when he's up there with guys on or any situation, we know he's going to do some damage."
He was right. With a 1-0 count, Kahle lifted a fly ball into right field. On third base, junior Ramon Bramasco tagged up and broke for home, sliding in well before the ball to score the winning run. Spiking his helmet with two-hands, Bramasco leapt up to hug on deck hitter Blake Burton while the rest of the dugout mobbed Kahle near first base.  
"I was just going through my mind to just keep being myself," Kahle said. "Be aggressive in the zone, try to stay through the ball, use the right side of the field, and stay off the ground. That was really my mindset."
Kahle's sacrifice fly helped the Washington baseball team defeat No. 15 Arizona State 10-9 in extras on Saturday, ending a game that lasted 4 hours and 33 minutes. The win helped the Huskies (20-17, 7-10 Pac-12) clinch their first series win in almost a month.
"That's the kind of game we needed to win," head coach Lindsay Meggs said. "We kind of let it slip away, came back, found a way, got back in it, and got some quality at-bats off the bench. I'm happy for all those guys"
Saturday's showdown with the Sun Devils was about as back-and-forth as a game can be, with six ties and seven lead changes.
Washington seemed to have grabbed a commanding lead in the bottom of the seventh against ASU starter Boyd Vander Kooi when the Huskies strung together a walk and four singles to bring home three runs and go ahead 6-3.
But the red-hot Sun Devils offense bounced back. Facing reliever Stevie Emanuels in the top of the eighth, pinch hitter Lyle Lin ripped a two-run home run to left-center to pull ASU within one. The next batter, sophomore Trevor Hauver, homered to right to tie the game at 6-6.
Extra innings didn't start off well for the Huskies either. Emanuels never found his groove, giving up three straight doubles to start the tenth and give ASU an 8-6 lead. He was relieved by Nierenberg, who escaped without allowing another run.
"Stevie went out there and fought," Nierenberg said. "He did his best. Nine times out of 10 he's going to do his job and I'm glad I could come in there and clean it up for him. But tomorrow or next weekend, he's going to be in there and he's going to do what he needs to do."
The Dawgs evened things back up in the bottom half of the 10th. Pinch hitter Rollie Nichols doubled to the right-center gap with two outs and scored on a base hit up the middle by another pinch hitter, junior Michael Petrie, to pull the UW within one. The Huskies tied the game at 8-8 one batter later, when Bramasco doubled home Petrie.
Lin homered for the second time in the top of the 12th, the only hit surrendered by Nierenberg (3-1) over his three innings of work. However, another clutch hit for Bramasco tied the game when Nichols scored from second. And after a walk ended and a hit batsman then set the table for Kahle.
Game Notes
- Sophomore Jack Enger had another strong outing out of the bullpen. The Bellevue native threw two innings of hitless baseball and struck out four on Saturday. His one earned run came because he walked the runner that scored on Lin's pinch-hit home run off Emanuels. It's the first he's allowed in the Pac-12.
-Washington starter Jordan Jones went five innings and allowed three runs on seven hits. He also struck out three and handed out a season-high five walks.
- Besides having the hits that re-tied the game in the bottom of the 10th and the 12th, Bramasco had an all-around good day at the plate, going 4-for-6 with two runs scored and and 2 RBIs. Part of that came from his return to switch hitting after a shoulder injury prevented him from batting from the left side early in the season.
"He was having trouble with the breaking ball right handed," Meggs said. "We talked about it on Monday, and figured maybe if he switched back over he might see that pitch better and get that good feeling back."
Bramasco's big game also came after having 10 stitches put in his hand following Friday's game when he was stepped on. Saturday was also his birthday.
The Huskies will try for their first sweep since March 24 when they swept USC. Arizona State has not been swept all season and has only lost three games in a row once.  
Reach reporter Andy Yamashita at sports@dailyuw.com. Twitter: @ANYamashita