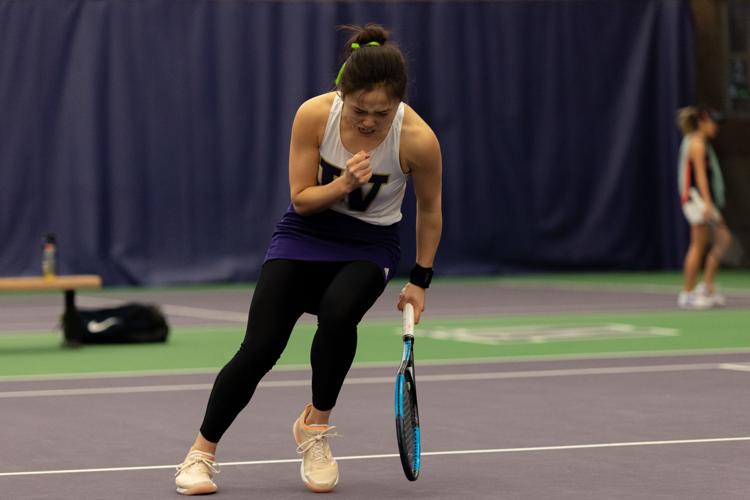 The No. 30 Washington women's tennis team opened its Pac-12 season on Friday, convincingly beating a tough No. 44 Utah team 4-1.
"I think the match was a lot closer than the scoreboard indicated," said head coach Robin Stephenson. "I think our girls were extremely tough in the close games and I thought they were really good closing out those sets and some tough points."
The turning point in the match was in doubles play, where the Huskies (10-3, 1-0 Pac-12) managed to edge out the Utes (10-4, 0-1 Pac-12), giving them an early advantage in the day's proceedings. Washington overcame a shaky start, which saw them fall behind early on all three courts. Despite a 6-2 loss on No. 2 by sophomore Nika Zupancic and senior Katarina Kopcalic, UW secured the doubles point due to strong performances on No. 1 and No. 3.
"The doubles point was great. I thought No. 3 played really well, Sedona and Zoey," said Stephenson. "The No. 1 match was very high level, that Utah team is very good, being ranked 12th in the country. I thought our girls stepped up and played to win when they needed to and didn't hold back. We knew the doubles point was crucial and I was really impressed by how we put our foot on the gas and finished that point out."
The doubles point ultimately came down to the set at No. 1 where senior Natsuho Arakawa and junior Vanessa Wong were able to prevail by a score of 6-4, knocking off the No. 12 Utes pair of Madison Tattini and Whitney Hekking. The Washington duo fell behind early in the set 2-3, but were able to flip the switch and win three straight sets to put them in a position to win and give the Huskies an early advantage.
"Honestly, whenever I play with Vanessa, I feel so confident on the court because she has such a good hand and all I have to do is set her up," said Arakawa. "I feel like we're having so much fun together, so that's the key to winning."
The sophomore duo of Zoey Weill and Sedona Gallagher also put in a strong performance, winning 6-2 in their set. When playing together in doubles, Weil and Gallagher have won all three of their matches. 
"I think going in, we knew that Utah has had good doubles," said Wong. "We played them last year and lost the doubles. They've always been solid with really good serves, really good returns, so we knew had to come out and compete hard. I'm glad with how it came out and I know that team is very good, so we were very happy to bring that into singles." 
In singles, the Huskies continued how they finished doubles. Strong performances from Zupancic and Gallagher put the Huskies in position to claim the victory. Zupancic's 6-2, 6-2 victory was indicative of her recent form, with this win being her fifth in her past six.
Arakawa continued her impressive singles season, winning her 12th match, this time by a 6-4, 6-4 scoreline. 
"I feel like I'm just trying to take it one at a time, just not expecting too much and using what I have on that day," said Arakawa. "I'm just trying to bring the win as much as I can. Even when I'm feeling bad, I try and bring the energy up and never get down. That's what I've been doing well."
Kopcalic's struggles continued as she dropped her fifth match out of her past nine. Utah's Emily Dush was able to take care of business, beating Kopcalic in straight sets, 6-3, 6-3.
The remaining singles matches remained unfinished. However, Weil and Wong both held one set leads when the match was called.
The Huskies wrap up their weekend with a match on Sunday at 11 a.m. against the Colorado Buffaloes.
Reach reporter Luka Kučan at sports@dailyuw.com. Twitter: @luka_kucan
Like what you're reading? Support high-quality student journalism by donating here.