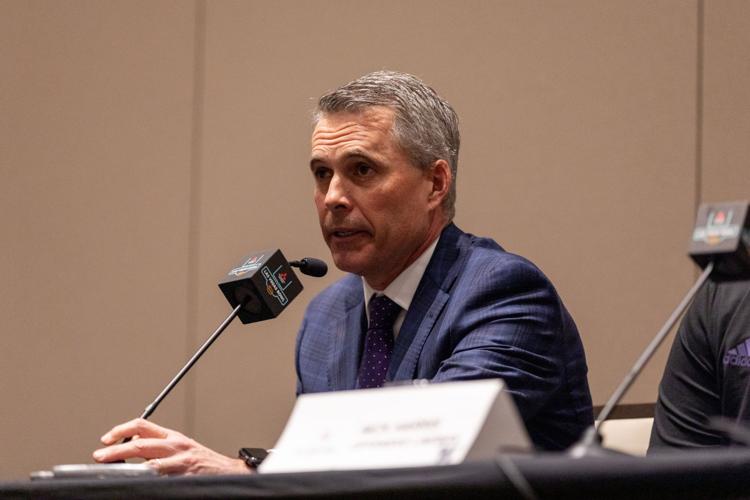 LAS VEGAS — It took all of one question at Washington and Boise State's joint press conference Friday to get to the main storyline of the 2019 Las Vegas Bowl. It wasn't even directed to Chris Petersen, but BSU coach Bryan Harsin, about coaching against Petersen in his mentor's final game.
Petersen tried to help with an interjection: "I wouldn't use that word. You'll just make him mad." But Petersen's successor at Boise State started the next 30 minutes of deflection.
"It's not really about that," Harsin said. "It's about two really good football teams having the chance to play. It's about these players in the game, getting a chance to finish their season the way they want to."
You heard it from the coaches themselves: don't talk about Petersen's upcoming retirement, effective as soon as the clock hits triple-zeroes Saturday. It's not going to be about that at all, and neither is it at all about him going out on a matchup against the team he helped bring to prominence.
"It's a bonus if we send him out the way we should, but at the end of the day it's another game that we came here prepared for, and we're ready to play," senior center Nick Harris said.
It's not about the end of Chris Petersen's run at Washington. It's not supposed to be a swan song for the coach who's won the third-most games for the Huskies since World War II. It's not supposed to be the final stop for the man who led the UW to its first-ever trip to the College Football Playoff and its first trip to the Rose Bowl in nearly two decades. 
But the reporters Wednesday weren't really going to let Petersen off the hook that easily in his penultimate press conference before retirement. Because while everyone on the stage was doing their best to ignore it, there's a reason the powers that be set up his final game as a head coach the way they did.
So Petersen was asked about his decision to retire. He ended up describing one of his definitions for success — "to be able to control the balance and quality of your life" — and how he's had trouble attaining that goal in 14 years of being a head coach.
His players at the press conference — Harris and senior defensive back Myles Bryant — were asked what they'd learned from him. Both focused on little mottos to go about everyday life with; Harris chose the team's definition of excellence — "doing common things in uncommon ways" — and Bryant went with "how you do small things is how you do all things."
Even Petersen's successor at Boise State had to talk about it, as much as he wanted to move on.
"I've talked about it for a lot of years, since I've had the opportunity to work with Chris, about his leadership, his development, his mentorship, all of those things," Harsin said. "I'm obviously very humble to have been a part of the staff at Boise State during that time."
Because as much as it might be an overly-theatrical end, Petersen's career may be pretty deserving of one. 
His 92 wins and .885 winning percentage both top the Boise State record books. He was the first coach to ever win the Paul "Bear" Bryant Award multiple times. He reached 100 wins faster than all but four coaches in college football history. For one more night, Petersen will be second among active coaches (with over 10 years' worth of experience) in winning percentage, and once he retires, he'll still be in the top-20 all-time.
Yes, Saturday will also be the final game for Washington and Boise State's combined 35 seniors. Yes, as both coaches and multiple players said, it'll be the last showing for the 2019 versions of the Huskies and Broncos, who will give way to vastly different groups as soon as the game ends. 
But as ESPN will surely lead, carry, and end with once the broadcast starts tomorrow at 4:30 p.m., it's about the coach who raised both programs to national prominence.
The press conference was supposed to move on from Petersen and end with questions to Harris and Bryant. But instead, as the final call for questions went out, the last one ended up breaking away.
"Can I sneak one in for Coach Pete. Is that okay?"
So Friday's press conference ended the way it started, asking about Chris Petersen's career, and it's upcoming end.
"Like Coach Harsin said, this thing is not about me," Petersen said.
Sorry, Chris. It kind of is.
Reach Managing Editor Josh Kirshenbaum at sports@dailyuw.com. Twitter: @J_Kirshenbaum
Like what you're reading? Support high-quality student journalism by donating here.