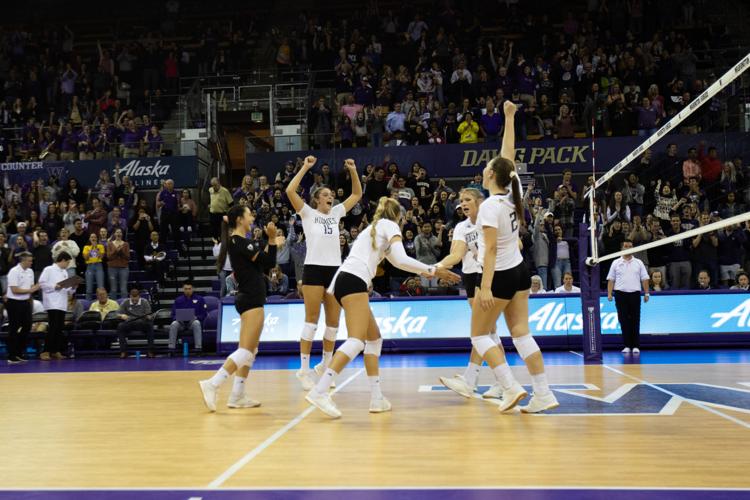 After a rough start on Sunday, the No. 11 Washington volleyball team erased a 2-0 deficit to head to a fifth set against Oregon, and all that mattered was who could get to 15 first. 
That team was the Huskies, after dominant fifth-set performance hitting .455 with 12 kills and two blocks, holding Oregon to 11 points, and taking the match 3-2 (23-25, 21-25, 25-20, 25-18, 15-11).  
"We got better every set after the second," head coach Keegan Cook said. "We were hitting really poorly. To hit .455 in the fifth set says a lot."
The Huskies (13-3, 4-2 Pac-12) looked like a completely different team in the fifth set than they did in the first and second. After hitting and blocking struggles that made it look like they might be swept, they rallied. 
It was a slow improvement, going from only an early lead in the first set, to maintaining that lead to halfway through the second, to actually winning the third and fourth sets. The Dawgs had 14 errors through the first two sets, and 12 through the last three. Only two of those errors came in the deciding fifth set. 
Something seemed to happen, though, in the intermission between the second and third sets. Instead of spending their time trailing, the Huskies were just ahead. While the Ducks got close, Washington wouldn't let them take the lead again. 
"I don't think I said much," Cook said. "We changed some matchups a little bit, told them that we believed in them, kind of reaffirmed the things that we're about. I thought we were off our game in terms of how we hit and how we served in the first two sets and through the last three it started to look like the team who we know and love."
After that, the Huskies held the Ducks to under .100 or close to it. After a first set without a single block, senior middle blocker Avie Niece and junior Lauren Sanders led the comeback in the front row, and Washington had 10 blocks in the final four sets. 
Niece and Sanders each recorded two solo blocks, with Sanders adding four block assists as well. Niece also added a lot offensively, hitting .500 with 10 kills. 
It was the biggest comeback of Washington's season, against a bitter rival. 
"We've been in this situation before where we're not playing well and we know it," Cook said. "But we have yet to climb ourselves out of it. Really happy for the kids to have that in their back pocket."
Next week, the Huskies will host Arizona State at 7 p.m. on Friday, and Arizona at 2 p.m. Sunday. 
Reach Engagement Editor Hailey Robinson at sports@dailyuw.com. Twitter: @haileyarobin