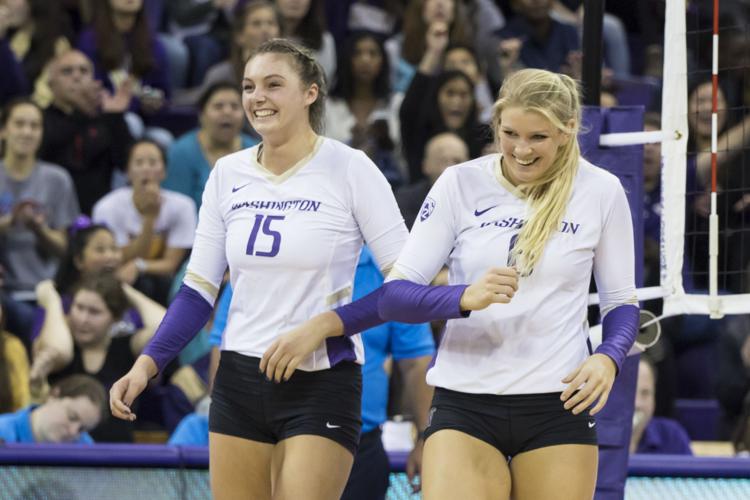 Everything seemed to come together for the No. 10 Washington volleyball team in the first half of it's home-and-home against No. 9 Wisconsin as they overtook the Badgers 3-1 (25-23, 27-25, 19-25, 25-22) at Wisconsin Field House Thursday night. 
Senior outside hitter Kara Bajema led the Huskies with 19 kills, and sophomore Claire Hoffman wasn't far behind, adding 18 kills. Bajema also had seven blocks, and scored one-third of Washington's total points in the match. 
The Huskies (8-1) found their groove on the block, with 14 in the match. Senior middle blocker Avie Niece led the team with 10 blocks, and sophomore setter Ella May Powell had five. 
On the other side of the block, the Dawgs finally seemed to figure things out. Hitting past the block has been one of their sticking points this season, and Wisconsin is known for their blocking. But Washington held the Badgers (4-3) to only seven blocks in the match, hitting past their tall middle blockers. 
Washington roared out to an early first set lead against the Badgers, and while Wisconsin drew close and stayed close soon after, the team couldn't retake the lead. 
The second set wasn't so close, with the Badgers taking a lead that stretched to five at a couple points. With Wisconsin leading 23-18, it looked like the match would go to a third set tied. But the Huskies fought off three match points to tie it at 24-24, and took the set a couple points later. 
In the fourth set, Wisconsin got another lead early on, and this time they kept it. The Huskies couldn't catch up, and the Badgers cut the lead in half. That didn't seem to kill Washington's momentum, however. The fourth set was another where the team looked just a little bit stronger, and it was enough to overtake the No. 9 team in the country. 
The Huskies and the Badgers will meet again, this time in Alaska Airlines Arena, on Saturday at 6 p.m. 
Reach Engagement Editor Hailey Robinson at sports@dailyuw.com. Twitter: @haileyarobin
Like what you're reading? Support high-quality student journalism by donating here.