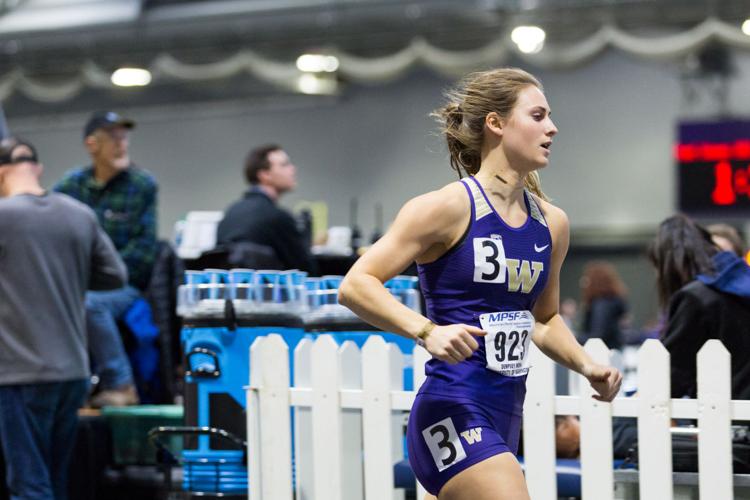 The Washington track and field team had one last shot in the indoor season at the MPSF Championships at the Dempsey, and while plenty of athletes improved, many didn't do enough to qualify for NCAA Indoor Championships.
The biggest improvements of the weekend came from sophomore Hannah Rusnak in the pentathlon.
Rusnak grabbed first in the 60-meter hurdles and second in both the shot put and the long jump. Despite finishing 12th in the high jump, she was still positioned in third overall in points heading into the final event: the 800 meter race.
The sophomore crossed the finish line with a personal best of 2:30.88, shattering her previous record by nearly 14 seconds.
"It really feels amazing, because that is my worst event out of all of it, and I really just buckled down and realized that I can push through a bunch of pain, it's eye-opening," Rusnak said.
Rusnak's improvement was only good enough to net an 11th-place finish. The strong competition helped made her strategy pretty straightforward:
"Try to be as close to the person in front of me, and stay with them as long as possible," Rusnak said.
The whole day accumulated 3,848 points for the standout, which is a 183-point jump from her previous personal record and is the third-best pentathlon score in school history. She also moved up to 26th best in the country, only 10 spots away from qualifying for the indoor championships.
"Overall I'm relatively pleased, she PR'd where she needed to get a PR, and I think mentally she's getting ready to take that next step, to the next level," multis coach Toby Stevenson said.
In the men's shot put, today was the final chance for Jonah Wilson to punch his ticket to Birmingham, Ala. The 16th best mark going into the weekend was 63 feet and 5.5 inches. Wilson entered the MPSF championships ranked 19th in the nation.
The sophomore thrower started well, notching a small personal record of 63 feet, 4 inches on his second attempt. This mark was plenty to reach for the day's final and earn him three more throws, but not quite enough to get to the indoor championships.
After three straight scratches, Wilson's final throw could not eclipse his days best, leaving him just 1.5 inches short of Birmingham.
"He's the guy that thrives off energy, and sometimes I think he tries to get a little too much of that going," throws coach Andrew Ninow said.
Wilson's indoor season ended today, with an giving him time to prepare for the outdoor season.
"I think we're really encouraged for the outdoor season, obviously we're five weeks away from our first outdoor meet, so we're excited to kind of get some training in and get ready for that," Ninow said.
While the Huskies came close in various events to sending more athletes to Birmingham for Nationals, several came up just short despite improvement.
Athletes with the chance to qualify for the indoor championships
- Mick Stanovsek slipped to 16th in the mile after two runners passed him on Friday.
- Distance runner Katie Rainsberger dropped to 15th nationally in the mile, with two runners passing her time as well on Friday. The junior's time of 9:02.84 in the 3,000 meter will likely be enough to get her to the postseason.
- Three runners exceeded Fred Huxham's personal best in the 3k, but he's still placed 15th in the nation.
- Isobel Batt-Doyle's 5,000 meter school record holds steady at 15th best after the MPSF championships.
- The men's distance medley relay team of Connor Morello, Cass Elliott, Devan Kirk, and Stanovsek from last week's last chance Last Chance College Elite meet is good for seventh in the nation.
- On the women's side a team of Rainsberger, Imani Apostol, Hannah Derby, and Lilli Burdon sits on the bubble with the 12th best time of 11:00.35.
Other Notes:
- Annika Dayton got a personal record in the Pole Vault, clearing 13 feet and 7 inches, finishing fifth out of 28 competitors.
- Jelani Heath also set a PR, but in the long jump. She reached 19 feet, 1.25 inches in just her first attempt, a 2.5 inch improvement.
- Distance runner Gavin Parpart finished the 5,000 meter race with a time of 14:03.85, his best time by nearly 10 seconds.
Reach reporter Josh Eddy at sports@dailyuw.com. Twitter: @JoshTreEddy
Like what you're reading? Support high-quality student journalism by donating here.