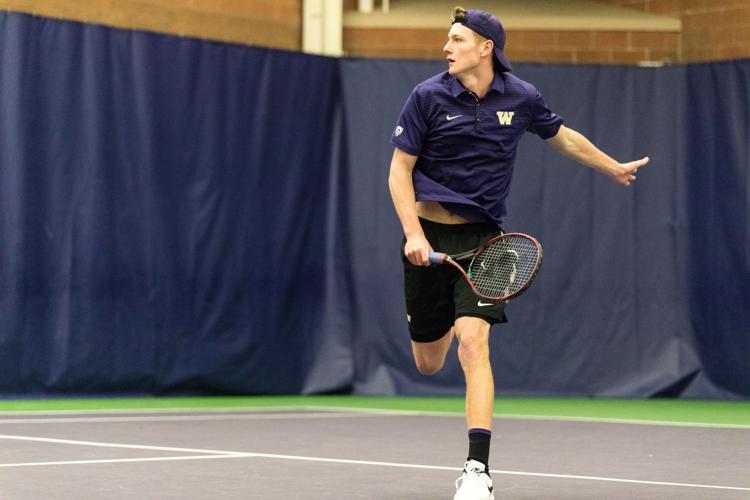 The Washington men's tennis team wrapped up play at the ITA kick-off weekend, losing to Utah State 4-2 Saturday a day after falling 4-0 to No. 8 Texas. 
The Utah State match began with both teams securing a win in the doubles portion, which set the stage for senior Kawika Lam and freshman Kasper Smith to deliver the tiebreaking result.
In a tight and highly competitive match, Lam and Smith pulled out a 7-6 win against the Aggies' Duro Apacic and Felipe Acosta. The pair's combination of aggressive net play and consistent groundstrokes eventually wore their opponents out, and clinched the doubles point for the Huskies (2-3).
UW freshman Adam Torocsik made his dual match singles debut Saturday, moving into the lineup at the No. 6 singles slot.
Torocsik fought hard in a back-and-forth first set, which ended with his opponent squeaking out a win in the first set tiebreaker. Torocsik was unable to come back, dropping the second set 6-2.
At the top of the lineup, seniors Enzo Sommer and Piers Foley dropped both of their matches at two sets to none, which gave the Aggies a 3-1 overall lead over the Huskies.
Sophomore Jack Davis secured the lone singles win for the Huskies, beating Duro Opacic 6-4, 6-4 and pulling the overall score within one at 3-2 in favor of the Aggies.
Senior Sebastian Hawken played in the closest match of the night, which featured two highly contested tiebreakers. Hawken ultimately fell in both, dropping the match at 6-7, 6-7.
With the Aggies clinching the win at 4-2, Ernesto Turegano's match went unfinished after splitting the first two sets 6-4, 6-7.
The Huskies will return to Montlake and face Liberty on Friday, Feb. 1.
Reach Reporter Caden Conder at sports@dailyuw.com Twitter: @cadenmconder