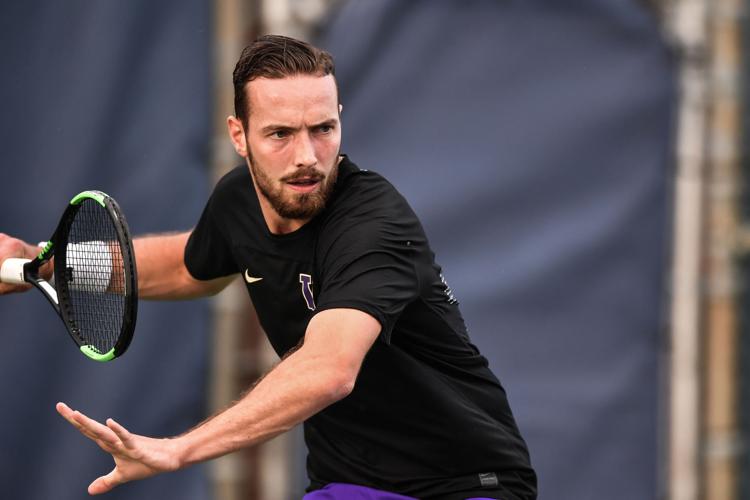 The Washington men's tennis team was unable to keep its perfect road record alive, falling to California 4-1.
The Huskies (13-11, 2-5 Pac-12) started out the evening strong as juniors Kawika Lam, and Enzo Sommer battled on Court 1. The duo fell behind 5-3 to No. 35 Billy Griffith and J.T. Nishimura. The pair fought back to win the next four games to take the match 7-5. The rest of the doubles point was strong for Washington as well. After picking up a win in their first action of the season on Monday, senior Jake Douglas and junior Piers Foley teamed up once again this evening. The duo briefly fell behind 3-2 but bounced back with a break to clinch it and win 6-4 to give Washington the opening point.
The Golden Bears (11-7, 3-3 Pac-12) wasted no time in singles, taking all six first sets.The Huskies missed a major opportunity as Foley held a 5-2 lead in his first set, but dropped serve twice in the next three games, and freshman Jacob Bromm tied it at 5-5. Foley broke Bromm's serve right back to give himself an opportunity to serve for the set, but dropped serve yet again and went to a tiebreaker. In the tiebreaker, Foley lost 7-4, he was unable to bounce back from that tough defeat as he dropped the second set 6-1.
The Huskies struggles in the first set were just too much to overcome. No. 62 Senior Jake Douglas lost a tight 6-4 first set, and he was unable to bounce back much as he dropped the second set 6-2.
Sommer and sophomore Amit Batta had nearly identical matches today. Sommer fell 6-3, 6-4 while Batta lost 6-4, 6-3.
The Huskies kept things a little closer in the other two matches. After starting poorly with a 6-1 first set loss, senior Mitch Stewart rebounded with a 6-4 second set victory. He was trailing in the third set when the match was called. On Court 5 freshman Jack Davis finished up a tight tiebreaker in which he won 8-6 right before the match finished up.
The Huskies will close out the regular season tomorrow afternoon against No. 4 Stanford at 3 p.m. It will be the UW's last chance to improve seeding prior to the upcoming Pac-12 tournament starting next week.
Reach reporter Kyle Gehler at sports@dailyuw.com. Twitter: @KyleGehler