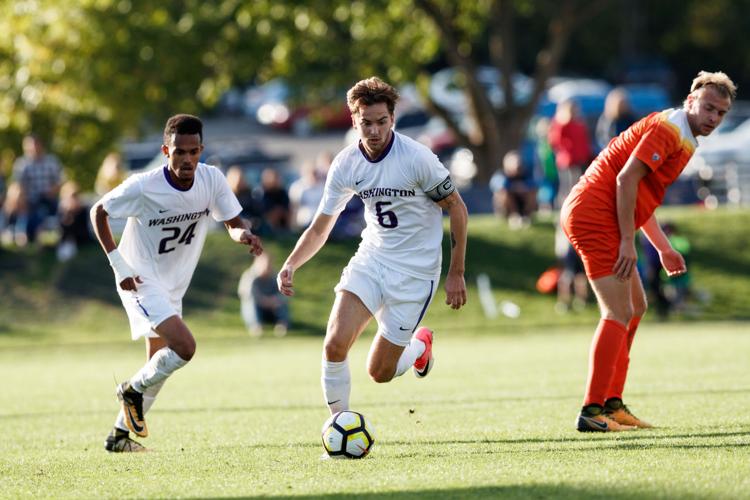 It will be deja vu for the No. 21 Washington men's soccer team, as the Dawgs play No. 6 Stanford and No. 17 California for the second straight week in a crucial set of matches. But this time they will play their Pac-12 opponents from the comfort of Husky Soccer Stadium as their home slate of games comes to a close.  
Last Thursday, Washington tied Stanford 1-1 on the road, making it the second straight year that head coach Jamie Clark's team has managed a result other than a loss at Stanford.
"When you play a two-time national champion on the road and you get a point, you're actually pretty happy," Clark said. "We were satisfied walking away from that game, and if we just fix a few things in the second game and do our stuff right we should win."
The Cardinal painfully outshot the Huskies 24-9, however the defense held strong against the deadly Cardinal attack and staved them off after allowing the tying goal in the 54th minute.  
After their draw with Stanford, they went on to Berkeley last Sunday and dropped a game to Cal by a score of 2-1. Goals by Shinya Kadono and Jose Carrera-Garcia proved to be enough to hand Washington its fourth loss on the year.
The game was played in temperatures hovering in the high-80s, and Clark felt his team experienced every bit of that heat. 
"It was hot, it was really hot and we were sluggish out there," Clark said. "The two-game stretch is something we have to deal with this week again but Stanford takes a lot out of you and to turn around and play well on Sunday is difficult but then to do it on a really hot day proved too much on the day."
Temperatures this Thursday and Sunday are projected to be in the low to mid-50s, with an 80 percent chance of rain against Stanford and a 30 percent chance of rain against Cal, and Clark sees this difference in environment as a benefit to his team. 
"Now up here it will be a lot easier with the cool climates and two night games, so we'll definitely enjoy that," Clark said.
Washington currently finds itself in the bottom half of the Pac-12 standings with a 2-2-1 record in conference, sitting behind third place UCLA (3-2 Pac-12), second place Cal (4-1), and Stanford, who are the only undefeated team in the conference with a 4-0-1 record.
Two wins this weekend would significantly help the Huskies in their pursuit of the Cardinal at the top of the conference, and would propel them into the top 15 in the country, if not the top 10.
Reach reporter Chris Angkico at sports@dailyuw.com. Twitter: @chrisangkico