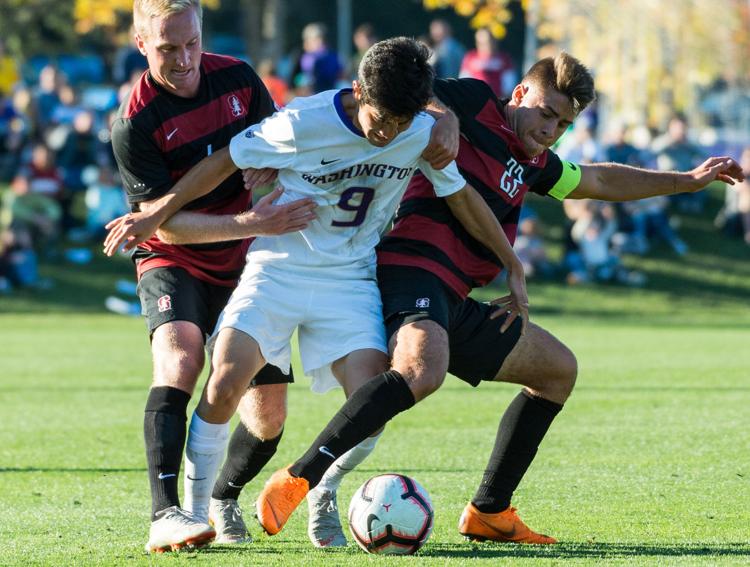 Coming into today, half of the past six matches between Washington and Stanford had gone to overtime, so it was only appropriate that the extra time was needed today. The teams were nearly identical in shots — shots on goal and saves — but the No. 10 Cardinal finally created the separation it needed, getting the golden goal in the 107th minute to win 3-2.
The goal came off a UW foul in its own territory and created a set piece for the Cardinal which, after bouncing around by the box, was finally put in by the Arda Bulut.
The Huskies (7-6, 2-3 Pac-12) got off to a hot start. In the 22nd minute Kasey French dropped a ball right into the lap of freshman Dylan Teves, who controlled the ball and sent it past Stanford keeper Andrew Thomas to give Washington the early 1-0 lead.
Teves was inserted into the starting lineup three games ago against San Diego State, and has now scored two goals since.
After tying the game early in the second half, Stanford (7-2-3, 4-1 Pac-12) was given a penalty kick in the 78th minute, and capitalized on it to jump ahead 2-1. Less than 10 minutes later, the referees gave Washington a penalty kick of its own, and midfielder Corban Anderson evened the score with his first goal of the season.
Bryce Logan started at goalie for the first time this season, and saw 18 shots today, with eight of them on target. He was able to secure four saves, a career high.
The Dawgs are now 1-3 against ranked opponents this season, and today's loss snapped a two-game winning streak.
The Huskies will get another crack against the same California teams next weekend, this time on the road. Washington takes on California on Thursday at 3 p.m., then goes to Stanford for a rematch next Sunday at 3 p.m.
Reach contributing writer Josh Eddy at sports@dailyuw.com Twitter: @JoshTreEddy