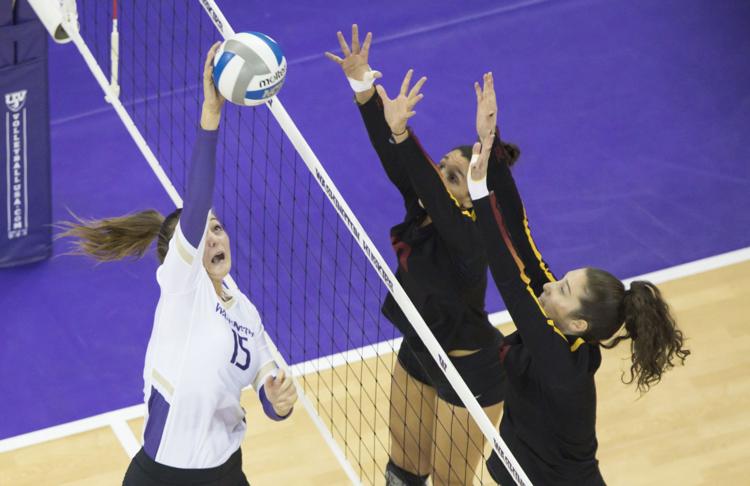 It was a closer match than the box score showed, but the No. 21 Washington volleyball team couldn't complete a set in its favor as it fell to Utah in a sweep (23-25, 24-26, 22-25).
While neither team sided out well, Utah won the game in terms of serving. It was the second match in a row where Washington was aced six times, getting only two aces in return against the Utes. Errors once against outweighed aces for the Huskies (13-8, 5-6 Pac-12) as their skid continued for a fourth match.
The positives for Washington came on the block, where they had nine, four coming in the first set. Junior middle blocker Avie Niece led the team with nine blocks, but Washington needed its hitters to contribute to the block as well and they did so, with sophomore Samantha Drechsel adding three blocks and junior Kara Bajema and freshman Claire Hoffman each getting two.
In the final two sets of the match, the Huskies kept hitting errors fairly low as well, with only six combined in sets two and three. However, just keeping hitting errors down, which led to a better hitting percentage than their opponents, wasn't enough for the Huskies to win.
Back and forth runs in the first set led to the teams tying at 23-23 before Utah was able to grab the final two points. In the second set it looked like the Huskies might turn things around as they got set point at 24-21, but the Utes had five straight to not only tie it up but get the win. They carried that momentum into the third set, where the Huskies trailed the entire time. While they managed to close the gap to only one point when Utah led 23-22, they couldn't complete the comeback and manage to take a set from the Utes.
Reach Social Media Editor Hailey Robinson at sports@dailyuw.com. Twitter: @haileyarobin