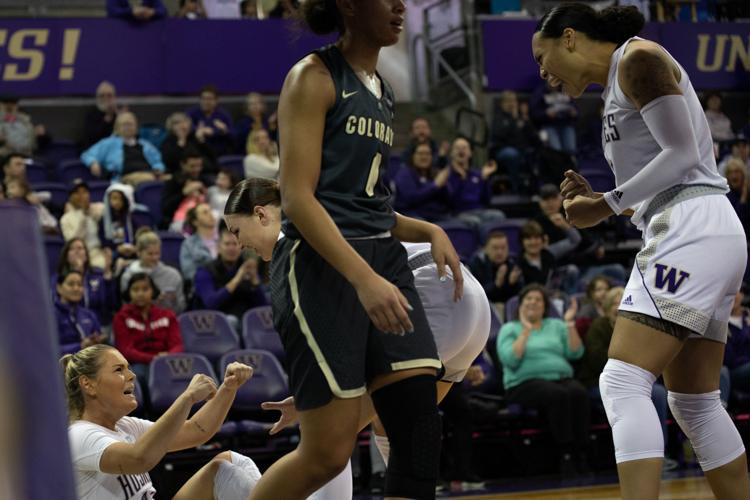 The Washington women's basketball team's losing streak ended at nine games with a 61-52 win over Colorado. 
Senior Amber Melgoza led the scoring for the Huskies with 12 points, a majority of those coming in the second half. 
The Huskies (11-12, 3-9 Pac-12) escaped their recent trend of slow starts against Colorado, jumping out to a 20-11 lead in the first quarter. Washington changed up its starters, inserting sophomore guard T.T. Watkins in the place of junior Rita Pleskevich. Watkins went 2-for-3 from beyond the arc in the first half and got five rebounds. The Dawgs as a whole found success shooting three-pointers in the first half with five. 
Eight Huskies got on the scoresheet in the first half, sophomores Haley Van Dyke and Darcy Rees leading the scoring with seven points apiece. 
Washington extended its lead over the Buffaloes (14-9, 3-9 Pac-12) in the second quarter, ending the half up by thirteen, 37-24. After a string of tough first halves, it was a comeback for the Huskies, who haven't led at the half since a January loss to the USC. 
The Huskies were also successful from the free-throw line, shooting 85% on seven shots in the first half. 
Washington scored the first points of the second half, but Colorado followed it up with eight consecutive points, shooting 3-for-5 from the field before head coach Jody Wynn called timeout. The UW added a couple more points before Colorado ran off again with nine straight, getting within two points of the Huskies. 
The Dawgs managed to stay ahead, but the lead was cut down to five points at the end of the third quarter as Colorado outscored them 18-10. 
It was Washington's game to win in the fourth quarter. Senior Mai-Loni Henson stole the ball and assisted a Melgoza layup before making a three-pointer to push the momentum in Washington's favor. The Huskies didn't manage to make any more shots from the field after a second Henson three-pointer with 4:40 remaining, but they did get to the free-throw line four more times to stay ahead and end the losing streak. 
Reach Engagement Editor Hailey Robinson at sports@dailyuw.com. Twitter: @haileyarobin
Like what you're reading? Support high-quality student journalism by donating here.