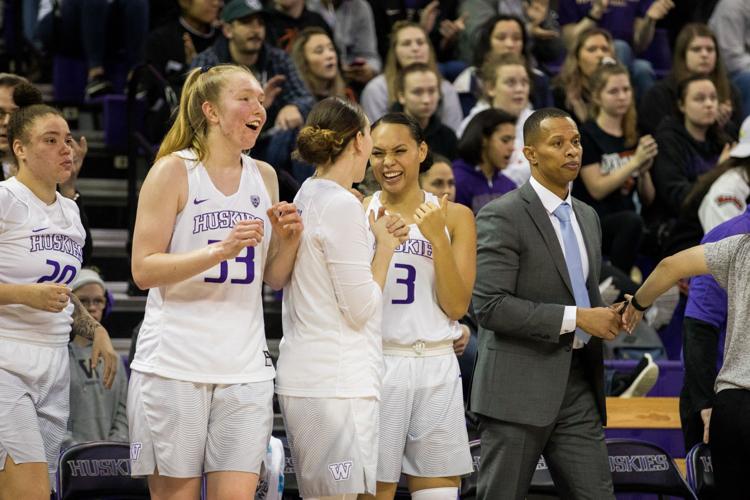 It hasn't been the smoothest transition into the Jody Wynn era for the Washington women's basketball team.
Left with virtually no returning contributors when she took over, and a program that was struggling through a transition period, Wynn knew it wasn't going to be a quick fix. And while it hasn't been exactly smooth sailing so far this season, the way the Huskies played in their latest 60-46 win against Colorado has to be encouraging for the second-year coach.
Washington forced 22 Buffalo turnovers, and cashed in those turnovers into 28 points. They constantly harassed Colorado star guard Kennedy Leonard, who scored just eight points on 3-of-10 shooting and turned the ball over four times.
Then, on the offensive end, the Huskies found contributions from junior forward Mai-Loni Henson, who dropped 17 points, pulled down eight rebounds, and capped that statline off with four steals of her own.
Junior guard Amber Melgoza did her thing, scoring 17 points of her own and also finishing with eight rebounds, but the Huskies have been needing others to step up all season long.
"It took all of us, it took all 10," Wynn said in her postgame radio interview. "Maybe not all 10 scored, but all 10 were big, big factors to get today's win."
Melgoza's numbers are impressive, and she's been Washington's best player all season, leading the team in points, assists, rebounds, and steals just about all year.
But if the Huskies can get her help from Darcy Rees (six points, six rebounds, three blocks), Missy Peterson (seven points, four rebounds), and others, they might finally be on an upward trend.
"There's different ways to impact the game," Henson said in her postgame radio interview. "Whether that's rebounding, getting steals, taking charges, I'm just trying to impact the game any way I can."
Wynn has said it numerous times: because of her constant, attacking style defense, she needs to play everyone she has, from Melgoza, to Montana Hagstrom at the end of the bench.
It takes everyone to win basketball games, from here on, and into next season, and that's how the UW won today.
"It was fun to watch our team today, where offense came through our defense," Wynn said. "That, just, was so fun to watch. I can't say enough about the effort that our total team gave. It started with Mai-Loni out of the gates, she and Amber were really fired up for our seniors. It took all ten, and our proud of our togetherness and the belief they had for each other."
Reach Assistant Sports Editor Alec Dietz at sports@dailyuw.com. Twitter: @AlecDietz
Like what you're reading? Support high-quality student journalism by donating here.