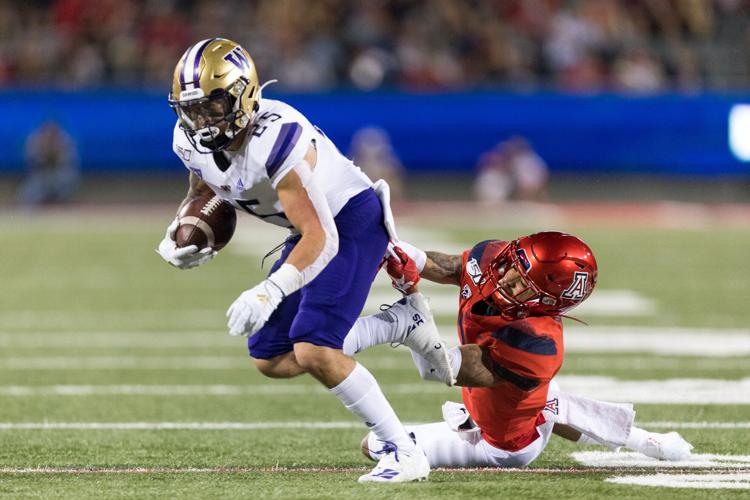 When the Washington football team's head coach, Jimmy Lake, sat down at Monday's Zoom press conference, he wore a white hat with the slogan, "RUN THE DAMN BALL," emblazoned in all-caps across the front.
"If you look at any team that's won — whether it's college national champs or Super Bowls — their offense is really good at running the football," Lake said. "We will be multifaceted. If we think we need to pass the ball, to put a little more pressure on our opponent, we will be able to pass the ball. If it's a rainy, cold, wet night like last Saturday night, and we need to run it, let's run it."
Although he recognized that the offense, like any other part of the team, has some things to clean up against Arizona this Saturday, Lake had high praise for offensive coordinator John Donovan in his first game with the Huskies (1-0).
In fact, the first game-ball Lake ever gave out as head coach went to Donovan after the game against Oregon State. Donovan's quarterback-friendly schemes and run-heavy offense shredded OSU's defense to the tune of 51 carries for 267 yards, no turnovers, and no sacks.
"I asked [Donovan] to come here and implement a new offense," Lake said. "And with all the things that we've had to deal with — no spring football and not being able to practice and all these things — he and our staff were still able to cobble everything together and try it out there: a new scheme and a new direction with a freshman quarterback."
This week, Donovan's offense faces an Arizona (0-1) defense that just surrendered 173 yards on the ground in a narrow week-one loss to USC — 86 of which came on just two carries.
Meanwhile, the Wildcats gave up 325 yards through the air — almost 200 more than UW redshirt-freshman quarterback Dylan Morris had against OSU last week. With the quarterback controversy seemingly in the rearview mirror, the focus shifts to Morris' role in Donovan's offense.
Under a conservative, rushing-based attack, Morris did his part in limiting mistakes and maintaining possession in week one's win. 
But if a situation were to arise in week two in which he'd need to throw the ball more, the rest of the UW offense appears confident in their young quarterback's ability.
"Dylan is high-energy ... very smart, and savvy," senior tailback Kamari Pleasant said. "He plays with great eyes. The way he reads defenses, the way he knows the playbook, and his pre-snaps are things that show me how savvy a player he is, how smart he is — checking protections at the line of scrimmage if he sees a blitz, things like that."
Still, with a new defensive coordinator in Arizona, it doesn't appear that Donovan will stray far from his big offensive line or the talented group of experienced backs running behind it. 
Needless to say, the Huskies' stable of running backs will cherish any opportunity to lay a shoulder into opposing Wildcat linebackers. They've completely bought into Donovan's mantra and the statement sprawled across Lake's press conference headwear.
"I think we have a very explosive running back room," Pleasant said. "Everybody has their own abilities that create different pressures on defenses, and the motor just won't stop. It's a great offense that will be able to exploit everybody's talents on our team. When we all saw it, we were all very excited."
Nobody seems more excited than Lake, though. Last week, the Huskies controlled the ball for 37 minutes of the game, something he raved about in post-game press conferences. And regardless of his praise for Morris in his first-ever college football game, Lake hired Donovan for a reason. 
All fall, the team talked about one thing more than anything else — physicality. This week against Arizona, there's no reason to expect anything less.
"I will say this: We're never going to be air-raid," Lake said. "I know we're not going to sit back here and throw the ball all over the place for no reason. That's not how you win championships."
Reach reporter Nick Mendro at sports@dailyuw.com. Twitter: @m_mendro
Like what you're reading? Support high-quality student journalism by donating here.