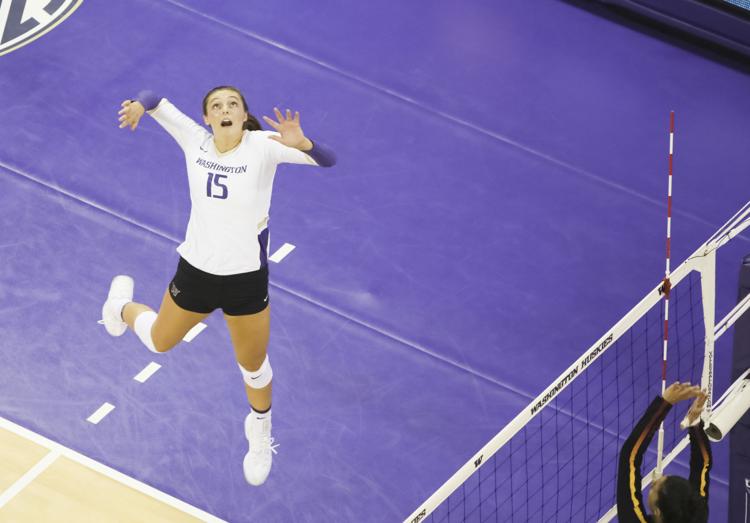 The No. 20 Washington volleyball team jumped five spots in the week 12 AVCA poll, a string of wins continuing with the help of improved hitting and serving. This week, the Huskies (17-9, 9-7 Pac-12) are focusing on much of the same as they're visited by the Northern California schools.
"We just want to continue to build on how this past weekend was for us, winning the serve and pass battle and continuing to hit our shots in all situations," senior Destiny Julye said.
With serving figured out in one game, and hitting in another, Washington's final issue in the last four matches of the season is lack of consistency. The Huskies had stellar nights in both of those aspects of the game in the last two weeks, but haven't put them together in one match, with either service errors or hitting errors tripping them up.
Inconsistency has been the story among Washington's hitters especially. One night freshman Claire Hoffman was putting up 20 kills and the next game she had only five. Junior Kara Bajema, Washington's top scorer this season, has been putting up kill numbers, but also hitting errors. Sophomore Samantha Drechsel, who moved from outside to opposite mid-season, has seen similar inconsistency in her game.  
"It's hard to get all five of your hitters being great, but we had that match where Claire was the best against Arizona, we had that match where Sam was unbelievable," head coach Keegan Cook said. "It's nice to know every one of our hitters can have a good night, but we haven't yet had that match where everyone kind of plays great. We're still looking for it, hopefully it's on its way."
The goal for Washington's hitters this week is simple: avoid errors.
The high number of errors this season stems mainly from hitting out of bounds. Hitting hard has never been a problem for Washington, but hitting in bounds has been. It's the reason Washington's last match against UCLA, which should've been a dominant victory based on serving alone, was close until the end.
"Just trying to make teams beat us instead of making errors to the point where every team can hang with us," Cook said. "We're still trying to make that become part of our identity, particularly from our left side hitters."
On the serve the goal is the same. The Huskies started off the season with a really strong serve that soured when they hit Pac-12 play. Recently it's been more on-and-off, with a few exceptional moments of serving.
"The game is completely different when you can get people off the net, especially in one point situations and just try to capitalize off that," Julye said.
The Huskies will host Cal at 7:00 p.m. on Friday, and No. 2 Stanford at 1:00 p.m. on Sunday.
Reach Social Media Editor Hailey Robinson at sports@dailyuw.com. Twitter: @haileyarobin
Like what you're reading? Support high-quality student journalism by donating here.