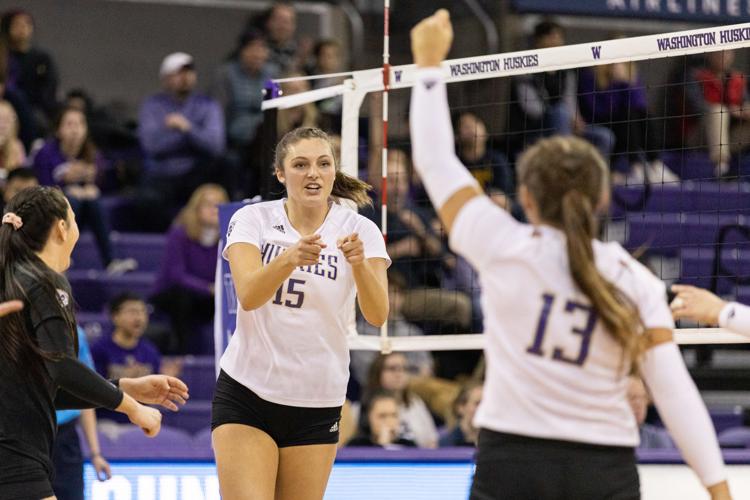 Unlike last year, when the No. 8 Washington volleyball upset its way to the third round, this year's trip to the Sweet 16 felt a little more inevitable. 
"Last year felt like such an accomplishment to get there that once we got there I didn't feel like we had great direction," head coach Keegan Cook said. "This team has had one goal all season, so this feels like a step along the way."
Fast forward to this year, where Washington's regular season was far more successful than the last. And despite winning the first two rounds of the tournament the Huskies (26-6, 15-5 Pac-12) aren't satisfied with their results in postseason play so far. 
In the Round of 32, the Huskies played a game much closer than it looked on the score sheet against South Carolina. Slow starts meant that they had to go on big runs to stay in the game. While senior outside hitter Kara Bajema has 7.2 kills per set and is hitting .532, the rest of the team isn't faring quite as well, hitting just .195 in the first two rounds.
"For what this team has done, last weekend I didn't feel the confidence or the aggression that I thought I would," Cook said. 
At its best, Washington has proven that it can beat just about anybody in the country. Four teams are hosting the Sweet 16 and Elite Eight, and the Huskies are 3-0 against those teams with two wins over No. 4 Wisconsin and a victory over No. 3 Stanford. 
The Dawgs are going to need to play at that same level to succeed this weekend in Waco, Texas, taking on No. 9 Kentucky at 11:30 a.m. The Wildcats also have yet to drop a set in postseason play. 
"Just having that mindset that our good is good enough, and keep doing what we're doing, focusing on our team, more than anybody else, and what we do best," sophomore setter Ella May Powell said. 
Should the Huskies win, it will be tough matchups against highly-ranked teams from here on out, and the Huskies spent the past week of film study and practice getting ready to play big game after big game.
"We just had a big talk about sticking to our principles and how, in these big moments, sticking to your principles is what's going to take you through," junior middle blocker Lauren Sanders said. 
The Huskies' match against the Wildcats (25-6, 16-2 SEC) will be broadcast on ESPN3. The winner of that match will play the winner of a match between No. 1 Baylor and No. 16 Purdue on Saturday at 1 p.m. 
Reach Engagement Editor Hailey Robinson at sports@dailyuw.com. Twitter: @haileyarobin
Like what you're reading? Support high-quality student journalism by donating here.