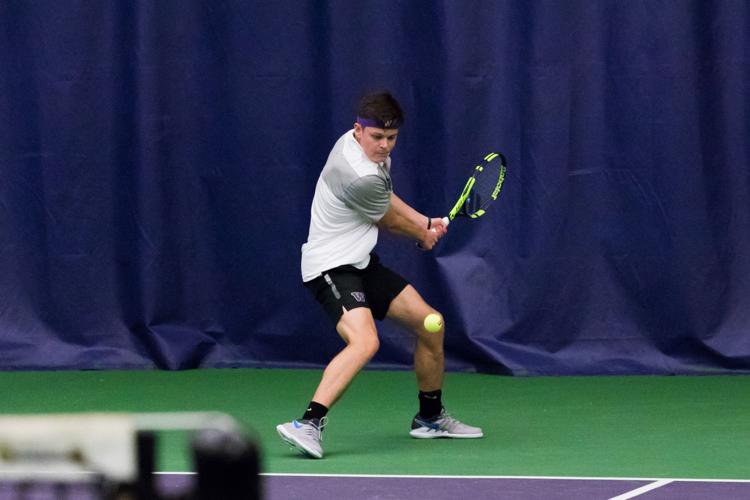 The Washington men's tennis team snapped a four game losing streak Friday, defeating Gonzaga and Eastern Washington in a doubleheader.
The Huskies (5-9) started the day outside, beating Gonzaga 6-1 in the sun. After heading inside to the Nordstrom Tennis Center, the Huskies promptly defeated Eastern Washington 7-0.
Plenty of players found success for the Huskies, who have had issues with consistency to this point in the season. The Dawgss got substantial production throughout the lineup Friday, a good sign at this point in the season.
"Our guys played really well today," head coach Matt Anger said. "We were able to stay focused through both matches, which allowed us to play the way we all know we're capable of. We've dropped a couple close ones this season, but we've been working in practice and today was a good boost for our guys."
Focus was definitely key for the Huskies, who had to transition to playing inside after sweating out five of six singles victories against Gonzaga. Enzo Sommer, who won a hard fought match outside, was left out of the singles lineup for Eastern. In his place, making his debut at No. 1 singles was Jack Davis, who defeated Eastern's Jeremy Field 6-4, 6-1. Davis utilized his big serve to rush the net, and keep Field on the defensive throughout both sets.
The freshman athletes were essential to the Huskies success against Eastern, as coach Anger inserted three of them into the starting singles lineup. Ewen Lumsden played at No. 2, Ernesto Turegano played at No. 3, and Adam Torocsik played at No. 5. All three freshman secured wins, and contributed to the sweep of Eastern.
Turegano is now 7-3 this season in singles, while Lumsden has also come on strong, impressing with his intelligent and skillful style of play. Torocsik showcased his raw ability Friday, as he defeated Jeremy Mueller 6-2, 6-4. Torocsik is at his best when he is pounding groundstrokes from corner to corner, while aggressively approaching the net looking to finish points off.
After picking up two big wins, the Huskies get a week to prepare for Pepperdine on Sunday, Mar. 24.
Reach Reporter Caden Conder at sports@dailyuw.com Twitter: @cadenmconder