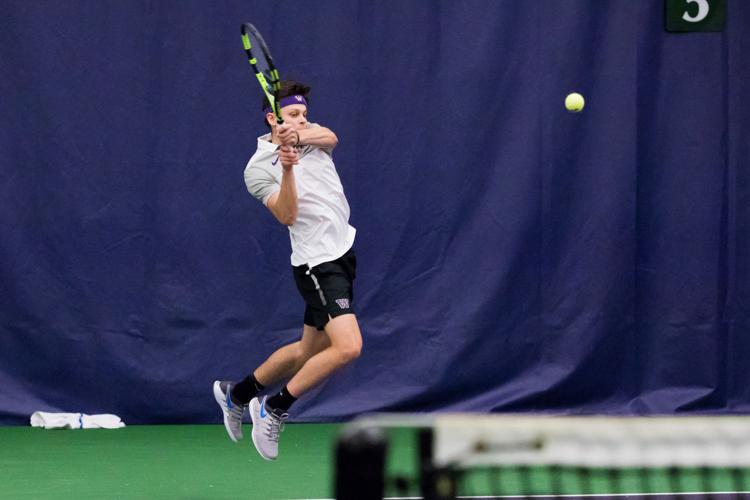 The Washington men's tennis team wrapped up its non-conference slate with a 4-1 defeat to UC Santa Barbara on Tuesday.
The Huskies (5-11) struggled to keep pace with a hot UCSB team that has now won five of its last six matches. With Tuesdays defeat, the Huskies are now 0-8 in road matches this season.
Freshman Ewen Lumsden has been a bright spot for the Huskies, as he defeated UCSB's Hironori Koyanagi 6-1, 6-2 at No. 5 singles for the UW's only victory. In his freshman campaign, Lumsden has been one of the most consistent performers for the Huskies this season, and holds a winning record of 5-3 in singles.
Senior Enzo Sommer has had to battle all season at No. 1 singles, and faced another stiff test Tuesday, falling to No. 12 ranked Nicolas Moreno de Alboran 2-6, 5-7. Alboran is one of the top players in the country, and has only lost three singles matches all year.
In doubles play, the senior duo of Kawika Lam and Sommer fell 3-6, and freshman duo Adam Torocsik and Lumsden were defeated 1-6. The doubles point remains elusive for the Dawgs, and will be a continued key to their success moving forward into Pac-12 play.
Senior Sebastien Hawken and sophomore Jack Davis also dropped singles matches to ranked opponents, giving UCSB their third and fourth points to seal the victory.
Senior Piers Foley and freshman Ernesto Turegano were both still competing when the match was decided. After losing the first set, Foley had fought to win the second 6-2, but was down 0-5 in the third when the match was called. Turegano had just started his own third set, and was up 1-0.
Winning on the road has been a concern for the Huskies, who will look to regroup for conference play, when they host Utah this Friday. 
Reach reporter Caden Conder at sports@dailyuw.com Twitter: @cadenmconder