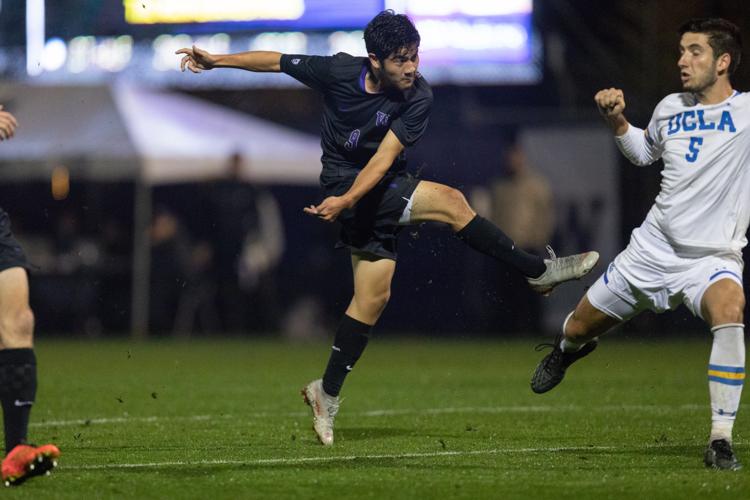 Coming off a highly successful weekend beating two Pac-12 opponents, the No. 23 Washington men's soccer team is flying high with just two games to go in the regular season. And depending on how other teams in the conference play in the next two weeks, the Huskies may have an outside shot of winning the Pac-12 title.
But in order to get there, the UW must first go up against an unfamiliar adversary, Loyola Chicago, this Thursday, and might have to do it without the assistance of a couple of its most important contributors.
Senior defender Quentin Pearson will most likely be held out of Thursday's game, according to head coach Jamie Clark. Clark also said that redshirt junior goalkeeper Saif Kerawala is "60-40" at the moment, and will probably not see the field considering backup keeper Bryce Logan posted two clean sheets over the weekend. On the other hand, redshirt junior midfielder Joey Parish should be good to go after missing the last four games with a hamstring injury.
Although the Huskies have been dealing off and on with injuries to their established stars, the freshman duo, defender Charlie Ostrem and forward Dylan Teves, has emerged in their stead, and make a dynamic duo on and off the field.
"We call them the twins," Clark said. "They're identical in many ways, they're not big guys but they're incredibly tuned in and get in the right place. They use their bodies and IQs to create chances and create moments. They're gamers, and they're fun to coach because they're always pushing the envelope and tilting the game in their favor."
Loyola Chicago, a school probably best known for its appearance in the NCAA basketball Final Four last year, is currently sitting at 9-5-2 on the year, with a 3-1-2 record in the Missouri Valley Conference. The Ramblers have already concluded their conference schedule, and will end their regular season on Montlake against the Huskies.
Before the Ramblers lost in their most recent game against Central Arkansas, they had won six of their previous seven games, the last five all by shutouts. With their conference tournament on the horizon, they will look to see how they match up with a Pac-12 opponent.
They have only scored 19 goals on the year, with their leading scorers tied at three goals apiece, but the secret to their winning formula is their defense. Led by junior defender Marius Kullman, the back line has only allowed 14 goals all season, and just two goals over the team's past eight games.
"They haven't given up many goals, they're tough, they're honest, and they're quite dangerous on set pieces," Clark said. "I think it's going to be pretty similar in many ways to San Diego State in terms of their shape and their play. They didn't create a ton of goal-scoring opportunities, but I thought they actually gave us more problems than most teams."
This game may be a challenge for a Washington team that has become notorious for its slow starts, but Clark still wants to attack the Ramblers early. Loyola is currently sitting at No. 52 in the RPI rankings, and with Washington at No. 27, this game will be a crucial one for its NCAA Tournament standing.
"Coming from the Pac-12, I think we'll be a more athletic and talented team than they've seen in probably the last month, so I do think the first 15 minutes is an exciting time to jump on them because they won't be used to the athletic ability and pace that we present," Clark said. "Then we just have to settle in and be patient after that."
Reach reporter Chris Angkico at sports@dailyuw.com. Twitter: @chrisangkico