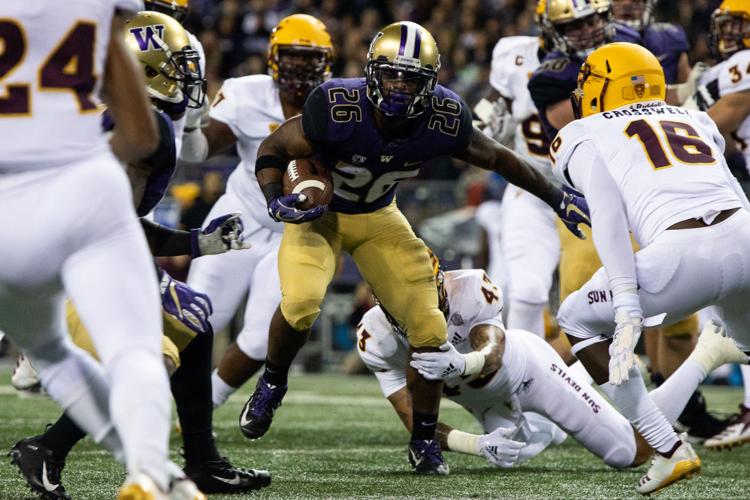 With the addition of No. 20 BYU (3-1) to its schedule, the No. 11 Washington football team (3-1, 2-0 Pac-12) is set for a completely different style of team than it has faced in each of its past two weeks.
Due to the addition of the Cougars to the Huskies' schedule, the UW started their conference slate a week earlier than expected. And now, here we are, with the Huskies playing their last nonconference game the week school starts.
Washington, however, is preparing not only for of classes starting, but also for a BYU squad that does quite a lot different than their last opponent, Arizona State.
"The No. 1 thing is, completely different than what we just saw, I mean, 180 degrees," Head Coach Chris Petersen said. "On defense they're different, exact opposite. And on offense, the similarity is they really run the ball like Arizona State, but this offense is something we haven't seen and won't see again in terms of others shifts and motions and fly sweep action. It's extremely unique, [they] do a nice job with it."
With quarterback Tanner Mangum still at the helm —  Petersen joked that he's played for what has felt like 10 years —  the Cougar offense is as multiple as they come.
"They really stretch a defense sideways," Defensive Coordinator Jimmy Lake said. "The secondary, the linebackers, the defensive line, we have to attack, we have to make sure everyone does their job. It's similar to option-football in a lot of ways, because if you try to do someone else's job, they're going to hit you with a big play."
BYU has already taken down one Pac-12 opponent, Arizona on the road, and lost to another in Cal. The Cougars also have one of the most impressive wins of the season against No. 15 Wisconsin, which they took down at Camp Randall Stadium in Madison.
"For them to go into Madison, Wisconsin, and beat a quality team like that, that definitely got the whole country's attention," Lake said. "But we looked at all their tape, and they are a really good football team."
This week, UW will look to avoid a home upset and defeat the Cougars in its final nonconference game of the season, but the Huskies' defense and offense are ready for anything BYU throws at it, no matter how new it is to them.  
"They're a good defense, they have a lot of different things going on in their defense," tailback Salvon Ahmed said. "But I don't think it's anything we aren't prepared for. Our coaches do a good job of preparing us for those things, so they're a good team and some good players but we'll be ready."
Reach Assistant Sports Editor Alec Dietz at sports@dailyuw.com. Twitter: @AlecCDietz