Just six miles north of UW campus, the Lakeside School Lions are playing in a varsity girls basketball game against Nathan Hale. A face familiar to Washington women's basketball is on the sideline, but she isn't wearing a uniform.
The game isn't much of a contest. The Lions have put away the Raiders by the end of the third quarter, and head coach Mia Fisher has emptied most of her bench. But throughout the game, an excited and focused volunteer assistant coach is high-fiving Lakeside's athletes, cheering after big plays, and chatting with the girls on the bench as if they've known each other for years.
In the fourth quarter, during a timeout, Hannah Johnson is handed a clipboard. She laughs. It's clear that she's never been in this situation before, but she looks natural holding the clipboard in front of a dozen patient eyes.
She sketches out a basic five-out motion offense — everybody outside the key — and with help from Fisher, helps coordinate the team during the timeout and break the huddle.
It's not anything fancy, but it's a start.
———
That's not the reason Johnson wants to coach at the NCAA Division I level, though. At least not the main reason.
"I'm here to serve and I'm here to serve people and that's why I want to be a coach," Johnson said. "It's not for me. Do I have a dream and a goal of winning a national championship one day and being one of the most successful coaches? Yeah, but I don't want to be one of the most successful coaches because of me winning.
"I want to impact young girls' lives."
All of this stems from her own struggles with an issue that you probably can't see on the basketball court.
When the senior from Los Angeles is in the game, she makes her presence felt. She led Washington in rebounds a year ago, and this season she leads the front court with almost five boards a game at a height of 6-foot-1.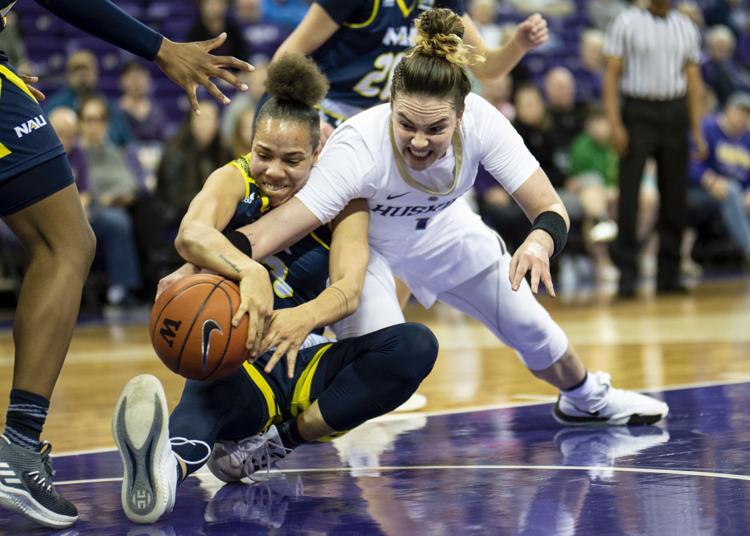 "She comes across as this big, bad bully, this tough kid," UW head coach Jody Wynn said. "She's physically strong and sometimes loud and aggressive on the basketball court.
"But she's really a teddy bear inside. She's a friend to everybody; no one doesn't like Hannah. She thinks about others constantly, she loves little kids and she goes out of her way to make others feel better even when she may not be feeling well."
What people might not know about Johnson is her issues with her own mental health and depression that have lasted with her for most of her basketball playing career.
Her love of the game hasn't waned, despite that, but as her career has progressed, she has realized her calling and her "why."
"Not a lot of people know this, but I've had meetings with my team and I've dealt with really, really, really bad depression and it's caused self-harm and what-not," Johnson said. "I have all the right resources and I'm talking to people, but now I'm learning as a coach that I want to be able to help kids who've gone through what I'm dealing with, with my depression right now."
———
After playing nine minutes in the first half of Washington's recent game against Colorado, something didn't feel right with Johnson.
"I didn't play the whole second half, because I couldn't physically go out there," Johnson said.
In the locker room at halftime, she couldn't breathe. After talking with the UW support staff and her teammates, Johnson said she couldn't go back for the rest of the game.
"Coach totally understood, and I met with the team and told them that there are going to be some days where I have to take off," Johnson said. "But I'm talking to you guys about this because I want you to know that it's okay to not be okay."
Johnson has played in 100 career games for the Huskies. She's a savvy veteran who has led the UW both on and off the court for five seasons now.
Dealing with anxiety and depression doesn't get easier with experience, even for the most experienced player on the UW roster by a large margin. She understands what kind of pressure young athletes face in sports.
"She's battled really, really hard, and she's fighting her fight," Wynn said. "She knew that it could be detrimental to her physical well-being as well as the team if she took the court right then and there, and to be able to recognize that along with our support staff is outstanding."
You hear it all the time: Athletes should be tough, strong, and not show weakness. To be a successful athlete, you must hide your feelings and where you are mentally, for the sake of the team and for the sake of winning. 
To Johnson, Wynn, and the rest of the UW, this couldn't be more wrong.
"She's not afraid any longer," Wynn said. "She can be an incredible ambassador in so many ways. I'm proud of her growth, and proud of her maturity. I'm proud of how she allows herself to be vulnerable. In certain times it's okay to be vulnerable. It's okay to ask for help and it's okay to lean on others, and not expect you to not have to deal with any personal battles."  
———
Now, Johnson is looking to carry forward the lessons she has learned throughout her playing career, into the next phase of her life after college.
As a part of the Intercollegiate Athletic Leadership graduate program at the UW, Johnson needed to complete an internship before she finished with her master's degree.
Working as a volunteer assistant under Mia Fisher at Lakeside has lined up almost perfectly for Johnson, who gets the opportunity to shadow and work under a coach with stints at San Jose State, UC Santa Barbara, and an internship coaching experience with Tara VanDerveer at Stanford.
Fisher knows exactly what it takes, and says that Johnson has the tools to succeed at the Division I level in coaching.
"She can totally do it," Fisher said. "No. 1: Hannah is a good person. I've found that on paper you can have all these accolades and you can have a lot of experience but you can't teach how to be a good person.
"You can go anywhere, you could go to UW, Seattle U, or Stanford, and everyone will have their offensive and defensive scheme but to have buy-in is a special kind of talent. Hannah definitely has that."
Fisher has seen both versions of Johnson as well. Her wife, Michelle Augustavo-Fisher is on the UW staff, and sometimes, as needed, she helps with Washington's radio stream of women's basketball games.
She says that while Johnson might not have all the coaching skills that she will need to succeed at the collegiate level right now, she already has the most important skill necessary to be a coach.
"When she's a player she's super intense," Fisher said. "She's able to channel that in as a coach, but she's so gentle, she's so caring. She cares about the player and I can tell she's going to be a player's coach. She has a good pulse of her team and she knows which buttons to push. She's there for people, and that's how you get people to buy in. They'll run through a wall for you."
In the time she has already spent with her players at Lakeside, Johnson has already developed a formidable bond with the young high school girls who make up the team. You can see Johnson's impact on the team at a Lions game, especially from the post players.
"The team will ask, 'Is Hannah coming? Is Hannah coming?'" Fisher said. "So that means that they are engaged and it just builds a bigger bond for our culture and everything. They love when she is here, and I love that they have something to look forward to."
So while she might not be ready to call all the shots now, Johnson has positively affected the Lions. Despite her lack of coaching experience, Johnson brings more important things to the table already.
For her teammates, who have played alongside her at the UW and occasionally go to watch her coach at Lakeside as well, what becomes obvious is how much she enjoys being there, and the sense of community that Johnson brings to the table in any environment.
"She loves it," teammate Amber Melgoza said. "She goes out there, and what she has inside, she likes to share it. She's a very passionate person and she loves the game and does a really good job of showing that."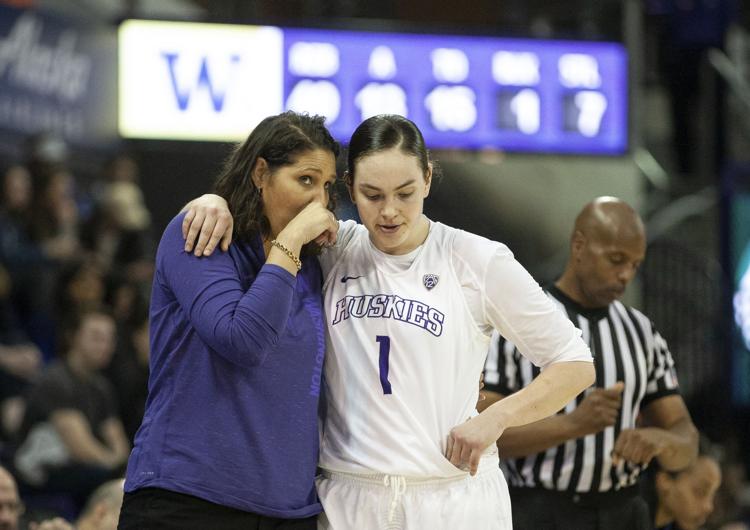 You'd really have to love the game to be a part of as much basketball as Johnson is. As part of the team at the UW she is responsible for participating in practice, watching film, going to other team events, as well as taking graduate-level classes. On top of that, Johnson has chosen to attend as many as four Lakeside practices a week, along with any potential games they play locally.
"It is a lot of basketball but it's so different," Johnson said. "When you go there you have a bunch of girls who are having fun and not taking it as seriously, so it's kind of almost like a relief to go there and be around basketball that's not as serious and intense and hyper-focused every single second of the day, because that's what it's like here as a Division I athlete."
Johnson knows that she has a long way to go. She still has a little under half a season to finish as a player with the UW, and she'll look to help coach Lakeside's team with Fisher until the end of their season as well. All the while, she must finish her master's degree in Seattle, and then become one of 351 Division I head coaches in women's basketball. The answer from those who know her is unanimous: She'll be a coach someday.  
"It's such a rewarding career," Wynn said. "She's going to make a great coach because she's been through so much adversity and she's persevered, she hasn't ever quit, and to me that's what a great leader is all about. Someone who can have empathy toward the situation that people are going through. To lead a group of people with their own perceptions of reality and their own state of well-being, bringing them together to do something really special, and that's something she can do."
Don't get it wrong. Johnson wants to be one of the most successful coaches in the NCAA, and she wants to win games, championships, and the like. She loves the game of basketball, and she loves what the sport has been able to do for her during her career. But perhaps one of the most important reasons Johnson wants to coach, has nothing to do with winning or losing, or even the game of basketball.
"I want to be able to help girls who might be dealing with depression or mental health," Johnson said. "And know that they aren't alone and that everything is going to be okay.
"People ask me, 'What do you think your calling is?' and I always say just to help people. That's where I find the most joy and when I can be a mentor or be an inspiration to other people and just help young kids, and just basically help anyone."
———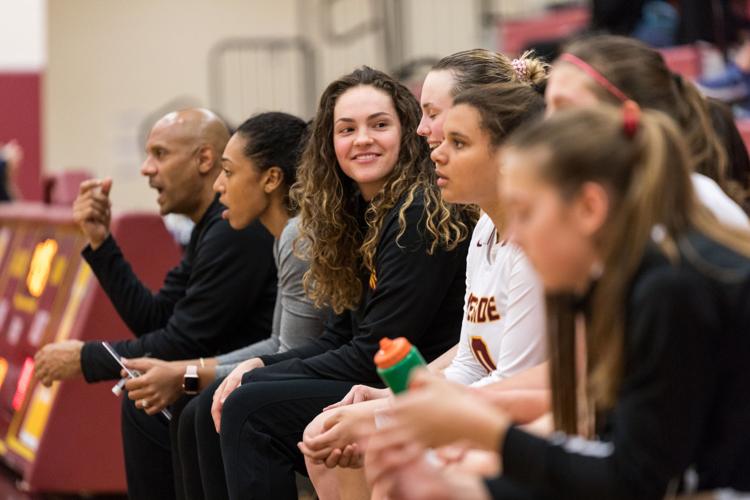 Out of the timeout, the Lakeside girls take their positions on the court. The Lions inbound the pass fairly easily and take it up the court, with all the players running outside the three-point arc, just how Johnson drew it up.
After the ball is thrown into the post, one of the girls makes a good move and scores down low. Johnson rises from her seat on the bench and claps, cheering on the high schoolers.
It's not anything fancy, but it's a start.
Reach Assistant Sports Editor Alec Dietz at sports@dailyuw.com. Twitter: @AlecDietz
Like what you're reading? Support high-quality student journalism by donating here.