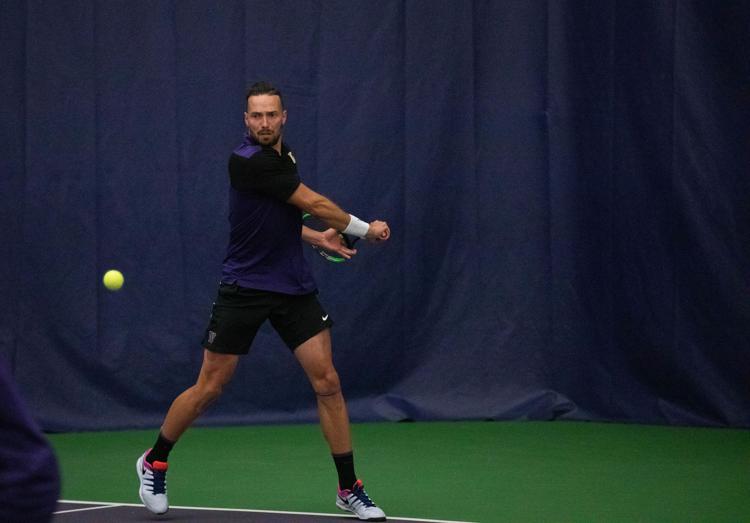 The Washington men's tennis team defeated No. 35 California 4-3 on Friday afternoon.
The Huskies (7-15, 2-5 Pac-12) picked up their first win over a ranked opponent this season, and snapped a four-match losing streak in the process.
In singles, the Huskies played some of their best tennis of the season, ripping groundstroke winners and consistently putting their Cal opponents on the defensive. With both teams tied at three, the match-clinching win was secured by senior Enzo Sommer, who defeated Yuta Kikuchi in a three set thriller.
"I know it's a team match, but at the end of the day, it's just me and the ball and I was focused on that," senior Enzo Sommer said. "I tried to play my best, if my opponent beats me good on him, but I tried not to focus on all the people watching and teammates cheering. It was just me, my racquet, and the ball."
The match was never easy at any point, and even the racquet failed Sommer when, after splitting the first two sets 4-6, 6-4, his strings gave way and snapped in the middle of the third point of the tiebreaker. Sommer had an extra racquet on hand, and used it to defeat Kikuchi 8-6 in the third set tiebreaker. Sommer was able to stay aggressive and continue to challenge Kikuchi, who came up just short in the loss.
Freshman Ewen Lumsden hasn't played like a freshman this season, and he continued to roll on Friday, defeating Jacob Brumm 6-2, 6-1. Lumsden showcased his much improved backhand in the victory, slapping groundstroke winners all over the court.
Sophomore Jack Davis also dominated his opponent in the first set, winning it 6-1. The second set was much closer, but Davis was able to pull through in a tiebreaker, winning 7-6 at No. 2 singles.
Junior Piers Foley collected the fourth singles win for the Huskies beating Cal's Paul Barretto 7-6, 6-2.
"We are resilient, we've had a tough season but we're all playing hard every match, tonight was big for us" Sommer said.
Sommer and fellow senior Sebastien Hawken will be celebrated Sunday when they face No. 12 Stanford for senior night.
Reach reporter Caden Conder at sports@dailyuw.com  Twitter: @cadenmconder
Like what you're reading? Support high-quality student journalism by donating here.