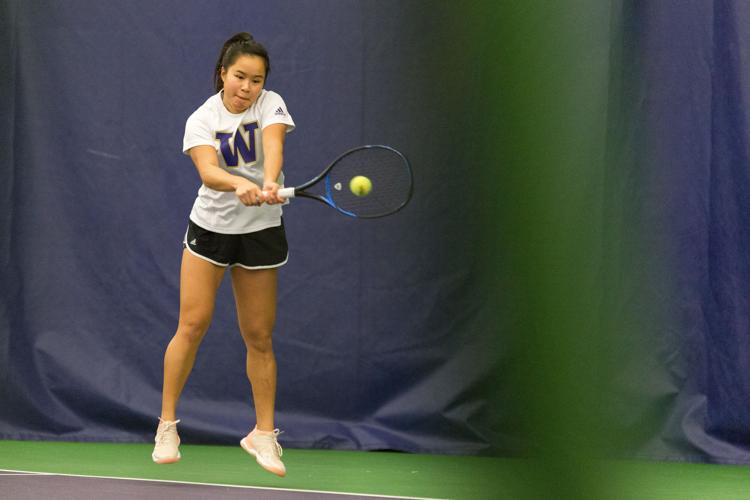 Despite a two hour rain delay, the Washington women's tennis team looked strong, securing its fourth victory of the season beating Hawaii 5-1.
"Very proud of the team today," head coach Robin Stephenson said. "We adjusted very well to playing outdoors and in windy conditions. I thought we played disciplined and made really good decisions and executed in the big moments."
The Huskies (4-0) have had a dominant start to their season, blowing out their opponents prior to their match with Hawai'i. Although the final score suggests another blowout victory for the Huskies, UH (0-1) proved to be a harder test for the Dawgs than the matches this past weekend.
In singles, junior Vanessa Wong came out on top in a Court 1 matchup that was decided by the final set (6-1, 3-6, 7-5). 
"What I was most impressed by was the way we competed and the mental toughness we showed up and down the lineup," Stephenson said.
The remainder of the singles matches resulted in convincing wins for sophomore Sedona Gallagher (6-0, 6-2), senior Natsuho Arakawa (6-4, 6-1), and senior Katarina Kopcalic (6-4, 6-1). Sophomore Zoey Weil also prevailed in her matchup, winning 6-1, 7-6.
However, sophomore Nika Zupancic took her first loss of the season in a highly contested affair (3-6, 6-7). This was the first point the Huskies have dropped this season.
Playing an unofficial matchup, Freshman Ashley Chang continued a good start to her debut season, claiming a 6-1, 6-2 victory. 
There was no doubles point contested in today's match.
Washington wraps up its road trip with a matchup against the Florida State on Friday at noon.
"We are ready for our next challenge against FSU on Friday and looking forward to closing out our trip on a positive note," Stephenson said.
Reach reporter Luka Kučan at sports@dailyuw.com. Twitter: @luka_kucan
Like what you're reading? Support high-quality student journalism by donating here.