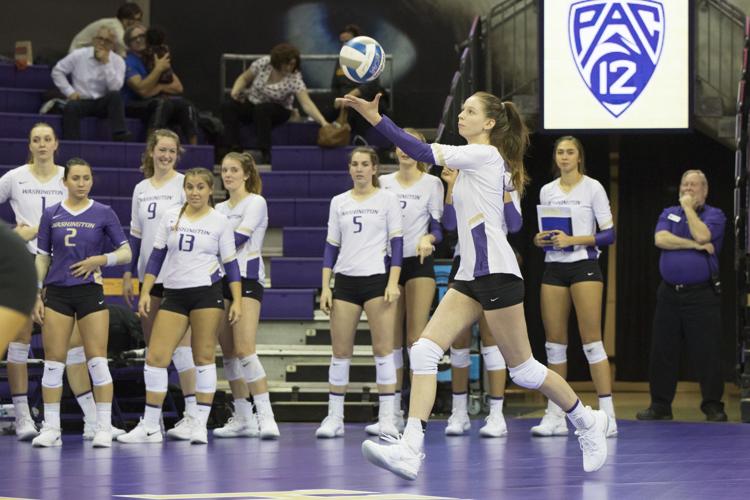 It was all about the serve in No. 8 Washington's 3-1 (25-21, 25-23, 20-25, 25-23) victory over UCLA Sunday afternoon. The Huskies had nine aces, matching a season high, to overtake the previously undefeated-in-conference Bruins. 
Junior Maria Bogomolova lead the Dawgs with three aces and had a career-high eight kills, far surpassing her previous season-high single ace, and career-high two kills. As a serving specialist, Bogomolova doesn't always see a lot of playing time, but her first career start was a successful one. She hit .421 in the match, without a single error. 
Bogomolova's mother was also visiting Southern California from Russia for both games this weekend, watching her play collegiate volleyball in person for the first time. 
On the statsheet, UCLA looked like the better team. The Huskies struggled on the block, and didn't hit particularly well. But the serve, especially in the first set, looked the best it had all season. 
Even when they weren't getting aces, the Dawgs succeeded in getting the Bruins out of system. But things took a downturn as the number of service errors started going up.
Washington's serving is high risk, high reward. A high number of aces and an even higher number of errors — 12 in this match — isn't uncommon, but it cost the UW. The second set and fourth set wins were narrow ones, and serving played a role in that. 
In terms of serving, the first set looked exactly where Washington wants to be. The Dawgs had five aces, including two back-to-back from Bogomolova, and three errors. But in the second set things switched around, with five errors and two aces. 
It was a momentum-breaker that had more of an impact in the third set, where UCLA edged the Huskies for most of the set and pulled ahead late for the win. The fourth set was close again, with the Bruins ahead for most of the set before a 3-0 run got the Huskies two points ahead, a lead that they held onto for the win. 
The Huskies return home to host the Oregon schools, playing Oregon State on Friday at 7 p.m., and Oregon on Sunday at 2 p.m. 
Reach Engagement Editor Hailey Robinson at sports@dailyuw.com. Twitter: @haileyarobin
Like what you're reading? Support high-quality student journalism by donating here.