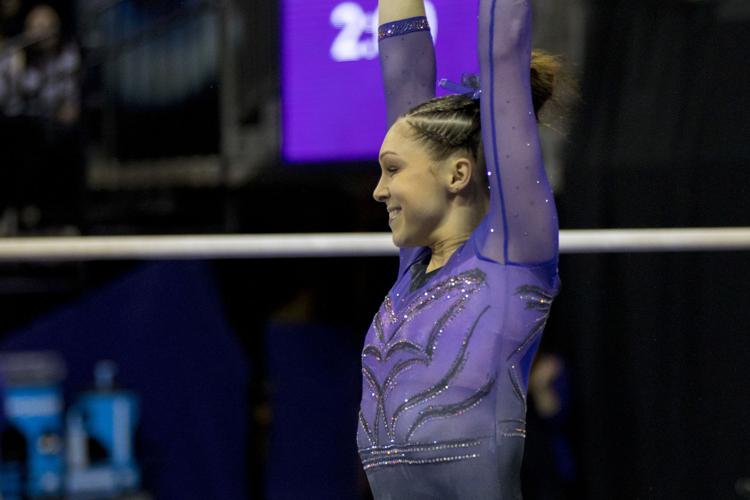 The No. 17 Washington gymnastics team scored a 196.750 in Boise, Idaho, highlighted by more season-high performances on vault and bars. Sophomore Geneva Thompson and juniors Madison Copiak and Evanni Roberson each scored two career highs in the meet to give the Huskies a season-best score.
Roberson scored a 39.500 to win the all-around title, beating the 39.475 career high she set earlier this season. Her 9.900 on vault was another career high, and tied her for second place with Thompson, Washington's strongest vault competitor this season.
On vault, Kristyn Hoffa also added a 9.850 to tie her personal best, and every counted score was a 9.825 or above. It gave the Huskies a season-high 49.300 on vault, a full .150 higher than their previous best performance on the vault.
The Huskies similarly beat out their season-high on bars, scoring .150 higher than their previous high set in only the second meet of the season with a 49.425. Copiak led the way with a 9.925, a career best for her. Thompson matched her score on vault for a career-high 9.900. She tied with Roberson, meaning the Huskies counted three scores of 9.900 or above toward their total. A 9.875 from Monica Riley also contributed to the best bars performance of the season from Washington.
On floor, Hoffa's 9.875 led the Huskies and took second place in the meet. Washington earned a team score of 49.050 on the floor. It improved upon their previous score, a 48.975 on beam, the event where they started off the meet. Every subsequent event score improved upon the last one, starting at beam, and moving to floor, then vault, then bars.
The Huskies will return to Montlake for two meets next weekend, first hosting Sacramento State and Iowa in an International Women's Day meet on Friday at 7 p.m. Sunday will be Senior Night, and Washington will host the Southern Utah Flippin' Birds while UW Men's Gymnastics hosts Cal at 2 p.m.
Reach Social Media Editor Hailey Robinson at sports@dailyuw.com. Twitter: @haileyarobin