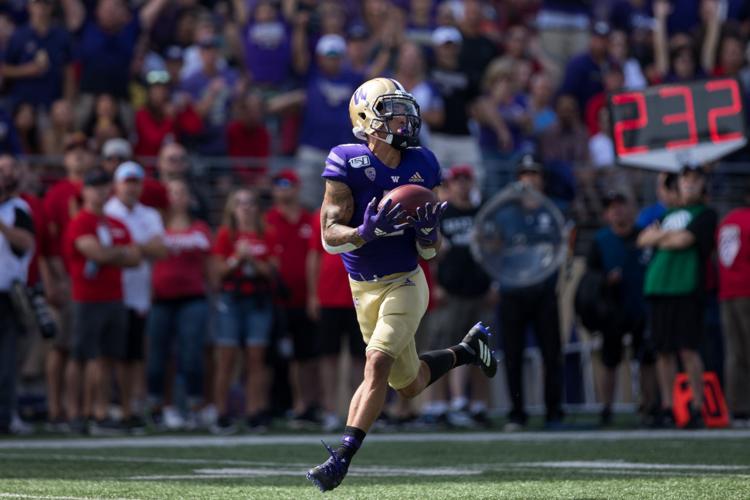 The No. 13 Washington football team took care of business to open the season, beating Eastern Washington 47-14. 
The turning point
The UW got the running game established on its first drive of the game, but after the defense forced a turnover on downs at midfield, Chris Petersen and Bush Hamdan turned Jacob Eason loose and let the junior transfer show off the arm Husky fans have been salivating over for over a year now.
Eason faked a handoff and unloaded to find a wide-open Andre Baccellia, perfectly in stride for his first passing touchdown in a UW uniform. 
Eason had a couple of misses Saturday, particularly on overthrows, but the bomb to Baccellia was one of a few flashes of brilliance on the day.
UW player of the game - Aaron Fuller
There were more than plenty candidates here. Eason went 27-for-36 in his first game in purple and gold with four passing touchdowns. Redshirt freshman Richard Newton scored a 23-yard touchdown on his first collegiate carry and ended up leading the Huskies with 91 rushing yards. On defense, Myles Bryant led the way with eight tackles, and Kyler Manu added seven in his first career start.
But the biggest day went to senior wideout Aaron Fuller, who racked in five catches for 73 yards, including two highlight-reel touchdowns.
On Washington's third drive of the day, the Dawgs faced third-and-goal from the EWU 7-yard line, and Eason threw a fade route that was just a bit long. Fuller went up with one hand, and on a play reminiscent of Quinten Pounds' touchdown in last year's season opener, went up with one hand to put the Dawgs up by three possessions.
Fuller ended Washington's first drive of the second half with another great play, flipping his hips and dragging his feet on a back-shoulder throw for an 18-yard score. 
Now the only question for Fuller is whether he can string together a run of such games, and keep it going to the end of the season. He surpassed 100 yards receiving in four of the UW's first six games in 2018, but didn't do it again the rest of the year.
One key stat
The Huskies spread the ball around in the passing game, with four players finishing with at least five catches. That didn't happen last year. It didn't happen in 2017. It didn't happen in 2016. I'd go back further, but I ran out of time before the final whistle sounded.
It's one thing if Washington can improve its air attack from last year. But if the Huskies can do it while spreading the ball out so evenly, they'll be even harder to stop.
Where does UW go from here?
The Huskies will stay at home for the second of three consecutive home matchups to start the year, but the level of competition is going to ratchet up drastically as Cal comes to town. The Golden Bears will open their season later this afternoon against FCS-UC Davis.
It'll be an early Pac-12 opener for both teams, and an early chance for revenge for Washington after Cal stunned the UW in Berkeley last season.
Reach Managing Editor Josh Kirshenbaum at sports@dailyuw.com. Twitter: @J_Kirshenbaum
Like what you're reading? Support high-quality student journalism by donating here.