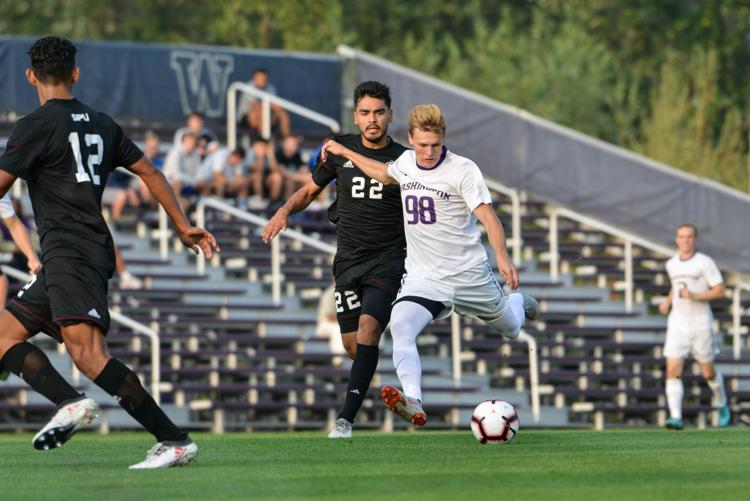 The Washington soccer team begin the 2019 season unranked, losing several of its veteran star players from last year.
Head coach Jamie Clark and the Huskies attempt to rebound from a gut-wrenching loss in the 2018 NCAA tournament, losing in the first round for the second consecutive year. Although the UW statistically dominated the game against Lipscomb, they were punished for their inability to score. After a 0-0 draw throughout the 110 minutes, Lipscomb defeated the Huskies 5-4 on penalties.
"We were all extremely disappointed and felt that our season ended prematurely because we were the better team on that day," Clark said. 
Washington had a rollercoaster 2018 season, winning five of their first six games with four shutouts, including a 2-0 win against powerhouse Maryland. UW then proceeded to lose their next four games, allowing a total of eight goals and scoring only two during that stretch. Afterwards, the Huskies won seven of their last nine games, with their two losses coming at the hands of their Pac-12 rival Stanford. 
Following the heartbreaker against Lipscomb in the NCAA tournament, the Washington soccer team finished with an overall record of 12-7-1, going 8-2-1 at home and 4-5 on the road. 
"Although we had a good season, I don't want our last game to be in the first round of the NCAA tournament," Clark said. "I want our last game to be in the NCAA championship match."
Heading into the 2019 season, UW will be without their star forwards Scott Menzies and Kyle Coffee, who both graduated last year. Menzies led the team in scoring with nine goals, which was third in the conference. Coffee was also effective offensively , scoring four goals with seven assists.
The Dawgs will also lose reliable midfielders Luke Hauswirth and Corban Anderson as well as defender Quintin Pearson. Goalkeeper Saif Kerawala opted to go to Major League Soccer, coming off a leg injury that kept him sidelined for six games.
"Losing players such as Pearson and Anderson was tough because they were heart and soul guys," Clark said. "However, I am excited about the freshmen that have joined the team."
Clark said that Cristian Soto, Ethan Bartlow, and Bryce Logan have proven to be good leaders for the Huskies so far this fall, and he'll look to them to provide more of that leadership as the season wears on. 
The Huskies have always prided themselves in being a top-notch defensive team, recording nine shutouts last season. They'll look to rely on that defense to face a tough 2019 schedule that includes home games against No. 18 Denver and No. 20 Portland as well as away games against No. 7 Michigan State and No. 24 Michigan. They also have their Pac-12 rivals No. 5 Stanford and No. 22 Oregon State to contend with.
Meanwhile, Washington is counting on their veteran midfielders and forwards Joey Parish, Blake Bodily, and Dylan Teves to continue their outstanding play from the previous year. Teves was second on the team in scoring with five goals and two assists. Meanwhile, Parish and Bodily combined for five goals and seven assists while battling injuries during the season.
"My goal for this season is to be the most dominant team in the West Coast and I believe we are capable of achieving that," Clark said. "However, in order to do it, we have to rely on our strong defense, create chances, and be dynamic. I would also like to have a 10-goal scorer on our team, something we have not had in a long time." 
The UW will prepare for its 2019 season with a home exhibition game against Seattle Pacific on Wednesday, August 21 and an away exhibition game against Gonzaga on Monday, August 26. Their season will officially begin at home against Denver on Friday, August 30.
Reach reporter Le Bui at sports@dailyuw.com. Twitter: @LeBui18
Like what you're reading? Support high-quality student journalism by donating here.